Shot of the Week
It's back. You know how it works: We present an NHL photo, and Bucci provides a caption. E-mail him your suggestions (include your name and hometown/state), and we will use the best ones and provide a new photo the following week.
LAST WEEK: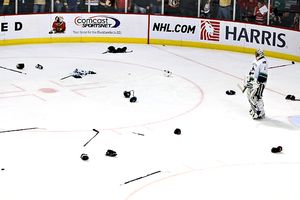 Roberto Luongo was confident he could post a shutout on "Naked/No Equipment Hockey Night." (Getty Images)
Your captions:
Previously on "Lost" ...
-- Greg (Indianapolis)
"Sorry, guys. It's that hoagie I ate for lunch."
-- Sgt James C Abel (911th Airlift Wing, Pittsburgh)
"No matter how many times I see it," Luongo muttered to himself, "the aftermath of a Q-Stache attack still turns my stomach."
-- Adam Kovac (Montreal, Quebec)
"Did I hear the equipment manager say he washed the uniforms 'nice and hot' or in 'Icy Hot'?"
-- Danny Lail (Morristown, Tenn.)
THIS WEEK: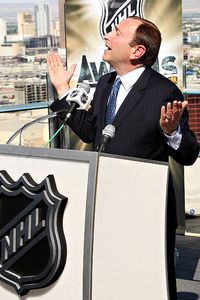 Coyotes fans, let us pray. (Getty Images)
Vegas, baby. This summer's NHL awards show will be held in Las Vegas. I don't have a vote, but if I did, here's who I would vote for.
Jack Adams Award: Claude Julien
The Bruins went from eighth to first in the East without really adding any significant players. Julien managed everything well, from the goaltending to the forwards. He incorporated young players into the lineup and they all excelled. He actually reminds me of Ray Bourque behind the bench. He is sturdy, in control and understands defense wins championships. That's a good aura for the playoffs.
Honorable mention: Brent Sutter (New Jersey Devils), Bruce Boudreau (Washington Capitals), Paul Maurice (Carolina Hurricanes), Todd McLellan (San Jose Sharks), Joel "Q-Stache" Quenneville (Chicago Blackhawks), Ken Hitchcock (Columbus Blue Jackets), Barry Trotz (Nashville Predators).
Kesler has everything you want in a strong defensive player. He has good size (6-foot-2, 205 pounds) and is an excellent skater. He is one of those players who seems way bigger than 6-2. I think this comes from his strong skating and excellent anticipation. Kesler reminds me of Montreal GM/coach Bob Gainey when he was a player for Montreal. Gainey was almost the identical height and weight and, like Kesler, looked enormous on the ice. Add his 25 goals and Kesler is the ideal No. 2 center. A four- or five-year extension at $3.5-4 million per year is about right for him.
Honorable mention: Pavel Datsyuk, Evgeni Malkin, Mikko Koivu, Joe Pavelski, Mike Richards, Manny Malhotra, Patrick Marleau.
I put Mason on my Columbus Blue Jackets/Mt. Rushmore list because I said he will help lead the team to its first postseason appearance in franchise history. Well, it looks like he will. It's hard to argue against 10 shutouts and a 2.22 goals-against average. It has been another banner year for rookies in the NHL.
Honorable mention: Pekka Rinne, Bobby Ryan, Kris Versteeg, Patrik Berglund, T.J. Oshie, Blake Wheeler, Steven Stamkos, Drew Doughty.
This is a remarkable story. Storybook stuff. The league leader in save percentage and GAA and the NHL's biggest competitor in net. I love stories like Thomas' because, in this age of multimillion-dollar contracts, Thomas is one of us. Because of his journey, he is human. He didn't appear in his first NHL game until he was 28 and didn't become a regular until he was 32. He played in the AHL, IHL, ECHL, Sweden and Finland. He would put his Adam's apple in front of a Sheldon Souray slap shot to win a game and would stop by the side of the Mass Pike to help you with your flat tire. He is the heart and soul of the Bruins and probably should be an MVP candidate, as well.
Honorable mention: Steve Mason, Pekka Rinne, Cam Ward, Miikka Kiprusoff, Roberto Luongo.
This was a difficult one, especially considering the Bruins would get their third major award. But the Bruins have a chance at 120 points. The fan base has been resurrected. Radio call-in shows in Boston actually talk hockey. The Bruins have a variety of characters and players its fans can latch on to: Milan Lucic, Thomas, Marc Savard, Phil Kessel, David Krejci and Patrice Bergeron. But Chara is the backbone of this resurgence. His size, leadership and attitude set the wheels in motion. He plays 26 minutes a night, is a devastating fighter, has a slap-shot presence on the power play and will even go to the front of a net to be a big-body, top-of-the-crease player. He has 165 hits and 117 blocked shots. Chara is playing as well as Chris Pronger did in his prime. A physical force that gets a little leeway from referees because of the letter on his chest and the ferocity of his game.
Honorable mention: Mike Green, Nicklas Lidstrom, Dan Boyle, Mark Streit, Shea Weber, Dennis Wideman.
Hart Trophy: Evgeni Malkin
This was an incredibly difficult decision, and I probably arrived at it from various roads. Part of it is poetry. I thought Malkin was the most visually pleasing player to watch this season. This is, of course, a subjective thing. I like watching the angular and smart-play sports. Malkin has a tremendous feel and IQ for the game. He knows where the game is going before most. Add his incredible skating and long reach, and you have a player who brings so much to the ice. He is a center who makes plays on every square inch of the ice. He is an excellent defensive player who stick-checks at a Pavel Datsyuk level. He blocks shots, battles around the net in a physical way and really cares every game. And he shows up. This will likely be the second straight season in which Malkin has not missed a game.
Malkin and Ovechkin have completely changed the definition of a Russian player. You can still get on Ilya Kovalchuk (Ovechkin outhits him 239-41! Malkin has more blocked shots than the Thrashers captain, 371-5), but you can't say any player in the NHL plays harder or is a better teammate than Malkin, Alex Ovechkin and Datsyuk. They are great role models for young Russian players, and Russia should prop them up accordingly. This award will be very close and Ovechkin could very well win it again, perhaps justifiably. But I like Malkin by a nose and I like how the Hart Trophy results look over the past three years: Sidney Crosby, Ovechkin and Malkin. That's the way it should be.
Honorable mention: Ovechkin, Green, Thomas, Zach Parise, Crosby, Datsyuk, Richards, Boyle, Marleau, Joe Thornton, Jarome Iginla.
Weekly Tribute to Jack Falla
All season long, we have provided an excerpt from Jack Falla's 2000 classic book "Home Ice." The gist of the book is Falla and his backyard rink. For those who have read it, the book is much more than that. The excerpts have proved to be wildly popular among most of you readers. The point was to honor a man who loved the soul of hockey and introduce Falla to those of you who had missed his presence in this column over the years.
The impetus for the excerpts was Falla's unexpected and tragic death in September 2008. For some reason, people don't associate the word "tragic" when describing the death of a man in his early 60s. I'm not sure why. For anyone who was a part of Falla's life, partially or wholly, will tell you they greatly and palpably miss him and his joy for living and writing. Having a person like Falla taken away from us is a tragedy. We have reached the end of "Home Ice." This is our final excerpt of the season:
As I look in our guestbook, I see that I have taken the final skate in three of the six seasons we've been keeping that record. Twice by myself. Once with Barbara. And all three times, I knew intuitively that it would be the final skate. And even when I wasn't the last skater off the ice in a given season, I still knew when I was taking my own last skate, and on those days, I stayed out longer and skated harder. Of course, I didn't skate any better, I just did what I've tried to do ever since I took those first shuffling strides with my mother -- skate as well as I can. Because life is different from a skating season, and in life, you never know which skate will be your last. Only that one of them will be.
Au revoir, Mr. Falla.
The Mother of All Mailbags
Bucci,
Instead of tiebreakers, how about a one-game playoff if two teams are tied for the eighth and final spot?
Adam
St. Louis
I've been advocating for an 8-9 play-in game for years now. One for each conference. A Monday doubleheader on national television the day after the regular season ends. Confetti, a KISS concert and balloons. Lots of balloons.
---
Hey Bucci,
Quick question. You mentioned draft choices for the upcoming draft. Since the season is almost over, I was hoping you can expand on that by offering draft scenarios for the bottom three teams and why they would draft the player you are thinking of.
JD
Long Island, N.Y.
Quick lottery draft nuggets from the league:
• The first 14 picks of the NHL draft are determined by the annual lottery; this year, it will be held April 14.
• NHL teams cannot move up more than four positions in the draft order.
• Therefore, only the five NHL teams with the fewest regular-season points have the opportunity to select first overall.
• No team can move down more than one position as a result of the draft drawing.
Here are some results from the past six draft lotteries:
2003 -- Florida moved from fourth to first.
2004 -- Washington moved from third to first.
2005 -- Pittsburgh, the New York Rangers, Buffalo and Columbus had equal chance for first pick in a unique lottery following the lockout.
2006 -- St. Louis maintained first overall pick.
2007 -- Chicago moved from fifth to first.
2008 -- Tampa Bay maintained first overall pick.
With all of that mind, it looks like these five teams could have a chance at the first pick in June: New York Islanders, Colorado, Tampa Bay, Atlanta and Los Angeles. We will have to wait for the final couple of games to get teams four and five, for sure.
Islanders fans, it appears you will get either Canadian scoring ace John Tavares or mobile Swedish defenseman Victor Hedman. That is great news for you. The Isles are going to add a very good, young player to their organization in June. It is going to be very interesting to see how the Avalanche and Lightning play it the rest of the way. The team that finishes second to last has a 61 percent chance of picking second overall. The team with the third-worst record has just a 14 percent chance.
It will also be interesting to see how teams on the cusp of the fifth-worst record might position their lineups in order to get into the bottom five to have that chance at the first pick. As we have seen in the past five conventional NHL draft lotteries, the team with the worst regular-season record has picked No. 1 overall just twice and teams have moved up from third, fourth and fifth.
Hedman and Tavares are the 1-2 picks, although Matt Duchene is a very gifted center with great hands and speed. There are still very good prospects after the top three and the bottom five teams should get very good players that will add organizational depth to their franchises. Hopefully, it is in the top-six forward or top-two defensemen variety.
It looks like the Islanders, Lightning and Avalanche will be the bottom three and have the best chance at the first overall pick. In all three of those cases, I would take Hedman with the first overall pick. Unless the Lightning trade Vincent Lecavalier and/or Martin St. Louis before the draft, Hedman is a better fit than another offensive forward. The Avalanche are also in desperate need of a defensive upgrade from the goalie out, but with Joe Sakic near retirement, Tavares or Duchene would be a good fit. Same with the Islanders.
---
John,
What will Montreal do with all their free agents?
Patrick
Big Rapids, Mich.
The Canadiens have 10 unrestricted free agents: Alex Tanguay, Saku Koivu, Alexei Kovalev, Robert Lang, Tom Kostopoulos, Mathieu Schneider, Francis Bouillon, Mathieu Dandenault, Mike Komisarek and Patrice Brisebois. They also have four restricted free agents: Tom Plekanec, Christopher Higgins, Kyle Chipchura and Guillaume Latendresse.
This puts the Canadiens in a tough position. They would need quick answers from the likes of Marian Hossa or Jay Bouwmeester if there is mutual interest there. The Habs can't afford to wait on players like that while their players leave one by one.
I imagine the Canadiens will identify who they wish to keep and try to get them signed early with a contract that suits them. If they can't come to a quick agreement with a player from the unrestricted free-agent list, I would let them walk. The restricted free agents should not be difficult to re-sign.
With Andrei Markov and Roman Hamrlik making over $5 million over the next two years, it might be difficult for the Canadiens to sign Komisarek. I would assume a team like the Islanders would love to sign him and have him play on Long Island, especially alongside Victor Hedman.
I would think Lang and his $4 million salary will go away. I don't think Kovalev will return unless it was for short term (like two years) and similar money ($4.5 million per). I would do the same with Koivu; short years, shorter money.
Tanguay is a tough decision. He is making $5.3 million this year and has scored more than 80 points once in his career. He is about to turn 30. I would probably not bring him back at that price.
The Canadiens need to get younger, faster and tougher. That is how I would approach all of these signings -- focused, quick and to the point.
---
John,
GPS navigation systems have been around since the mid-1980s, but it is only in the last 10 years that they have become affordable to the masses. I was the person who responded about a year ago when someone in one of your columns asked why they couldn't come up with a GPS system to determine when a puck crossed the goal line (my response was that GPS doesn't work indoors). I work for a GPS company and a previous CEO, Brad Parkinson, was credited as a co-inventor of GPS (design concept began in the mid-1970s). I always think it would be really cool to use GPS in football to determine immediately after ball replacement if a team got a first down. I think the NFL could use some new technology instead of employing two guys with chains.
Regards,
JC
This is why the e-mail bag rocks. You, the reader. Roger Goodell, take note.
---
Dear John,
Your idea that Mike Richards is a possible Hart Trophy candidate is absurd.
I am a life long Flyers fan. I vividly remember my father taking me to a game against Winnipeg in 1981 to witness Bobby Clarke return from an ankle injury, I attended Pelle Lindbergh's last game against Chicago in November of 1985, I cried my eyes out at age 10 on Memorial Day 1987 when they lost Game 7 to the Oilers, I listened to a radio as I was going to sleep and heard Gene Hart announce Ron Hextall's goal against Boston in 1987. Any comparison to Bobby Clarke is asinine.
Again, I am a Flyers, and though I hate myself for saying it, I would trade Richards and his little buddy Jeff Carter in a heartbeat for either Crosby, Malkin, Ovechkin or Hossa. No question about it. The Richards hype in Philadelphia (as you mentioned, it doesn't seem to be taking place anywhere else) is mainly a media creation from an organization and the media company that owns them trying to sell the fans the notion that Richards is the greatest player the organization has seen.
Joe Boylan
Philadelphia, Pa.
I'm speechless.
---
Bucci,
I'm a huge Bruins fan from Rhode Island, and I'm loving the success the B's are having this year, but looking to the offseason kinds of makes me a little nervous. We have limited cap space while Krejci and Kessel are both RFAs. These are core players. ... So my question is, how do you see this playing out and if we have to choose, which one would you let go?
Josh DeSantis
Newport, R.I.
The Bruins will have major decisions to make this summer concerning their salary structure. Tim Thomas' salary number is somewhat offset by Manny Fernandez's $4.3 million salary coming off the books. But the Bruins still need a backup. Then, there is Kessel and Krejci.
Kessel is a force, the Bruins' most talented and explosive player. He has to play well for the Bruins to go deep in the playoffs. I think he is the most important player on the Bruins outside of the goaltending. He should be a 35- to 40-goal scorer for the next five seasons and that equals roughly a $5 million annual salary.
Krejci has to look at Jordan Staal's contract extension in Pittsburgh -- four years, $16 million -- and say, "I deserve that." Maybe with the economy and the sinking cap, Krejci may be in the $3.5 million per area; but that still, along with Kessel, adds roughly $8.5 million to Boston's payroll. And that is on top of what the goaltender position will cost them next season.
This means someone has to go from the current roster because no major numbers are coming off the books. The most likely candidate is Marco Sturm's $3.5 million salary for the next two years. As long as Sturm comes back healthy, it is an easy contract to trade to a team like the Islanders. That is not a knock on the Islanders. Sturm is a good signing. It's short term, he is fast and productive, and plays with great energy and enthusiasm. He would be a great fit on the Island.
Unless my math is way off, I think the Bruins may have to make another move, whether it's someone like Chuck Kobasew or even Patrice Bergeron. It is going to be a very difficult series of decisions for the Bruins.
---
Hey John,
I have a question for you. In the last week, we have seen at least two great hip checks: Keith Ballard sending Scott Hartnell through the air and Steve Ott doing the same to Taylor Pyatt. In my opinion, both hits were clean. And, in each case, the checkee was skating with the puck with their heads down. I thought Scott Stevens all taught us the lesson of always keeping your head up, but I guess I was wrong. Anyway, after each of these checks and after Hartnell and Pyatt collected themselves, they immediately went after the guys that checked them looking for revenge, but not in the flow of the game kind of revenge, but the "I'm so embarrassed I got laid out like that that I need to prove I'm a man right now" kind of revenge. Unfortunately, this happens all the time after good clean checks. I was just curious what your opinion was on this?
Justin Kelly
Birmingham, Ala.
My stance on this has been stated here for years. I always use the NFL comparison. When a safety cleans the clock of an NFL wide receiver, you don't see a teammate of the wide receiver come over and even shove the safety. Hard hits are a part of the game. Now I understand the bonding that can develop from Sidney Crosby challenging the Panthers' Keith Ballard after Ballard hip checked Evgeni Malkin this past weekend. And I understand it's a tactical move that could result in a player shying away from a big hit later in that game or in a future game against that same team. I like strategy and I like a good fight, but I don't know if I like that tactic. Players should be free to legally hit. Now in an illegal hit situation, I have no problem with a player going after an opponent.
---
Bucci,
So this past Friday I'm on my way home from Amherst for a men's league playoff game (which we lost). I decided to stop on the Pike for some McDonald's since I hadn't eaten anything all day. As I'm eating my quarter-pounder, I notice this mullet approaching. I look up only to see the legend himself, Barry Melrose. After calling all of my buddies to tell them I was eating McDonald's with the mullet itself, I mustered up the courage to say "Hi" (I didn't know what to say ... the hair's more intimidating in person). He's a class guy ... we talked about the regionals for about 15 minutes and he didn't seem to mind that some college-aged, out-of-shape player/fan stopped him to talk. Just thought I'd share it with you, as it started my weekend off right.
Jake
Amherst
Barry is very approachable. If you see him at an airport, a Micky D's, or at the opera, say "Hi."
---
Mr. Buccigross,
I just wanted to drop a line and tell you that I really enjoyed your broadcast of the BU vs. UNH game yesterday. I haven't watched a lot of college hockey (tuned into this one to see the Flyers prospect vanRiemsdyk play) and found it surprisingly exciting. You and Mr. Melrose are a good broadcast duo. Anyone listening could tell that this is your passion. Is there a school that you are rooting for or do you have to stay neutral? I would have a tough time watching a game without rooting for someone. Keep up the good work. I will be sure to tune into the finals.
John Cannon
Philadelphia, Pa.
I won't have a favorite college hockey team until Heidelberg University gets a hockey team. It's my favorite assignment each year, doing play-by-play for a hockey game. We had a fantastic broadcast vantage point to call the games and see the players up-close. After watching BU up-close, it is clear to me Matt Gilroy is the Hobey Baker winner. And it was told to me by someone in the know he is expected to win the award Friday.
---
Bucci,
I'm watching the regional coverage of BU-UNH on ESPNU, and Melrose asked why our mascot is named Rhett. Our colors are scarlet (not red -- that's Cornell) and white. In "Gone with the Wind," Rhett is in love with Scarlett. So the saying goes, no one loves Scarlett like Rhett, hence the name.
Matt Bain
Boston University, '07
---
Hey John,
What are your thoughts on James vanRiemsdyk? I know a lot is expected from him as the No. 2 pick behind [Patrick] Kane, but he doesn't seem to have developed as much as you would hope for? Does he still have a bright future?
Jack
Denver
I think he has a very bright future. He has great size and great hands, an excellent combination. He was playing out of position at New Hampshire for the good of the team. He played center there, but in the NHL, he will be a classic left winger. He is also woefully well below the necessary fitness level to be a professional hockey player. The quicker he learns how to eat and train, the quicker he will become a good professional player. His stamina is weak and his strength is average. He needs to put down the joystick, turn off the Xbox, hit the weight room and the bike, and get down to business.
---
Bucci,
I have been a lifelong Avs fan, my family has had season tickets since 1995. This season has been unprecedented and my question to you sir, is it OK to root for the Avs to lose so the team can get one of the top two draft picks? I would love to see Victor or John in an Avs Sweater.
Thanks for reading my e-mail,
TJ
It is perfectly fine to do that, TJ. This time of year, it's about ping-pong balls.
---
Hi John,
I just wrote to the press officer of Håkan Loob's team and I asked him to forward my mail to him; he should know about the Hakan Loob Hanukkah song and the Loob trivia on ESPN, etc. ... Let's see if he answers; they are about to win the league, so he might be busy with other things.
On another note, I just love the pronunciation guide under all the foreigners in the NHL. Henrik Zetterberg is described as HEHN rihk ZEH tuhr buhrg ... If somebody asked his mother who that is, she wouldn't say it's her son ... Shouldn't a native Swede do the spelling for a Swede and a Czech for the Czechs, etc.? I don't know, but I think Ilya Kovalchuk is Ill-ya Koval-chook, not Koval-chuck ... Markus Näslund is Markus (impossible for a native English speaker to pronounce it the Swedish way) Naeslearned (pretty much). I am sitting in China reading about how my favourite Swedish team won't get back to the Elite League and how Henke Lundqvist (pronounced Hehnke Luundkvist) probably won't make it to the Stanley Cup this year, either. Also, when a couple wants you to name their twins (boy and girl) and they are Flames fans you tell them Flaminia and Carl-Gary.
Magnus Sjolander
Shenzhen, China
I tattooed that e-mail on my back.
---
Hey Bucci,
Hope I'm not breaking the rules here. ... I'm trying to think of a name for the fantasy baseball team. I know hockey is your specialty, but ... any thoughts???
Jesse
Minnesota
Most who read this column know my passions for life are hockey, golf, baseball, music and cheese. I play fantasy baseball. My team name is Wily Mo Beer after Wily Mo Pena. You're from Minnesota, so I would call your team: Kent Hrbek likes to hunt.
"Dreams come true. Without that possibility, nature would not incite us to have them." -- John Updike
---
Hey John,
I just finished reading your latest column, and was moved to write this after reading Nick DiIorio's letter. I have one thing to say to Nick: play hockey. I also had two back surgeries within one year before turning 40. I spent most of my life playing baseball at a reasonably high level, but always wanted to play ice hockey. I regretted not playing, and knew that if I didn't try it, I'd carry that regret with me forever. That's why, at age 42, I joined a beginners D league that is run by the Wharton School of Business at U of Penn, not far from Nick's home in Brookhaven. I had no idea what I had been missing. In addition to being a blast (I even scored a goal on my 43rd birthday), it has helped me build leg and core strength, which are essential for a healthy back. Imagine how great it would be for Nick to watch his son's games and his son being able to do the same.
Steve Sabo
Philadelphia
---
Dear John,
Claude Giroux is hot-pocket awesome. I wonder if he will affect Daniel Briere's playing time in the future, especially considering Giroux is so good in his own zone. Attached is a picture of our daughter, Tevya Domenica, borrowing my wife's Jeff Carter jersey.
Dan & Marie
She's a beauty, a one-in-a-million girl.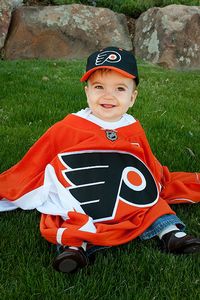 John Buccigross' e-mail address -- for questions, comments or crosschecks -- is john.buccigross@espn.com.