Stock Up, Stock Down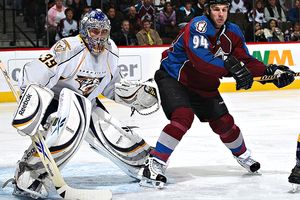 Stock Up: After registering just one goal in his first seven games with the Coyotes, Olli Jokinen, who came over in a big offseason deal with Florida, has netted six goals and nine points in his last six games for Phoenix. The outburst has helped the Coyotes win three of their past four games, including a win Sunday over NHL-leading San Jose.

Stock Down: Dan Ellis stole the starting netminding job from incumbent Chris Mason in Nashville late last season and was superlative in the first round as the Predators took eventual Cup-champion Detroit to six games. This season? Not so much. Ellis has been supplanted, at least temporarily, by rookie Pekka Rinne after posting a 4-7-1 record, .879 save percentage and 3.22 GAA. In his last four starts, Ellis is 1-3-1 while the Preds languish in 11th place in the Western Conference.
-- Scott Burnside
1. How good is Marian Hossa, and how good are the Detroit Red Wings?
Here's the scary thing, folks. If you talk to Detroit coach Mike Babcock, he thinks his team has been just OK so far this season. Sometimes, the Red Wings have been less than OK, but one of the reasons they boast a 9-2-2 record is the play of newcomer Marian Hossa.
"We haven't been nearly as good as we should be," Babcock told ESPN.com this week. "But having said that, I expected that."
Babcock said he was worried during the preseason when all members of the Wings' big line -- Hossa, Pavel Datsyuk and Tomas Holmstrom -- were hurt at various times and didn't get to play together all that much.
"Yet they've been our best line by far," Babcock said.
One of the reasons Hossa has excelled -- he leads the team with 17 points in 13 games and is a team-best plus-9 -- is his passion.
"He's probably been the most emotional guy on the team," Babcock said.
That's what you get when you pick up a player who was on the other side of the ice when the Wings raised the Stanley Cup against the Penguins in June.
As a free agent, Hossa spurned a more lucrative long-term offer from the Penguins, not to mention more money and longer terms from a variety of other teams, to sign a one-year deal to try to help the Wings repeat as Cup champs.
He's off to a solid start, in spite of having to learn yet another system and fit in with yet another dressing room (he started last season in Atlanta before moving to Pittsburgh at the trade deadline).
Babcock has been watching Hossa play since the veteran forward was a teen playing for Portland in the Western Hockey League. While Babcock wasn't surprised with Hossa's skill set, he said a lot of his new teammates are impressed with how physically imposing the Slovak native is.
"He's so strong. No kind of bumping is going to bother him," Babcock said of Hossa's puck control.
One of the few knocks on Hossa was he didn't have a shot and/or wouldn't use it.
"I've seen him absolutely rip it, which is fortuitous for us," Babcock said. "We need him to shoot more."
To that end, the coach has moved Hossa around on the power play instead of having him take up a position along the goal line at the side of the net. "He's really kind of embraced that," Babcock said.
On Tuesday night, the Red Wings face the Penguins for the first time since that Cup-clinching Game 6 in Pittsburgh.
2. What has been the best offseason trade so far?
No doubt the New York Rangers are more than pleased with their acquisition of Nikolai Zherdev from Columbus, but the deal that has had a somewhat surprising impact through the first month of the regular season has been the arrival of defenseman Filip Kuba in Ottawa. The Senators didn't necessarily want Kuba; in fact, they would have been happier had they been able to sign Andrej Meszaros to a long-term deal. The Senators balked at the asking price, however, and rather than risk the distraction, GM Bryan Murray dealt the workhorse Meszaros to Tampa for a package of Kuba and youngster Alexandre Picard.
Surprisingly, Kuba has more than ably filled a gap created by the departures of both Meszaros and Wade Redden, who signed as a free agent with the Rangers. Through 14 games, Kuba is tied for first among NHL defensemen with 14 points and is averaging a healthy 24:28 a night in ice time. He's also plus-5 on a team that struggled throughout the second half of last season with its defensive structure. Chalk one up for Murray.
3. Speaking of Tampa Bay, what's up with the Matt Carle deal?
The game of musical chairs never seems to end in Tampa Bay, as it dealt young defenseman Matt Carle and his $3.43 million annual cap hit to Philadelphia for defenseman Steve Eminger and abrasive forward Steve Downie. The move, along with the dispatching of forward Jason Ward to the AHL, gives the Lightning some cap flexibility in case they want to add another defenseman down the road. We assume it's only a matter of time until the next move is announced.
A source familiar with the situation told ESPN.com the Lightning had been interested in Eminger since the new ownership group took over early last season. Both the Flyers and Lightning will be hoping to get two top-rated defensemen back on track after early signs of promise have failed to yield top-level NHL play. Eminger was the 12th overall pick of the Washington Capitals in 2002, but never got into a groove with either coach Glen Hanlon or his successor Bruce Boudreau. Even though the Flyers were lean defensively, Eminger managed just two assists in 12 games before the trade. At 6-foot-2, 212 pounds and a right-handed shot, Eminger will get more than a fair shake to prove himself.
Carle, meanwhile, was the centerpiece of the offseason deal that saw the Lightning trade puck-moving defenseman Dan Boyle to San Jose. Carle fell out of favor with former Sharks coach Ron Wilson, and although he logged significant minutes with Tampa Bay did not stimulate enough offense to suit the Lightning, who have employed 11 different defensemen this season. Carle has just one goal and one assist in 13 games. Strangely enough, the Bolts and Flyers squared off the day after the trade, and Tampa Bay snuck out a 2-1 victory.
4. Want to know why some teams just never seem to get it?
It was a rather innocuous transaction last week: the Columbus Blue Jackets putting Alexandre Picard (a different Picard from the one that was part of the Meszaros deal between Tampa and Ottawa) on waivers. No one claimed the forward, and he was assigned to the Blue Jackets' AHL farm team in Syracuse. The problem is that Picard isn't just any old farm hand -- he was the eighth overall pick in the 2004 draft. He's played a total of 49 NHL games and has one lonely assist to show for his troubles.
Although the 2004 draft may not have offered the kind of depth of talent we've seen in recent years, putting an eighth overall pick on waivers is a scouting and development white flag. To be fair, Picard was drafted under the previous regime when Doug MacLean was GM (MacLean was replaced by Scott Howson in the summer of 2007). Still, moves like this go a long way in explaining why the Blue Jackets have never qualified for the playoffs, and why they are starting to see an erosion in their once-solid fan base.
The case is reminiscent of another top draft pick that got away, Blake Wheeler, who couldn't come to terms with the Phoenix Coyotes after they selected him fifth overall in 2004. He became an unrestricted free agent this summer and signed with the Bruins. Wheeler was expected to need some more seasoning, but he made the Bruins out of camp and has six goals in 14 games. The Coyotes, for the record, have qualified for the playoffs just once in the past seven postseasons.
5. Brutal? Didn't you mean to say brilliant?
A week after I lumped the Atlanta Thrashers in with the New York Islanders and Los Angeles Kings as the three teams most likely to be in the hunt for the first overall pick next June, the Thrashers suddenly reeled off four straight victories. The most recent came Sunday, when they whipped Carolina in Raleigh by a 5-2 count. Johan Hedberg was in goal as starter Kari Lehtonen continues to recuperate from what was originally described as the flu. Since being waxed by New Jersey and Philadelphia in a matter of days, the Thrashers have outscored opponents 19-12 over the course of their winning streak. The absence of Lehtonen, who signed a one-year deal in the summer and can become a restricted free agent in July, combined with the Thrashers' turnaround, has started tongues wagging that GM Don Waddell might be interested in moving Lehtonen and using Hedberg and top prospect Ondrej Pavelec instead.
Scott Burnside covers the NHL for ESPN.com.