Stock Up, Stock Down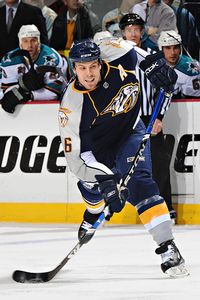 Stock Up: The Nashville Predators have won four of six, and you don't have to look too far down the score sheet to find out why. After a two-goal, one-assist performance in Sunday's 5-2 drubbing of Carolina, Shea Weber is tied for the team lead in points (21) and goals (10). He has nine points in his past eight games and leads all NHL defensemen in points and goals.

Stock Down: After I first filed my quarter grades, I made a last-minute change and moved the Rangers from an A-minus to a B-plus. I shouldn't have stopped there. The Rangers are 4-5-1 in their past 10 games and have managed to score more than three goals in just two of those matches. For a team that was supposed to be able to compete with offensive powerhouses like Pittsburgh and Washington, that's not a good sign.
-- Scott Burnside
1. Should the Montreal Canadiens have retired Patrick Roy's sweater?
Does anyone else think it's a bit curious that a man who single-handedly disrupted a franchise for more than a decade is not only feted by that franchise, but is also immortalized with a sweater retirement?
To pose this question doesn't diminish the significant role Patrick Roy played in the Habs' past two Stanley Cup championships in 1986 and '93. They were things of beauty. They were the kinds of performances that put Roy in the Hockey Hall of Fame and cemented his reputation as the greatest goalie of all time (we defer to Roy until Martin Brodeur returns from injury and passes him in the record books, presumably later this season). But he also demanded a trade in a fit of anger back in December 1995, forever altering the course of history for this franchise.
Yes, ill-qualified coach Mario Tremblay had a hand in the famous blowup, but Roy was the star; he knew it and played the star card. Fair enough. But we're not sure it qualifies him for a place in the Habs' ring of honor along with players whose history speaks not just of great play, but of a connection to the franchise and city that goes beyond mere statistics.
Imagine if Guy Lafleur had demanded to be let out of Montreal at the peak of his talents because he got into a tiff with Scotty Bowman. Ken Dryden warred with management, but all he did was retire for a season before coming back and guiding the Habs to more glory.
Roy? He went on to win two Stanley Cups in Colorado after his famous fit, while the Habs have failed to advance beyond the second round of the playoffs since the trade.
Think about that every time you see his No. 33 fluttering from the rafters of the Bell Centre.
2. What does the loss of captain Brenden Morrow mean to the reeling Dallas Stars?
Well, not to overstate the obvious, but this is bad news. It was Morrow who was the catalyst in the Stars' stirring run to the Western Conference finals last spring. He re-established himself as one of the top leaders in the game by scoring big goals and bringing a big, physical game every night. His loss is on a par with the Detroit Red Wings of old losing Steve Yzerman, the Carolina Hurricanes losing Rod Brind'Amour or Calgary losing Jarome Iginla.
That said, the Stars are blessed with a strong supporting cast, starting with Brad Richards, who was part of the leadership core in Tampa when the Lightning won the Stanley Cup in 2004. Mike Modano, of course, has a long history of leadership with the organization. Stephane Robidas is a solid presence in the locker room.
Now, these personalities haven't been able to turn around a disappointing start to the season, as the Stars are in last place in the West, but perhaps now, with Morrow out, the loss will galvanize the group and force it to play with the cohesiveness that has been lacking since the start of this season.
As for making a roster move, the rumors are stronger that owner Tom Hicks will clean up the co-GM situation before he'll allow Brett Hull and/or Les Jackson to make a significant roster move. Recently added Mark Parrish will get more opportunity to show his career's not done, and rookie Fabian Brunnstrom, definitely hit-and-miss so far, might get a chance to get into a rhythm.
3. What about the loss of Roberto Luongo, who left Saturday's game against Pittsburgh with an apparent leg injury?
The Canucks were waiting for results from a second MRI over the weekend, but already called up Cory Schneider from Manitoba of the AHL to back up Curtis Sanford. The Canucks are one of the surprise teams in the Western Conference, riding a 7-0-2 streak to the top of the Northwest Division. But, like the New Jersey Devils, who are learning about life without Martin Brodeur, the Canucks are now in wait-and-pray mode, hoping Luongo won't be gone long term.
The Devils might be able to stay in the playoff hunt without Brodeur, but it will be because the Eastern Conference is mediocre overall, as opposed to the stellar netminding of Scott Clemmensen and Kevin Weekes (with all due respect). The West is another beast altogether. If Luongo is gone long term, GM Mike Gillis will have to spend some of that cap money he's been squirreling away for Mats Sundin and bring in a bona fide NHL netminder, or risk having the Canucks' good start go for naught.
Would Edmonton send one of its three netminders to a division foe? Maybe not, but there's always Nikolai Khabibulin, part of every goaltending rumor for more than a year. And don't forget Atlanta's Kari Lehtonen, who has back problems, but could be available if prospect Ondrej Pavelec is as good as people say.
4. Does it really matter if Canadiens fans are electronically stuffing the ballot boxes for the All-Star Game that will be held in Montreal in late January to commemorate the team's 100th anniversary?
Huh? Were you talking to me? Sorry, I dozed off as soon as I saw the words "All-Star" and "ballots."
There could hardly be a less compelling event on the NHL schedule than the annual corporate schmoozefest that is All-Star weekend. Every season, there's some sort of controversy over who's on the ballot and who isn't. This year, the NHL's top goaltender, Boston's Tim Thomas, isn't on the ballot. Remember the write-in campaign to get Vancouver defenseman Rory Fitzpatrick on the All-Star roster in 2006-07? We loved that.
For the players who are voted on and/or asked by the NHL's hockey operations folks to fill out the rosters, it can be a big deal. Last season, it was a validation for players like Thomas, Chris Osgood, Mike Ribeiro, Marc Savard and others. Good for them. But the process of selecting those players, just like the event itself, is both flawed and, in the end, pointless. There might be a better way to do it; we just can't summon up enough energy or interest to figure out what that might be.
5. We always talk about rookie players having to adjust to NHL play. What about rookie coaches?
New York Islanders coach Scott Gordon told us this week one of the biggest adjustments he's had to make is in scheduling his practice time. In the AHL, where he coached Providence, Gordon could count on playing two or three games over a weekend and then practicing like crazy during the week. In the NHL, the schedule is so compressed, Gordon has had to concentrate on balancing teaching sessions with giving his players time off.
Florida Panthers coach Peter DeBoer, who made the jump from junior hockey to the NHL this season, acknowledged this week he was taken aback at the competition for points from the moment the season opened.
"I don't think coming from where I come from you have a true appreciation for the parity in the league, and how every night it's tooth-and-nail to pick up points, and [so] early in the season," DeBoer said. "You're used to a kind of a mad rush down the stretch in January, February, March. This starts September, October, November. That's been probably the biggest difference for me."
Although the Panthers continue to be a train wreck, last in the NHL in points, give DeBoer credit for not just accepting his lot in life.
"Actually, I haven't gotten discouraged," he said. "I've seen a lot of positive signs. There's definitely brighter days ahead. We have to get healthy and get this turned in the right direction. But you're trying to change a culture, too; it doesn't happen overnight."
On Friday night in Boston, DeBoer benched Rostislav Olesz, a top forward who signed a six-year deal worth $18.75 million over the summer. Earlier this season, the coach made veteran defenseman Nick Boynton a healthy scratch.
"It's the only tool a coach really has," DeBoer said. "[Olesz] has to be better for us. He's a nice kid and a smart player, but we need more than that. We don't have the luxury of waiting on guys like that for more than 15 or 20 games. We just don't."
Scott Burnside covers the NHL for ESPN.com.