Stock Up, Stock Down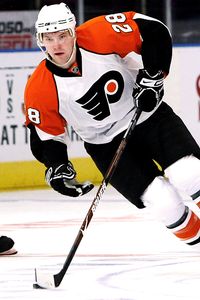 Stock Up

Claude Giroux, Philadelphia Flyers: Is there no end to the young talent the Flyers continue to develop? Giroux, the skilled, speedy winger taken with the 22nd overall pick in the 2006 draft, is making his mark with the Flyers. He has six points in his past five games, including a three-point effort in Sunday's emphatic 5-2 win over Atlantic Division rivals the New York Rangers.
Stock Down

Patrick Sharp, Chicago Blackhawks: Sharp was injured in the Blackhawks' resounding 6-2 home win over Dallas on Saturday and will not make the trip with the team as they hit the road for three more games. Although the personable Thunder Bay, Ontario, native still leads the Blackhawks with 23 goals, he has just three in his last 18 games. He also has just one power-play goal in his past 26 games.
-- Scott Burnside
1. Who wins the Vezina Trophy?
Well, with Martin Brodeur missing most of the season with a torn biceps tendon and Roberto Luongo missing considerable time with a groin injury (and taking even longer to round back into form), this year's field is as wide open as it's been in years.
Even perennial candidate Henrik Lundqvist has endured an up-and-down season with his often-lifeless New York Rangers. Lundqvist was yanked Sunday after giving up four goals on 14 shots in a 5-2 loss to Philadelphia, and his 2.57 goals-against average is 19th in the NHL.
So what do the league's GMs do (they decide on the award)? Well, if Columbus pushes its way into the playoffs (the Blue Jackets were among three teams tied for the eighth and final playoff berth in the Western Conference on Monday morning), the award has to go to rookie Steve Mason. The kid is unstoppable, battling mononucleosis to keep the Blue Jackets in the hunt for their first playoff berth. A virtual lock for rookie of the year honors, Mason has been a rock for Columbus and leads the NHL with a 2.06 GAA.
Who else? Evgeni Nabokov, a finalist last season, should get some love, but it's almost as though the Sharks are so good his play will get overlooked. Miikka Kiprusoff plays every night and the Flames are back in as Cup contenders, with the goalie leading the league in wins. Along the same lines as Mason (we could call it south of the Mason-Dixon line), Tomas Vokoun has reemerged as a top-flight goalie and has the Florida Panthers vying for their first playoff berth since 2000 with a sparkling .923 save percentage (eighth in the league).
And what of Marty Turco, who started the season playing like a bag of hammers but has been sensational since mid-December in helping the Stars back into the thick of the West race? Tim Thomas is a top statistical candidate, but splitting time with Manny Fernandez might cut into his Vezina votes. This year's final ballot promises to be among the most difficult votes the GMs have had in many years.
2. What's different about this season's Calgary Flames squad?
Consider this: Captain Jarome Iginla has just two goals in his past 19 games and just one power-play marker since Dec. 31. In the past, that kind of stat would suggest just one thing for the Flames: freefall. Yet this season's version of the Calgary Flames is no longer the one-trick pony they've been in the past.
While Iginla continues to struggle with his offense (Vicki Hall of The Calgary Herald reported over the weekend that Iginla met privately with GM and former coach Darryl Sutter to talk about Iginla's struggles), the Flames continue to enjoy a healthy cushion atop the Northwest Division thanks to unprecedented scoring depth.
Todd Bertuzzi, the former black sheep in the NHL, is coming off a four-point night in Calgary's 7-5 victory over Phoenix on Saturday and has quietly amassed 41 points (third on the Flames). Mike Cammalleri leads the team with 29 goals and is seventh in the NHL in goal scoring. Daymond Langkow has 17 goals, two fewer than the resurgent Rene Bourque. David Moss, the 220th pick in the 2001 draft, has 16 goals.
In short: Jarome, take your time.
And just in case you didn't notice, that's the kind of depth that wins championships.
3. What's more impressive: Mike Green establishing an NHL record with a goal in his eighth straight game, or the fact that underappreciated Mike O'Connell held the record for the past 25 years?
Well, you might think Mike O'Connell, the former Bruins player and GM (and, briefly, coach) might have been losing sleep over when his long-standing record was going to fall. You'd be wrong.
"I didn't even realize I had a National Hockey League record until about three days ago," O'Connell told ESPN.com shortly before Green broke his record.
O'Connell, now the director of pro development for the Los Angeles Kings, knew he established a franchise record at the time during the 1983-84 season, but was unaware if any defenseman at any time had duplicated or bettered the feat until Green did with a shot from the slot in the Caps' victory over Tampa Bay on Saturday night.
The fact that O'Connell was the only defenseman to accomplish the feat never appeared in any of his bios as a player or manager. Who knows how much bonus money was left on the table over the years, or how much more O'Connell might have demanded in appearance fees had the information been available?
Still, O'Connell wasn't disappointed about seeing his record broken, just slightly miffed at not having been able to fully enjoy it.
"I only got to enjoy it for three or four days," he joked.
As for Green, O'Connell has great admiration for the swift-skating Caps blueliner. Although many liken Green to Paul Coffey, O'Connell sees more of the great Russian defenseman Sergei Zubov.
"He's just a dynamic player. You enjoy watching him play. He's like Zubov except that he's really a great skater," said O'Connell, assuring that no disrespect was intended for Zubov.
How impressive is Green's feat and, by extension, O'Connell's long-held record? Well, having 15 or more goals in a season is a significant achievement for a defenseman; consider scoring in eight straight games and you get the picture.
O'Connell recalls netting one of his seven from the center red line. "The goalie fanned," he said.
But there were some good ones in there, some power-play goals.
"I thought it was special when I did it," O'Connell said.
Too bad he didn't know just how special.
4. How does the goaltending situation in New Jersey play out?
It's been interesting to listen to coach Brent Sutter discuss what will happen with the imminent return of one of the greatest goalies of all time, Martin Brodeur.
No one, including Brodeur, knows how this is going to play out, as he is soon set to return from the most serious injury of his storied career. No one is suggesting he is not the Devils' starter. But expect Sutter to be extremely cautious in bringing Brodeur along when the Hall of Fame-bound netminder returns as early as the end of the coming week. Though the workhorse Brodeur will likely want to see as much action as possible, Sutter won't want to risk a setback.
The coach also has the chemistry in the room to consider. Scott Clemmensen and, to a lesser degree, Kevin Weekes have performed yeoman service in helping the Devils to first place in the Atlantic Division and second in the Eastern Conference (they are tied with Washington, but have one more victory as of Monday morning).
To simply ask those two to start collecting cobwebs (which is what they would normally be doing when Brodeur is healthy) would be a risky strategy for a team that is built on chemistry over raw talent. When it comes time to make a decision, it seems Weekes will be the odd man out given Clemmensen's play, but it wouldn't be a surprise to see the team carry three goaltenders into the postseason.
Remember this, though: Sutter is in his second season as coach, and Brodeur was hardly stellar in last season's first-round playoff exit against the New York Rangers. If Brodeur struggles in April, is it a stretch to suggest we won't see Clemmensen? Not for a coach who's all about winning and less about hurting people's feelings.
5. Is it a big setback that the NHL will only send four teams to Europe instead of six?
Not really. As our colleague Pierre LeBrun confirmed over the weekend (a story first reported by Eric Duhatschek of The Globe and Mail in Toronto), the NHL and the NHL Players' Association will cut back the number of teams originally intended to make the trip overseas to kick off the 2009-10 season from six to four, as they ironed out some issues relating to wording in the collective bargaining agreement.
It will be St. Louis and Detroit bringing the Swedish road show to friendly Stockholm, while Chicago and Florida will be in Helsinki for the Finns' first taste of NHL regular-season action. With the world economy still on the rocks and the 2010 Olympics coming up quickly, trying to bring over two more teams and adding a third site might have been asking too much.
And if the NHL is determined to start each season in Europe -- and it is -- it's crucial it doesn't blow it along the way. When the NHL went to two sites last season -- Prague and Stockholm -- it stretched resources pretty tight. It also stretched the resources of media wanting to cover these events, another important issue for the NHL.
If the league is going to go to Europe, they want to make sure they get bang for their buck, not just in the host cities, but also from coverage of the teams that make the trek. With the newspaper industry in a state of chaos, not having six teams in Europe might not be such a bad thing.
Scott Burnside covers the NHL for ESPN.com.