Stock Up, Stock Down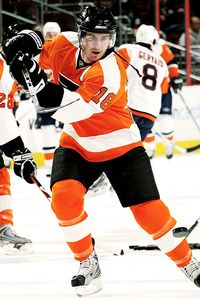 Stock Up

Mike Richards, Philadelphia Flyers: The Flyers' captain is scorching hot with 16 points in his past 10 games. What's more impressive is that the dynamic two-way player is scoring in all situations, including a rare 5-on-3 short-handed goal last week. He leads the NHL with six short-handed markers and has scored short-handed in three straight games for the Flyers.
Stock Down

Boston Bruins: The Eastern Conference-leading Bruins have been the model of consistency this season, never losing more than two straight games in regulation. They still haven't, but that streak is in jeopardy. The Bruins have managed to win just once in their past seven games (1-4-2) and dropped their second straight 4-3 to Tampa Bay on Sunday evening. The soft spot in their schedule has allowed Washington to creep to within seven points for the top seed in the conference.
-- Scott Burnside
1. What do you make of the Chris Osgood situation in Detroit?
There are similarities between Montreal GM Bob Gainey's decision to put Alexei Kovalev on ice for two games last week (the Habs managed to collect one of a possible four points during those games; discuss among yourselves) and Detroit GM Ken Holland's call to give Chris Osgood a break from dressing with the Red Wings.
The theory is that Osgood hasn't been in the right frame of mind to play for the defending Stanley Cup champs rather than simply not playing well. Unlike Kovalev, who may well be on his way out of Montreal by the March 4 trade deadline, Osgood still figures significantly in the Red Wings' plans. At least for the moment. Let's not forget that the oft-maligned Osgood helped lead the Wings to a Stanley Cup in the spring, subbing for starter Dominik Hasek and turning in a 14-4 record and .930 save percentage.
Osgood hasn't been very good this season; his .879 save percentage and 3.29 GAA are the kinds of numbers that suggest "minor leaguer not able to meet NHL standards." But are the Red Wings really set to turn their title defense over to Ty Conklin and "______" (insert name of minor leaguer from Grand Rapids here)? No.
The Wings sent netminder Jimmy Howard back to the AHL after Saturday's loss in Minnesota, and Osgood is expected back between the pipes sometime this week. Unless Holland can find another netminder before March 4 -- and the Wings aren't exactly flush with cap space -- Osgood will earn a chance to refocus and right his ship before the playoffs when, once again, he may end up carrying Detroit's Cup hopes on his shoulders.
2. What's the difference between Guy Carbonneau and Michel Therrien?
Well, Michel Therrien has actually accomplished something as an NHL head coach, leading the Pittsburgh Penguins to last season's Stanley Cup finals. Carbonneau has managed to alienate a number of his star players, and his Canadiens were ousted by an inferior team in the second round of the playoffs in 2007-08.
Another big difference is that Carbonneau, who is revered in Montreal, still has a job, while Therrien was deemed expendable in Pittsburgh and fired last week. The Habs, meanwhile, are celebrating their "dramatic" victory over an injury-riddled, very ordinary Ottawa Senators team Saturday night. The win marked Kovalev's return after his two-game banishment from the team, and all appears to be forgiven after his three-point performance. The win was just the third in the Habs' past 11 outings. But who's counting? Get back to us when Kovalev shows up against a team that might be in the playoff hunt.
Still, it's funny that even though it always seems to be someone else's fault in Montreal -- Michael Ryder's, Sergei Samsonov's, Kovalev's -- the buck never seems to stop with Carbonneau. Not yet, anyway. Lucky for him, he wasn't coaching in Pittsburgh.
3. Speaking of the Canadiens, what will happen to the Kostitsyn brothers?
The early indication is that although Sergei and Andrei may be guilty of hanging out with the wrong hoods, the two forwards from Belarus aren't guilty of any criminal conduct. That likely will save them from a big hit from the league, not to mention any interest from Quebec law-enforcement officials.
If the brothers and veteran defenseman Roman Hamrlik can prove to everyone they had no idea that Pasquale Mangiola was a gangster, as police say he is, they should avoid anything more than a stern talking-to from commissioner Gary Bettman, who has landed heavily on others whose off-the-ice behavior brings the game into an unfavorable light (Sean Avery, Rick Tocchet and Mark Bell among them).
If, however, there is even a smidgen of evidence to suggest the Kostitsyns and Hamrlik were aware of Mangiola's lifestyle, we figure Bettman will come down hard on the players.
4. Why does Florida look different than the old sad-sack Panthers of the past?
The Panthers are one of the more interesting stories of the second half of the season precisely because they haven't followed their patented script -- go to camp with promise, stumble out of the gate, play well for a time, then disappear into the mists.
This is a team whose leading scorer, Stephen Weiss, has just 41 points (tied for 79th among all NHL players). But the Panthers are unified by one thing, defenseman Keith Ballard said.
"There are a lot of guys here who are sick of losing," Ballard told ESPN.com this week.
What makes the Panthers a compelling story is they began the season with the usual expectations of win a couple, lose a couple. "We were under .500 and not sure what kind of team we were going to be," Ballard said.
But first-year coach Peter DeBoer slowly imposed his system and his will. He benched top players who didn't perform, including starting netminder Tomas Vokoun. The team responded, and Vokoun is back at the top of his game.
Since the new year, the Panthers have not lost consecutive games in regulation and have just five regulation losses in their past 22 games, a stretch that has seen them jump into a tie for seventh in the Eastern Conference. They are just three points removed from fourth place and home-ice advantage in the first round of the playoffs.
"Our success just comes from working hard," Ballard said.
He acknowledged that Florida doesn't have a bona fide superstar such as Alex Ovechkin or Sidney Crosby, so there is little choice for the Panthers other than to grind it out every night if they want to break the cycle of losing that has marked their time in South Florida.
"We don't have anybody with 30 goals or 50, 60 points," Ballard said. "We're getting production from everywhere."
Ballard, a virtual lock to make the U.S. Olympic team for the Vancouver Games in February 2010, has seen this movie before with the Phoenix Coyotes. He arrived in South Florida after a draft weekend deal in June for former Panthers captain Olli Jokinen. The deal was supposed to put the Coyotes over the top. Instead, Jokinen may be dealt by the fading Coyotes, while Ballard gives Florida GM Jacques Martin many options if he believes he needs to move top defenseman Jay Bouwmeester, who is slated to become an unrestricted free agent in July.
Ballard said it's been fun to see the fans start to warm to the team as it pushes for its first playoff berth since 2000.
"You can understand why people in the beginning aren't there as much," Ballard said. "The team hasn't had success. But we're doing a good job of trying to win over fans."
5. Is this the LeBrun curse that's being delivered to the Buffalo Sabres?
Not to blame this all on our colleague Pierre LeBrun, but his nice piece on the Sabres a couple of weeks ago was right on the money. The Sabres were rolling and looking more and more like the speedy, talented team that raced to the Eastern Conference finals in 2006 and 2007.
Since then, the Sabres have lost leading scorer Thomas Vanek, and on Saturday they lost top netminder Ryan Miller to an ankle injury. The severity of the injury isn't yet known, but it doesn't look as though Miller will return in the immediate future, which puts a ton of pressure on backup Patrick Lalime to keep the Sabres' playoff hopes alive.
Lalime, who previously played for the Penguins, Senators, St. Louis Blues and Chicago Blackhawks, has appeared in only 13 games this season and has a miserable 2-7-1 record. Still, he has a track record of being able to string together strong starts, and Sabres officials are saying all the right things about having confidence that Lalime can get the job done in Miller's absence.
If Miller won't return in the near future, though, it'll be interesting to see how this might alter GM Darcy Regier's approach toward the March 4 trade deadline. This past weekend, Regier was quick to shut down rumors he was going after Colorado forward Ryan Smyth, but the Miller injury may force his hand and create a bigger market for netminders such as Atlanta's Kari Lehtonen, who reportedly is being shopped, Toronto's Vesa Toskala or even the lamentable Martin Gerber, who was banished to the minors by the Senators.
Manny Legace, waived by St. Louis, also could be an option, as would Kevin Weekes, who may be looking for work when Martin Brodeur returns to action in New Jersey. Brodeur is expected to play by the weekend.
Scott Burnside covers the NHL for ESPN.com.