Discussion
Players fight because we let 'em
None of the NHL's beauty or speed or skill would be lost without fighting
The only thing more predictable than fighting in NHL hockey is the fight over fighting in NHL hockey.
Right now in Canada, the game's ancient birthplace, and everywhere the game is played and talked about, we are engaged in another great debate over the role of fighting in hockey. Like the orbit of a dark and distant planet, these arguments come and go like clockwork, but shed little light. For many years, once a decade or so, the moral, ethical, practical and existential questions ...

Read full story
FIGHTING IN THE NHL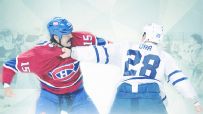 Is all the roughness really necessary? A look at fighting's place in the NHL.