Discussion
Counting the punches: Fighting stats
Updated:
December 3, 2013, 10:32 PM ET
ESPN.com
• An NHLPA/HNIC player poll from the 2011-12 season showed that 98 percent of players did not want fighting banished from the game.
• According to the NHL, 64 percent of games this season have been fight-free, the highest percentage since the 2006-07 season.
• As of Nov. 21, only one (Joffrey Lupul) of the top 100 scorers this season has more than one fighting major, according to the NHL. And 90 of the top 100 scorers have not been involved in a fight this season.
Information ...

Read full story
FIGHTING IN THE NHL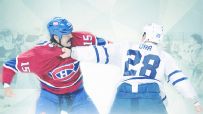 Is all the roughness really necessary? A look at fighting's place in the NHL.