Discussion
Ranking the NHL's top 10 centers
In a stacked position, which of the league's top pivots reigns supreme?
Updated:
January 16, 2014, 12:52 PM ET
By
Neil Greenberg
| ESPN Insider
The list of things that makes a great center in the NHL is not long, but none of the items are easy to achieve: The league's top centers need to create scoring chances for their team while limiting those of the opposition, win faceoffs and perform at a high level while being matched up against the best the opposition has to offer.
We can quantify these qualities through several metrics, of both the fancy and traditional variety, starting with the possession metrics based on shot attempts. If a center's line is generating more shot attempts than it is giving up, then it helps tilt the ice in its team's favor. Perhaps more important, we also can see which players improve their line by looking at those teammates both with and without the player in question. If the skaters are better with the center, then it could be reasoned that he is a driver for that line.
We also can get a sense of the opposition faced by quality of competition metrics based on ice time; the more an opposing player skates, the higher the likelihood he is a better player and, thus, tougher competition. And of course we have our basic stats, including goals, assists (split between primary and secondary) and faceoff percentage.
With that said, whom would you want as your center to help win the Stanley Cup this season, taking injuries into account? Here are my top 10 choices:
To see Neil Greenberg's complete ranking of the top 10 centers in the NHL, sign up to become an ESPN Insider.
Insider
THE NHL ON ESPN INSIDER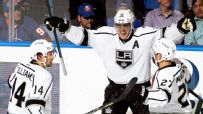 NHL INSIDER 2014-15 CONTENT