Discussion
NHL Player Power Rankings
Joe Pavelski's climb up the ranking of top 10 players continues
Updated:
March 4, 2014, 1:49 PM ET
By
Tom Awad
| Hockey Prospectus
Editor's note: These rankings are based on player production in terms of Hockey Prospectus' GVT valuation metric. If you are unfamiliar with GVT and how it works, you can find more here.
Every week, Hockey Prospectus will provide updated Player Power Rankings for the top 10 skaters and top five goalies in the NHL based on HP's proprietary value metric GVT, a statistic that combines player contributions in all aspects of the game, including defense, goaltending and the shootout. The data presented here includes a value for offensive GVT, defensive GVT, shootout GVT and overall GVT (stats through Saturday).
No change at the top this week, as Sidney Crosby continues to sit in the No. 1 spot, but there was some movement elsewhere on the list.
---
Top 10 skaters
1. Sidney Crosby, F, Pittsburgh Penguins
Off GVT: 16.8 | Def GVT: 2.7 | Shootout GVT: 0.3 | Total GVT: 19.8
With little pressure in either the scoring race or the playoff race, Crosby's primary objective at this point is to help lock up first place in the Eastern Conference. Using the current standings, this would set up a first-round matchup with either Washington or Detroit; there is no shortage of interesting storylines there.
To access the full list of Hockey Prospectus' Player Power Rankings, you must be an Insider.
Insider
THE NHL ON ESPN INSIDER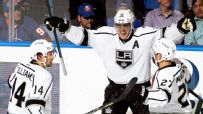 NHL INSIDER 2014-15 CONTENT