Discussion
NHL Player Power Rankings
T.J. Oshie surges, while new name tops goaltender rankings
Updated:
March 31, 2014, 12:11 PM ET
By
Tom Awad
| Hockey Prospectus
Editor's note: These rankings are based on player production in terms of Hockey Prospectus' GVT valuation metric. If you are unfamiliar with GVT and how it works, you can learn more here.
Every week, Hockey Prospectus will provide updated Player Power Rankings for the top 10 skaters and top five goalies in the NHL based on HP's proprietary value metric GVT, a statistic that combines player contributions in all aspects of the game, including defense, goaltending and the shootout. The data presented here includes a value for offensive GVT, defensive GVT, shootout GVT and overall GVT.
T.J. Oshie surges, bumping a pair of Chicago Blackhawks down the rankings, while a new name dethrones Ben Bishop for the top goalie spot.
---
Top 10 Skaters
1. Sidney Crosby, F, Pittsburgh Penguins
Off GVT: 20.1 | Def GVT: 3.1 | Shootout GVT: 0.6 | Total GVT: 23.8
Previous ranking: 1
Crosby's best seasons were in 2009-10, when he amassed 30.0 GVT, and 2006-07, when his 120 points and 24.4 GVT were good enough for the Hart Trophy as league MVP. This season will rank somewhere in his personal top three, and he appears headed for another Hart Trophy.
To read the rest of the list of top NHL players through March 30, you must be an ESPN Insider.
Insider
THE NHL ON ESPN INSIDER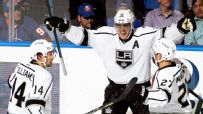 NHL INSIDER 2014-15 CONTENT