Discussion
Key stat, prediction for every series
Rangers will dominate at even strength; Blues vulnerable in goal
Updated:
April 15, 2014, 12:18 PM ET
By
Matthew Coller and Ryan Wagman
|
Hockey Prospectus
In the current salary-cap era of the NHL, the league has closed the gap between the top-seeded playoff teams and those at the bottom of the postseason list. With parity being the new rule, you could make a Stanley Cup argument for at least half of the postseason participants.
With the talent spread around, it is often matchups that make the difference, but those key matchups are not always easy to spot. One way to uncover them is by looking at the numbers. What numbers are the most telling in each series?
Editor's note: Click here for an explanation on any stats or terms with which you are not familiar.
---
Eastern Conference
New York Rangers vs. Philadelphia Flyers
Key stat: Philadelphia's minus-18 even-strength goal differential
The Flyers are one of only two teams to make the postseason to have been outscored at even strength this season (Montreal is the other). With referees prone to swallowing their whistles in the playoffs, even-strength play will take on even more importance than usual. With both teams expected to have their full rosters available by Game 1, expect the Rangers to make it very hard for an occasionally explosive Flyers team to get good looks at their net.
Prediction: Rangers dominate 5-on-5 play, win in six
With huge advantages for the Rangers in puck possession and goaltending, it is hard to see the Flyers keeping up when there are five skaters per side. Henrik Lundqvist started the season slowly, but finished strong with a .920 save percentage, and his past two playoff runs have included save percentages over .930. Philadelphia will be forced to rest their hopes on power-play scoring. -- Wagman
To see the rest of the key stats for each of the NHL playoff series, as well as predictions on who will win, you must be an ESPN Insider.
Insider
THE NHL ON ESPN INSIDER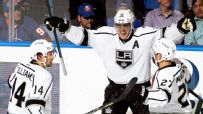 NHL INSIDER 2014-15 CONTENT