Discussion
Who will be the star of Game 7?
CHICAGO -- So much ground covered, so much emotion expended, so little decided.
That is the beauty of this pitched battle between the two best teams left in the playoffs, the Chicago Blackhawks and the Los Angeles Kings.
The last two Stanley Cup champions have gone hammer and tong through six games, and the only thing resolved is that fans have been treated to a veritable feast of hockey at the highest level.
The only good thing about the teams having to pack up and fly east ...

Read full story
2014 STANLEY CUP PLAYOFFS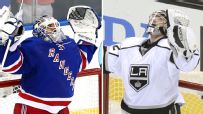 Sixteen teams began the quest for Lord Stanley's Cup, only two remain: