Discussion
Summer Skate: Blackhawks
Chicago's former No. 1 overall draft pick is poised for a career season
Updated:
September 2, 2014, 1:17 PM ET
By
Ryan Wagman
| Hockey Prospectus
Although the weather doesn't necessarily make us think of winter pursuits, it's a good time to take the temperature of every NHL team. Hockey Prospectus will guide us through the league-wide tour, spotlighting one player trending up and one player trending down for each club, as well as a key statistic as we look ahead to the 2014-15 season. References will be made to goals versus threshold (GVT), a Hockey Prospectus proprietary statistic; for more on GVT, click here. All other advanced stats are courtesy of Stats.HockeyAnalysis.com.

The Chicago Blackhawks are perhaps the only organization in the NHL for whom the season they just had -- 107 points (seventh-best in the league) and one semi-fluky Game 7 overtime goal away from a repeat berth in the Stanley Cup finals -- could be considered a disappointment. Without the benefit of an NHL-caliber second-line center, the Blackhawks still had the second-best offensive attack in the NHL. Despite having subpar backup goaltending -- when Corey Crawford was not in, the Blackhawks could stop only 88.6 percent of shots against -- they still were above average in terms of goals allowed.
The salary cap (of which the team is currently in violation of) will have more to say about the roster they can open the season with, as they have only 22 players under contact, yet are nearly $1.5 million over the allowable spending limit. That aside, they addressed their biggest weaknesses by giving a low cap deal during the offseason to pivot Brad Richards to handle the second-line centering chores, while the decision not to re-sign Nikolai Khabibulin will go a long way to resolving the backup goalie question.
---
Last season: 14.3 GVT
VUKOTA Projection: 15.7 GVT
To read more about the Chicago Blackhawks' offseason, and for access to the rest of our NHL content, become an ESPN Insider today.
Insider
THE NHL ON ESPN INSIDER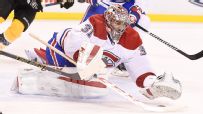 NHL INSIDER 2014-15 CONTENT