Discussion
Too young to lead the Blackhawks? Toews says: Bring it on
CHICAGO -- Captain Serious.
That's what some of Jonathan Toews' teammates have been calling him since the start of training camp.
It's pretty funny given that Toews is both the new captain of the Chicago Blackhawks and, well, a pretty serious kid.
"Yeah, I got a little ribbing from some of the guys," the 20-year-old Toews said in a recent interview. "But I don't have a problem with that.
"I don't think that much will change for a while," Toews ...

Read full story
THE CHICAGO BLACKHAWKS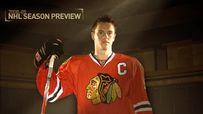 The Blackhawks had a revival season in 2007-08. Will they be able to take the next step this season and reach the playoffs?:
• The team: Not so long ago, the Blackhawks were an afterthought in Chicago. Now, the buzz around the team is palpable, and so are the expectations. Will this young team be able to deliver? Burnside
• The captain: Jonathan Toews is the youngest captain in Hawks history. Too much pressure? With a strong work ethic and some striking parallels to one Stevie Y, this kid says: bring it on. Burnside
• The parallel: Steve Yzerman was considered to be one of hockey's best leaders. Now, Jonathan Toews is the New Classic leader. Launch
• The mindset: How do teams know a younger player is even ready to be a captain? Former NHL GM Jay Feaster gives us an inside look into what teams look for, from the draft and beyond. Blog
• The pictures: Get an inside look at the Blackhawks' first training camp festival. Gallery