Discussion
We asked (again), players answered
Updated:
February 6, 2009, 2:25 PM ET
ESPN.com
It's back! The ESPN.com NHL players' survey returns with a new set of questions. We contacted all 30 teams and heard from 193 players, or roughly 21 percent of active players. Here's what they told us:
QUESTION 1: WHO IS THE BEST LEADER IN THE NHL?
Iginla • TOP VOTE-GETTER: Jarome Iginla (22%). • More on Iginla | Statistics | Flames page • Iginla actually played baseball and hockey before ultimately choosing the skates, playing in net ...

Read full story
ESPN.COM'S NHL PLAYERS' SURVEY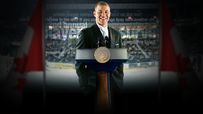 YOUR TAKE?
The players weighed in. Now it's time for you to tell us what you think. Who's the best leader? Who complains the most on the ice? We want to hear from you, SportsNation! Vote
PODCAST
E.J. Hradek and Matthew Barnaby give us some of their answers to our burning survey questions. Hockey Today
THE FIRST VOTE
Check out what players had to say in our first players' survey. '07 Survey