Discussion
For Capitals, it's Cup or bust (again)
WASHINGTON, D.C. -- Were five days in April enough to destroy one of the great revivals in pro sports?
Were the final, curious flailings from the Washington Capitals' collapse against eighth-seeded Montreal the first showings of a loose thread ready to unravel all the good that has been done in the nation's capital?
In the days after the Capitals' first-round series loss to the Canadiens this past April, veteran forward Mike Knuble said people around him walked on eggshells.
...
Read full story
2010-11 NHL SEASON PREVIEW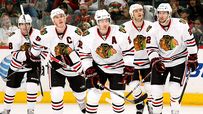 As we count down to opening night on Oct. 7, ESPN.com previews the 2010-11 season:
TEAM PREVIEWS: WESTERN CONFERENCE





•
Watch: Hradek & Barnaby's Central preview





•
Watch: Hradek & Melrose's Northwest preview





•
Watch: Hradek & Barnaby's Pacific preview
TEAM PREVIEWS: EASTERN CONFERENCE





•
Watch: Hradek & Barnaby's Atlantic preview





•
Watch: Hradek & Barnaby's Northeast preview





•
Watch: Hradek & Melrose's Southeast preview
Northeast Division:
Coming Friday
Atlantic Division:
Coming Monday
FEATURES
FANTASY/INSIDER
COUCH SESSIONS
The NHL's biggest stars talked to ESPN.com about the new season. Watch the series