Discussion
Nathan Horton makes the call
The former Panther shed his misery to embrace his rebirth as a Bruin.
Updated:
December 16, 2010, 3:59 PM ET
By
Lindsay Berra
| ESPN The Magazine
THE WORDS HAVE been rolling around Nathan Horton's head for three weeks, ever since his Panthers hired GM Dale Tallon mid-May. Now, as he leaves a South Florida gym on this June day, he notices a missed call on his cell. It's his new boss. Nothing against the former Blackhawks exec whose mark is all over that talented team, but Horton's mind is made up.
Tallon is the Panthers' fifth GM in Horton's six seasons in Florida. The 25-year-old wing has also played for five coaches, in an ...

Read full story
ESPN The Magazine: December 27, 2010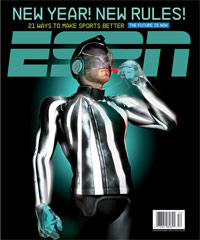 Check out ESPN The Magazine's December 27, 2010 issue -- New Year! New Rules! -- below.
Features