Discussion
These Sharks have all the answers
DETROIT -- The similarities are so eerie, it's spooky.
One year later to the day, the Sharks trailed entering the third period of Game 3. Joe Thornton set up an overtime goal, and the San Jose Sharks stunned Joe Louis Arena with a 4-3 win and 3-0 series stranglehold over the Detroit Red Wings.
"All the same scenarios; it's really weird," Thornton said. "It's just very bizarre. For it to happen again is strange; what can I say?"
This time around, the Sharks ...

Read full story
2011 STANLEY CUP PLAYOFFS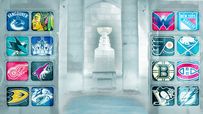 Follow the NHL on ESPN: Twitter / Facebook
EASTERN CONFERENCE
No. 1 Washington vs. No. 5 Tampa Bay
No. 2 Philadelphia vs. No. 3 Boston
WESTERN CONFERENCE
No. 1 Vancouver vs. No. 5 Predators
No. 2 San Jose vs. No. 3 Detroit
SECOND ROUND