Discussion
Why we need this season to start
A new season is like a frozen pond blown clear by a chilled breeze.
It says welcome -- all things are possible here.
Around that unblemished frozen pond that will be the 2011-12 National Hockey League season, though, are dark reminders that no matter how often we try to separate the game from the rest of the world, the two intersect more often than we'd like.
"Obviously it was a summer that had tremendous sadness and tragedy," NHL commissioner Gary Bettman told ESPN.com.
It's ...

Read full story
2011-12 NHL SEASON PREVIEW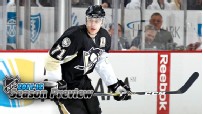 As we count down to opening night on Oct. 7, ESPN.com previews the 2010-11 season:
Follow the NHL on ESPN: Twitter / Facebook
TEAM PREVIEWS: WESTERN CONFERENCE





•
Watch: Jonathan Toews interview





•
Watch: Ryan Kesler interview





•
Watch: Logan Couture interview
TEAM PREVIEWS: EASTERN CONFERENCE





•
Watch: Henrik Lundqvist interview





•
Watch: Tyler Myers interview





•
Watch: Martin St. Louis interview
FANTASY/INSIDER
COUCH SESSIONS