Discussion
Bucci's back with his Lucky 16
This is Year Messier, Year 11 for this weekly, in-season hockey space-filler on ESPN.com.
The first "blogumn" appeared here in November 2001. The preamble to that first effort included, "Hockey is about family, friends, fun and rock and roll."
It also had this query: "Who knows how this [the column] will evolve?"
Followed by the credo: "I live my life around a James Joyce quote -- 'Chance furnishes me what I need. I am like a man who stumbles along; my foot strikes ...

Read full story
2011-12 NHL SEASON PREVIEW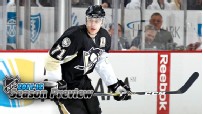 As we count down to opening night on Oct. 7, ESPN.com previews the 2010-11 season:
Follow the NHL on ESPN: Twitter / Facebook
TEAM PREVIEWS: WESTERN CONFERENCE





•
Watch: Jonathan Toews interview





•
Watch: Ryan Kesler interview





•
Watch: Logan Couture interview
TEAM PREVIEWS: EASTERN CONFERENCE





•
Watch: Henrik Lundqvist interview





•
Watch: Tyler Myers interview





•
Watch: Martin St. Louis interview
FANTASY/INSIDER
COUCH SESSIONS