Discussion
Family's pain has not faded
NORTHVILLE, Mich. -- There's no way he would have approved. No way. Brad McCrimmon was many things, as reliable a defenseman as there was in hockey during his playing days. A stern, yet encouraging, coach who constantly looked for ways to improve every player on his team.
But first and foremost, he was a dad. A protective one.
When it came to his stance on tattoos, he made it abundantly clear to his kids: They weren't allowed. His rule even came with a threat.
If his ...

Read full story
REMEMBERING LOKOMOTIV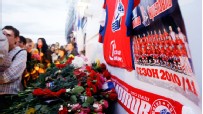 We remember the 44 lives lost when Lokomotiv's charter flight crashed on Sept. 7:
REMEMBERING LOKOMOTIV