Discussion
Nazem Kadri feels Leafs' possibilities
Updated:
April 11, 2013, 1:39 PM ET
By
Katie Strang
| ESPN.com
In the midst of a breakout season for the Toronto Maple Leafs, 22-year-old Nazem Kadri is helping lead the way to the team's first playoff appearance since 2004. Kadri tells ESPN.com's Katie Strang about the highs and lows of his career, who has kept him grounded and why he thinks the Leafs may be a sleeper team this spring in this week's installment of the New York Minute.
Strang: What's the buzz been like in Toronto lately with the team poised to make the playoffs?
Kadri: ...

Read full story
NEW YORK MINUTE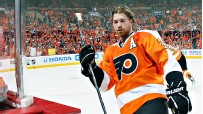 Katie Strang sits down with the biggest names in the game to discuss their play, their team and their life off the ice.
Follow the NHL on ESPN: Twitter / Facebook