Discussion
Power plays will decide the Cup
Blackhawks, Bruins had one combined PP goal in conference finals
The Chicago Blackhawks and Boston Bruins were two of the best even-strength teams during the regular season. The Blackhawks had possession of the puck 55 percent of the time, the third-highest percentage in the league, and Boston was a close fourth at 54 percent. They saw 61 and 55 percent of even-strength goals scored in their favor, respectively.
But as good as they have been when five-on-five, their power play units have not been able to get on track this postseason.
Whichever team can ignite its attack first could grab a significant advantage in the series, but which team has the best shot to score with the man advantage?
To gain access to the rest of this article on why power plays will decide the Stanley Cup winner, plus Insider's complete NHL coverage, sign up for ESPN Insider.
Insider
THE NHL ON ESPN INSIDER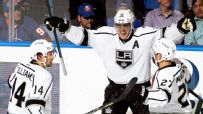 NHL INSIDER 2014-15 CONTENT