Discussion
New Jersey Devils dodge a bullet
Ilya Kovalchuk's retirement will help Devils streamline, avoid salary cap pitfall
Updated:
July 12, 2013, 1:06 PM ET
By
Frank Provenzano
| Special to ESPN Insider
Ilya Kovalchuk's retirement may seem like a bitter pill to swallow, but in time, the premature parting from the New Jersey Devils may turn out sweeter than it appears at first blush.
In the short term, many Devils fans will be lamenting the loss of their marquee offensive threat. The Devils, despite adding some offensive depth this summer through free agency, will likely continue to find themselves in the bottom half of the NHL firepower department (they finished 28th, 15th and 30th in goals scored over the past three seasons, and are losing a player who accounted for 16 percent of their offense over that span). However, there is a silver lining to this sudden turn of events in Newark. Millions of them, as a matter of fact.
To see the rest of Frank Provenzano's take, plus get Insider's complete NHL coverage, sign up for ESPN Insider.
Insider
THE NHL ON ESPN INSIDER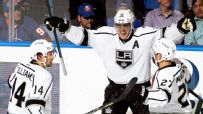 NHL INSIDER 2014-15 CONTENT