Discussion
Summer Skate: Ottawa Senators
Karlsson's back, and the rest of the league is in trouble
Updated:
August 23, 2013, 9:54 AM ET
By and
Corey Pronman
|
Hockey Prospectus
Using the VUKOTA projection system of Hockey Prospectus, Insider is taking the temperature of key players on every NHL team, continuing with the Ottawa Senators. For a detailed explanation of Prospectus' proprietary GVT value metric, read more here.
Note: Due to the lockout, GVT scores for 2012-13 are prorated from 48 to 82 games.
Summer Skate: Ottawa Senators

It was a pretty incredible run for the Senators in 2013. The team suffered injury after injury, losing star center Jason Spezza and defenseman Erik Karlsson early in the season, not to mention goaltender Craig Anderson for a few weeks -- and still managed to land a seventh seed and advance one round in the playoffs.
They received encouraging performances from young players and followed the leadership of Daniel Alfredsson. Now, with the offseason acquisition of Bobby Ryan, and their two stars fully healthy, the Senators could be a Cup contender.
Trending up: D Erik Karlsson
Last season: 9.7 GVT | VUKOTA projection: 12.8
To read the full story about the Senators' summer projections, plus Insider's complete NHL coverage, sign up for ESPN Insider.
Insider
THE NHL ON ESPN INSIDER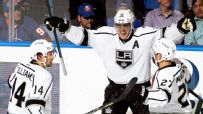 NHL INSIDER 2014-15 CONTENT