Discussion
Summer Skate: Lightning
Tampa Bay's transition to a younger lineup could come with growing pains
Updated:
August 24, 2013, 3:35 PM ET
By and
Corey Pronman
|
Hockey Prospectus
Using the VUKOTA projection system of Hockey Prospectus, Insider is taking the temperature of key players on every NHL team, continuing with the Tampa Bay Lightning. For a detailed explanation of Prospectus' proprietary GVT value metric, read more here.
Note: Due to the lockout, GVT scores for 2012-13 are prorated from 48 to 82 games.
Summer Skate: Tampa Bay Lightning

After another season without a playoff bid, the Lightning made a change by firing head coach Guy Boucher and hiring Jon Cooper. Tampa Bay's issues extend beyond coaching, however, as the Lightning are transitioning from the mentality of a competitor to that of a rebuilding team. Erasing Vinny Lecavalier's cap hit and nabbing several top draft picks will eventually help them get back to being a playoff team, but not this season.
Trending up: F Valtteri Filppula
Last season: 4.3 GVT | VUKOTA projection: 6.0
To read the full story about the Lightning's summer projections, plus Insider's complete NHL coverage, sign up for Insider today.
Insider
THE NHL ON ESPN INSIDER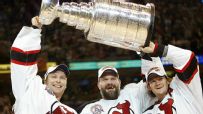 NHL INSIDER 2014-15 CONTENT