Discussion
Summer Skate: Winnipeg Jets
Can the new additions and young talent push this team into the postseason?
Updated:
September 8, 2013, 1:08 PM ET
By and
Corey Pronman
|
Hockey Prospectus
Using the VUKOTA projection system of Hockey Prospectus, Insider is taking the temperature of key players on every NHL team, continuing with the Winnipeg Jets. For a detailed explanation of Prospectus' proprietary GVT value metric, read more here.
Note: Because of the lockout, GVT scores for the 2013 season are prorated from 48 to 82 games.
Summer Skate: Winnipeg Jets

The move to the new division means the excessive travel is over, but after two full seasons for the franchise in Winnipeg, the honeymoon may be over, too -- management and fans are now looking for some results.
Last season, the Jets ranked 25th in goals allowed and 24th in penalty killing and had the league's worst power play. The only moves they made this offseason were to retool their forward depth by replacing Nik Antropov, Kyle Wellwood and Alex Burmistrov with Devin Setoguchi, Michael Frolik and Mark Scheifele. That means the climb into the postseason is dependent upon improvement from the team's existing talent base.
Trending up: F Olli Jokinen
Last season: -5.1 GVT | VUKOTA projection: 2.5
To read the rest of the Jets' projections for 2013-14, and all of Insider's NHL content, sign up for Insider today.
Insider
THE NHL ON ESPN INSIDER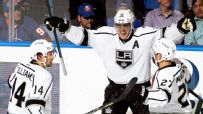 NHL INSIDER 2014-15 CONTENT