Discussion
Summer Skate: Vancouver Canucks
New coach John Tortorella looks to keep Vancouver on top of the West
Updated:
September 12, 2013, 9:55 AM ET
By and
Corey Pronman
|
Hockey Prospectus
Using the VUKOTA projection system of Hockey Prospectus, Insider is taking the temperature of key players on every NHL team, continuing with the Vancouver Canucks. For a detailed explanation of Prospectus' proprietary GVT value metric, read more here.
Note: Because of the lockout, GVT scores for the 2013 season are prorated from 48 to 82 games.
Summer Skate: Vancouver Canucks

The Canucks decided to reshape their team this offseason -- after losing in the first round two playoff appearances in a row -- by firing coach Alain Vigneault and replacing him with former New York Rangers coach John Tortorella. Ironically, the Rangers hope to get a similar boost with their hire of Vigneault. The Canucks also traded goaltender Cory Schneider in exchange for a first-round pick to help improve the future outlook of their team.
Vancouver's core group is getting older and the team didn't have much cap space this offseason, so they didn't make any big additions in free agency. However, they did manage to add some depth at the NHL level, and gain a top-end prospect in the Schneider deal. Unfortunately, they might need more than that if they want to remain a contending team in the Pacific Division, where the competition is much stronger than it was previously in the Northwest.
Trending up: F Ryan Kesler
Last season: 0.5 GVT | VUKOTA projection: 8.1
To read the rest of the Canucks' projections for 2013-14, and all of Insider's NHL content, sign up for Insider today.
Insider
THE NHL ON ESPN INSIDER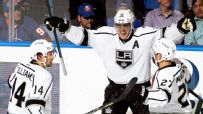 NHL INSIDER 2014-15 CONTENT