Caps at Pens: Olli Maatta up to the task
PITTSBURGH -- One of the worst games of rookie defenseman Olli Maatta's young NHL career was on the night that Finnish Olympic general manager Jari Kurri and other Finnish hockey executives attended.
Oh well, so much for that.
The next day, a downcast Maatta arrived for an optional skate. Pittsburgh defensive coach Todd Reirden reminded the 19-year-old of a similar experience when the Penguins' executive team traveled to watch Maatta play with the London Knights (OHL). Maatta and fellow Pens prospect Scott Harrington had poor outings.
But, after the game, Reirden explained to the two young players that the poor game wasn't a big deal; the big deal was how they responded.
"I told them, 'I can't wait to call your coach and look at the box score from the next night,'" Reirden recalled.
Both came back with strong efforts, and Reirden told Maatta that Kurri and the Finnish Olympic brain trust were looking for the same signals; they would care more about how Maatta followed up his off night than the poor play itself.
Maatta stepped up the next night and began a long stretch of strong play for a Penguins team ravaged by injuries to the defensive corps. And Reirden turned out to be prophetic, as Maatta surprised some by being named to the Finnish team for the Sochi Olympics, which begin in less than a month.
Maatta got the call from Finnish coach Erkka Westerlund while the Pens were preparing for a game in New Jersey.
"I was really excited, of course, the first thing was really excited, really happy," Maatta told ESPN.com in advance of the Penguins' home tilt Wednesday night against Alex Ovechkin and the Washington Capitals.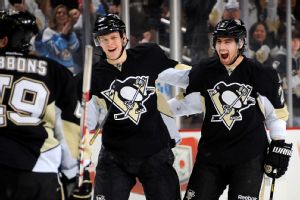 Joe Sargent/Getty ImagesOlli Maatta and Matt Niskanen are playing big minutes against the top offensive units from opposing teams.
"The next thing I think I got a little nervous again; playing in the Olympics, that's going to be awesome," Maatta said.
If you were going to diagram the drafting and evolution of a young defenseman, it would be hard to find a better blueprint than the path Maatta's career arc has followed. After being selected with the 22nd pick in the 2012 draft, Maatta came to the Penguins' camp this past September not knowing whether he was going to be playing back in London with the Knights or would stick around the big club.
Reirden said it was textbook building block, with Maatta focused on the first preseason game, then the next. When Maatta was kept for the start of the season, the focus stayed until the nine-game mark, when it was time for the Penguins to make a decision on whether they were a better team with Maatta in the lineup and whether it would make sense to start the clock ticking on the first year of his entry-level contract.
The answer has been a resounding "Yes" as Maatta's surprising play has been an important element to the Penguins' place atop the Eastern Conference standings in spite of a slew of injuries and suspensions to top players.
Initially, when the team signed veteran Rob Scuderi in the offseason, it looked as if there might not be room for Maatta, regardless of his promise, but injuries opened up opportunities, and Maatta has responded with a kind of game that will see his name continue to come up in Calder Trophy discussion.
With top defensemen Brooks Orpik, Paul Martin, Kris Letang and Scuderi all out at various times in the first half of the season with serious injuries, Maatta and defensive partner Matt Niskanen were suddenly thrust into a more prominent role, playing big minutes against top offensive units from opposing teams.
"That really solidified things for him," Reirden said. "He has had a lot of growth there."
Maatta's ability to take instruction from coaches, to learn the details of the game and then apply them in game situations, is "uncanny," especially for someone of his age, Reirden added.
Former NHL defenseman Phil Bourque, who won two Stanley Cups in Pittsburgh in the early 1990s and is a longtime broadcast analyst, said what has impressed him about the young defenseman is his ability to move beyond mistakes.
"Most young guys, when that happens, their game completely unravels," Bourque said in an interview.
Not Maatta.
"Almost every day, I shake my head. Nineteen? Are you kidding me?" Bourque said. "I think he's passed every test that's been thrown his way."
Bourque said he's been impressed with Maatta's even-keeled demeanor away from the rink, as well.
"He's confident but humble at the same time," Bourque said. "That's a really hard balance."
Niskanen has been impressed with his young partner's ability to adapt quickly to the changing NHL landscape.
"Immediately, I noticed that he has all the skills," Niskanen told ESPN.com. "His skating and puck handling [are] really good. But a lot of the young kids have that, but I think what really impressed me is just his demeanor, confidence, poise with the puck, plays with authority. For a young defenseman to have that confidence to play with authority is kind of unique. He's been really good, too.
"We've played together over a month now, and I don't have to tell him a whole lot. He's going to be a lot better player than I am someday. He's well on his way.
"It's one thing just to listen to and not be able to apply it in a game, but he's able to do that. It's given him good results and how he's played. He's well prepared."
For the native of Jyvaskyla, Finland, a city in the lake region of central Finland, the season has been one long classroom session.
"I never thought it would be like this," Maatta said with a laugh. "You go to camp, you don't think you're going to get more responsibilities. The only thing you think is the next day; you want to impress everybody, do your best, do 100 percent. I feel like it's been a training camp for me half a year now. Every day, I've tried to just come in and work as hard as I can, and that's what I've been trying to do."
As for the Olympics, well, when you're more focused on trying to stay in the NHL, you don't have a lot of time to focus on playing for your national team in Sochi, even if guys such as teammate and countryman Jussi Jokinen kept telling him right from the start of the season that he had a shot at making the squad.
Jokinen admitted that he might have had some inside knowledge as Finnish officials had called him during the season to find out what he thought of his young countryman.
"I kept telling them how good he is," Jokinen said.
Still, Maatta refused to believe such an opportunity might come his way, which also speaks to his character, Jokinen said.
"The closer it got, the more it came in my mind," Maatta said. "But I'm going to [be] honest and say, during the summer, I never even paid any attention to the Olympics. I was on the edge to play in the NHL, play in the OHL, junior again, and that was the only thing in my mind.
"When I found out I was staying here, I really, still, I would have never thought I'd be playing Olympics this year."
Although Maatta is familiar with some of the younger members of the national team, he has had only peripheral contact with Finnish icons Teemu Selanne (who, at 43, is old enough to be Maatta's father) and defenseman Kimmo Timonen.
"Selanne's, for every Finn, he's the biggest hockey player, the most famous one, everybody wants to meet him," Maatta said. "For me, I'm a big fan of Kimmo Timonen and I was a big fan of [Teppo] Numminen. I actually met Numminen in Buffalo at world juniors; that was a pretty awesome feeling."
ESPN Senior Writer
Covers hockey for ESPN.com
10 years at Toronto Sun, Windsor Star and National Post
Wrote best-selling true crime book "Deadly Innocence"
W2W4: Capitals at Penguins
Capitals (52 points) at Penguins (68 points), 8 p.m. ET

• PIT is 1-0-0 vs. WSH this season, shutout win in WSH
• PIT was 2-0-0 at home vs. WSH last season
Washington (22-16-8):
• league's second-best PP (25 percent)
• lost 2 straight, both in a shootout, both at home, 1GF in each game
• 1-2-1 past 4 road games, 3/9 on PP
• Ovechkin (3G, 3A) past 6GP
Pittsburgh (33-12-2):
• league's best PP (25.2 percent)
• 4-0-1 past 5 games, 20GF, 15/18 on PK
• won 12 straight at home, 35/37 on PK
• Crosby (8G, 17A) has a PT in 16 straight home games

The Penguins have skated a total of 725 minutes during their 12-game home winning streak. In that span, they have either played with a lead or been tied for almost 90 percent of the time:
• Minutes with a lead: 489:27
• Minutes tied: 161:55
• Minutes trailing: 73:38
• (Penguins also won 12 straight at home last season, franchise record)

Stay On Your Skates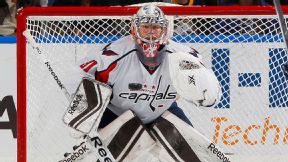 Bill Wippert/NHLI/Getty Images
The three-headed goalie monster in Washington is a messy situation for fantasy owners -- and the Capitals -- who must decide whom to start in net. Line Shifts »