Blues' fate lies before them on road trip
Scott Burnside is embedded with the St. Louis Blues, traveling on their three-game, five-night road trip to Detroit, Calgary and Vancouver.
DETROIT -- Many observers might see the St. Louis Blues as a team adrift, a team filled with notions of grandeur that has somehow managed to parlay an impressive 6-1-0 start into a quagmire of doubt.
And let's be brutally frank, the numbers support this view.
The defending Central Division champs, the team that a year ago boasted the NHL's stingiest team defense and the best goaltending tandem in the game, rank 25th in goals per game allowed.
They are coming off what head coach Ken Hitchcock calls the "homestand from hell" that saw them outscored 20-8 while going 0-3-1. They are winless in five overall at 0-4-1.
But where others see chaos, Hitchcock sees something else entirely as the team heads off on a three-game road trip that will include visits to Detroit, Calgary and Vancouver: He sees opportunity.
An opportunity not just to collect some points -- although that would be nice for a team that was tied for eighth place before Tuesday's games -- but an opportunity to use these recent failures to forge an identity that is both tangible and lasting.
"This is a golden opportunity," Hitchcock said earlier Tuesday at the Blues' suburban practice facility. "This is about becoming a team.
"We can't pass this opportunity up. This is stuff that stays with you for years."
Some teams that are good get stalled on the way to greatness because they cannot identify and then make good on the kinds of sacrifice required.
"We're looking for the necessary sacrifices," Hitchcock said.
It will be a shame, he said, if in three months or a year these players look back on this moment and say, "Man, it was sitting right in front of us and we fumbled it."
Interesting threads are woven into the tapestry of what now looms as a critical trip.
The night before the trip began, on Monday, the Blues dropped a 4-1 decision to the defending Stanley Cup champion Los Angeles Kings.
The Kings dispatched the Blues in a four-game series in the second round of the playoffs last year en route to a 16-4 playoff record and their first championship. Monday night, the Blues expected Jaroslav Halak to start after missing time with a groin injury but the veteran netminder suffered a setback in warmup, so Brian Elliott was thrust into an unexpected starter's role and he allowed four goals on 23 shots.
After recording nine shutouts last season, second-most in the NHL, Elliott has added an unwanted rags chapter to last year's heart-warming rags-to-riches story that ended with a share of the William M. Jennings Trophy with Halak. This season he is 3-5-1 with an .849 save percentage and 3.57 GAA.
The Blues' opponent Wednesday, the Red Wings, were the team that began the Blues' stunning free-fall almost two weeks ago. In that game, the Blues felt a poor penalty call on captain David Backes turned the tide, and Detroit would ultimately win 5-3. Since that game, the Red Wings pummeled the Blues a second time, 5-1 as part of the ill-fated homestand, as though to suggest that there was nothing of a fluke involved in the earlier decision.
"We're not the same team" as last season, Hitchcock acknowledged. "This is all self-inflicted."
Last season was different, Hitchcock said, because his players had seen someone -- former head coach Davis Payne -- lose his job as a result of their uneven play.
"It was an easy sell," Hitchcock said of the demands he made of his team.
Now it's a different test, in large part because this Blues team enjoyed such success under Hitchcock last season, winning a surprise Central Division title, finishing with 109 points (second in the league) and defeating the San Jose Sharks in five games in the first round. That success led many to believe the Blues had already established the identity and work ethic crucial to winning in the NHL.
Many observers liked the Blues to take another step forward with a long playoff run next spring. Some, including this scribe, liked the Blues to use last season's successes to catapult themselves to the franchise's first Stanley Cup championship, much like what Los Angeles did last season.
Forward T.J. Oshie and defenseman Kevin Shattenkirk admitted that hearing and reading those kinds of predictions might have seeped into the Blues' subconscious after the lockout ended.
"We've come to expect our game to show up a little bit too much" as opposed to working to produce the level of play that marked the Blues' of last season, Shattenkirk said.
One of the team's bright lights on the blue line, Shattenkirk noted that consistently good teams never assume they will be good again just because history suggests it will be so.
"They don't carry that with them. They leave what happened behind them," he said.
The Blues need to learn that whatever accolades they received as a result of last season are worthless now. That shouldn't be too hard after the past couple of weeks. Still, for some of the Blues, this is uncharted territory. Under Hitchcock, who took over 13 games into last season, the Blues never lost more than two games in regulation at any point in the season and that happened only once.
"We did a great job last year of rebounding," Shattenkirk said.
This season, that has not happened and on the eve of this first extended road trip, for the Blues that reality has left a lot of time for soul-searching.
Oshie, for instance, talked about wanting to be not just a better player but setting a better example for his teammates.
"I think mostly I want to be better at setting an example for the other guys that will come onto the ice after me," he said.
If a goalie makes a good stop, that's out of his control. But if he doesn't take two extra strides to backcheck properly, well, that's something that's on him, Oshie said.
"It's not about doing fancy things, it's just doing the right thing," the winger said. "In a way that's what's expected of me."
It is what has been expected of everyone since Hitchcock took over.
Now the question is whether that kind of play can be recovered. Such recovery requires a different team than has been on display recently.
"I believe I'm a guy that can help get them out of the ditch," Hitchcock said.
And so, then, as the bags and luggage rolled their way into the belly of the team charter on a Tuesday afternoon, there was about the St. Louis Blues a certain sense of adventure.
Is it an adventure on which will turn an entire season?
Too much time remains and more adventures are to be had before the Blues will find out whether all this talk about a team of destiny, a team ready to become champions, was anything more than words spoken into a blustery day.
But that does not diminish what this trip represents for a team that has veered strikingly away from what the players believed themselves to be.
And the games in Calgary and Vancouver, with their different time zones and their different challenges -- the temptation to look past the mediocre Flames to the high-flying Canucks, for instance -- make this trip an important one.
"For us, this couldn't come at a better time," Shattenkirk said.
Scott Burnside covers the NHL for ESPN.com.
EA SPORTS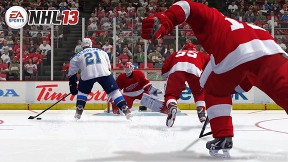 Courtesy of EA Sports
EA Sports gives you a preview of what to expect when the St. Louis Blues visit the Detroit Red Wings.
Simulation »
Stay On Your Skates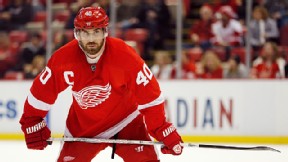 Gregory Shamus/Getty Images
Henrik Zetterberg's connection and scoring with Damien Brunner in the Swiss hockey league during the lockout clearly primed him for this abbreviated NHL campaign.
Front Line »
W2W4: Blues at Red Wings
By
ESPN Statistics & Information


• Detroit's Jimmy Howard has allowed eight goals in two starts against St. Louis this season (1-1-0).

• Henrik Zetterberg has recorded at least one point in 10 of 12 games this season.

• Pavel Datsyuk has 23 career goals against St. Louis. The most he has scored against any team.

• St. Louis' Vladimir Tarasenko has scored one goal in his past eight games after posting four goals in his first four games.

• Kevin Shattenkirk has 12 assists this season, which is the most among NHL defensemen.

• The Blues are 0-4-1 since starting the season with six wins in their first seven games.

Cold Hard Blasts
Watch the best goals and top saves from the opening weeks of the hockey season.