W2W4: Sharks at Blackhawks
Sharks looking to ground soaring Blackhawks
A chance to own their little piece of the NHL record book is at stake Friday night when the Chicago Blackhawks host the San Jose Sharks in ESPN.com's Game of the Week.
The blistering Blackhawks (13-0-3) have a chance to go a 17th straight game out of the gates with at least a point, which would break the NHL record currently shared with the 2007 Stanley Cup champion Anaheim Ducks.
"We're all pumped up about it," Chicago center Dave Bolland told ESPN.com over the phone Thursday. "I think it's a big thing. To break a record like this would be an accomplishment."
Standing in the way is a Sharks team that would like nothing better than to break that goose egg in the Blackhawks' regulation loss column -- especially given that the Sharks have already fallen twice to these same Blackhawks, 5-3 at San Jose on Feb. 5 and 4-1 last Friday night at the United Center.
Add in the fact the Sharks and Blackhawks always have a little extra buzz in their games since meeting in the 2010 Western Conference finals, and the stage is set for Friday night to be more than just another game.
"When you're both top teams for a few years, you grow to not like each other," Sharks center Logan Couture told ESPN.com this week. "Playing these guys, it's fun because there's so many good players on that Chicago team. I know for me personally, and it's the same for other guys as well, I love playing against elite players in this league. It's a challenge and it's always an interesting game."
Every game is interesting these days for the Blackhawks, who seemingly can do no wrong. GM Stan Bowman was wise not to tinker too much with his roster despite losing out in the first round to Phoenix last spring. Goalie Corey Crawford has bounced back this season, while Bowman's quiet additions in blueliners Sheldon Brookbank and Michal Rozsival added more depth to a defensive corps that needed it. Otherwise, it's largely the same team from last season that's playing its best hockey since the 2010 Stanley Cup victory.
And make no mistake, some of that confidence and swagger from 2010 is returning with each passing victory.
"I think we feel like that same team," said Bolland. "[We have] some different guys now but we have depth. When our third or fourth line goes out there, they do a great job. They're among the best in the league. I feel like we have that same vibe as that 2010 team."
Said an NHL team executive from another Western Conference club, "Those guys are playing a different game than the rest of the league right now."
For the Sharks, it's about getting their season back on track. With a 2-1 win at St. Louis, San Jose snapped a seven-game winless streak (0-4-3) that had followed a perfect 7-0-0 start.
What the heck happened to the Sharks during that skid?
"We stopped scoring goals, our power play was struggling," said Couture. "We weren't finding ways to score ugly goals. We weren't breaking out of our end well, moving the puck through the neutral zone. We just weren't sharp in our execution and that's something that we usually do well. We did that better Tuesday night in St. Louis. We spent more time in their end and created more chances that way. Hopefully we can build off that."
Bolland insisted his team knows better than to think it has a Sharks team coming in with heads hanging. They know they have a rival wanting to end Chicago's points streak.
"San Jose is still a great team; they've got [Antti] Niemi in net and Joe [Thornton] and [Joe] Pavelski and all those good players," said Bolland. "Every team goes through a slump and this is their little time, but we can't take them lightly. We better be ready for them."
Bolland mentioned his former teammate Niemi. And that's just the guy Couture feels has carried the Sharks this season.
"He's been unbelievable for us this year," Couture said of his netminder. "He's been our MVP, by far. A lot of games we couldn't score goals for him, where he held the other team to one or two goals. He's been great for us and we know he's going to continue to play well."
EA SPORTS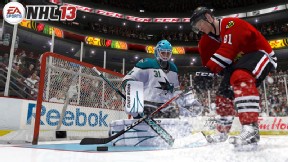 EA Sports
EA Sports gives you a preview of what to expect when the San Jose Sharks visit the Chicago Blackhawks.
Simulation »
Stay On Your Skates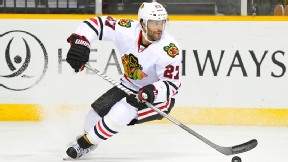 Don McPeak/USA TODAY Sports
Everyone remembers when a big name moves, but it's the smaller trades -- like Chicago's acquisition of Johnny Oduya -- that often have the biggest impact.
Craig Custance

Sharks-Hawks: By the numbers
By
ESPN Statistics & Information


• Patrick Marleau has one goal in his last eight games after scoring nine times in his first five games. Eight of his 10 goals were low either to the glove or stick side.

• The Sharks are 1-4-3 since winning their first seven games of the season.

• The Blackhawks are 13-0-3 this season and are the only team without a regulation loss.

• Five of Patrick Kane's nine goals this season were to the high stick or glove side.

• Jonathan Toews has scored six of his seven goals this season on the initial shot.

Cold Hard Blasts
Watch the best goals and top saves from the opening weeks of the hockey season.