---
W2W4: Kings at Blue Jackets
Carter leading the change

By Craig Custance
ESPN.com
Archive
COLUMBUS, Ohio -- The Los Angeles Kings were getting ready for a film session following an afternoon practice in Columbus when Jeff Carter started getting grilled by teammates about the area.
"Are there any museums around here?" inquired one teammate from across the visitors' dressing room.
"You could go to the zoo," suggested Carter, smiling.
He gets bonus points for following it up with a Jack Hanna comment but loses points for failing to mention the Monet to Matisse exhibit at the Columbus Museum of Art. Then again, he wasn't in Columbus all that long. Just seven months.
He's not sure how he's going to be received by the Nationwide Arena crowd when he returns Thursday night in a Kings uniform for the first time since being traded on Feb. 23 for defenseman Jack Johnson and a first-round pick, but his smile and relaxed demeanor in the Kings dressing room suggests he's not all that concerned about it. He's settling in just fine with his new team.
"It's a good change for me," he told ESPN the Magazine on Wednesday. "Definitely a little bit of a boost knowing you have a chance in the playoffs after a tough year."
So far, it's been everything he expected. On the summer day the Philadelphia Flyers traded both Carter and Mike Richards, the two spoke on the phone and Carter expressed his favorable opinion of Richards' new team in Los Angeles. And you can understand if there was a bit of envy in his voice.
"I told Mike that when he got traded, 'You guys have something good going there,'" Carter said, never imagining for a moment that he'd be joining him during the same season. "It's ironic it came full circle. I had no clue that was going to happen. Especially seven months later. It's been good. Yeah, I'm enjoying it."
The result so far has been everything Kings GM Dean Lombardi expected when he acquired the player he got to know well when both were in the Flyers organization. In one of his first conversations with Carter after trading for him, Lombardi mentioned the days when he used to drive a teenaged Carter to Phantoms and Flyers games. Lombardi said it was a chance to get to know a talented young player, although Carter joked that he probably didn't make great company.
"Basically, I sat there and didn't say a word," Carter said. But that history was important. This was a year in which Carter's reputation took a serious hit, from Philadelphia's willingness to trade him to his reluctance to join the Blue Jackets to Columbus' major struggles as a team when he finally did. All that negativity meant nothing to Lombardi, who had long ago formed his own opinions of Carter the player and Carter the person.
There was certainly risk in acquiring someone with a history of injuries signed to a contract that extends to 2022, but the bigger risk was doing nothing, even the guy sent the other way realized that.
"They needed a lot of help scoring," Johnson told ESPN the Magazine. "I've never been a part of a team that just couldn't score. We knew changes were coming. The definition of insanity is doing the same thing over and over and expecting different results. That's kind of where we were going."
That direction has changed. The Kings are still just averaging 2.17 goals per game but that total is climbing. Since trading for Carter, they've gone 4-1 and they're averaging 3.6 goals per game. Carter scored his first two goals with the Kings in a 4-2 win over the rival Ducks on Saturday.
Skating with Richards and Dwight King, Carter has given the Kings two legitimate scoring lines with Dustin Brown, Anze Kopitar and Justin Williams making up the other. Kings coach Darryl Sutter is a realist. He doesn't expect four goals a night, but he also can't have a team that's trying to win every game 1-0 like was the case earlier this season.
"Three [goals] is the number," Sutter said. "Good teams score three and give up two and a half. That's what you do, that's what the best teams do."
The Kings still have a long ways to go before they're among the best. They'd probably just take a spot in the Western Conference's top eight and see where things go from there.
But so far it's working. Richards quickly found wood to knock on when it was suggested that the Kings were completely out of their scoring slump, but a few more four-goal outbursts and this team can put superstition behind them. A fourth consecutive win would also help.
It would feel good to beat his old team, Carter admitted, but it's not his biggest goal. It's gathering points to stay in the playoff race. Plus, he wasn't around long enough to develop any grudges. Just long enough to discover the zoo.
"There's great guys over there," Carter said of his former team in Columbus. "They're a good team. They kind of underachieved when I was here. They started to play some pretty good hockey as of late. It's going to be fun to get out there and play against them. It's going to be a tough game."
Craig Custance covers the NHL for ESPN the Magazine, ESPN Insider and ESPN.com.
Stay On Your Skates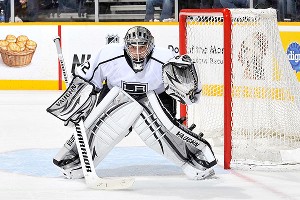 Getty Images
Jonathan Quick has been dazzling in the Kings' nets this season. Where does that rank him in the league? You'd be surprised. In the Crease »
Thin Blue Line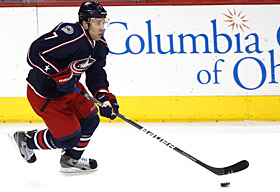 Getty Images
What does Jack Johnson's move to Columbus mean for his standings on your fantasy team? We have the answers. Thin Blue Line »