Eastern Conference powerhouses collide
BOSTON -- If the recent victories by both the Boston Bruins (19-4-3) and Pittsburgh Penguins (21-8-0) are any indication, then Sunday's matinee matchup between the two high-flying Eastern Conference teams should be an exciting one.
Plus, this game will have a home-and-home feel to it since these teams just played on Tuesday, with the Penguins posting a come-from-behind, 3-2 win at CONSOL Energy Center.
On Saturday, the Bruins defeated the Washington Capitals 4-1 at TD Garden. For the first time in recent weeks, Boston produced a complete, 60-minute effort and received major contributions from its top line of Milan Lucic, David Krejci and Nathan Horton. That trio combined for nine points against the Capitals.
"Obviously, we haven't scored for a while, but I think our line played a lot better tonight," said Horton, who scored a goal, added two assists and was also assessed a fighting major.
"We haven't been very good, but for sure our line hasn't been very good," Horton added. "We haven't been productive like we need to be, and it's not even about the points or the goals, but it's the hard work down low and being smart with the puck. That all comes together when you get it deep and you're moving your feet."
The Bruins played their physical style of game en route to that win, and will need to continue to do so against the Penguins on Sunday in order to have success.
In Pittsburgh on Saturday, the Penguins extended their winning streak to eight games with a 3-0 win over the New York Rangers. Penguins goaltender Marc-Andre Fleury made 23 saves and set a new franchise record for career shutouts with 23, surpassing former Pittsburgh netminder Tom Barrasso.
The Penguins are among the top teams in the league, scoring 3.59 goals per game. The offensive combination of Sidney Crosby (47 points) and Chris Kunitz (39 points) is a dangerous pair, as the Bruins witnessed last Tuesday.
The Bruins are close behind with 2.96 goals per game. While Kunitz leads the Penguins with 18 goals, Boston is led by Brad Marchand's 12 goals.
Goaltending will be key for both teams, too.
Since Anton Khudobin started between the pipes for the Bruins on Saturday, it's likely No. 1 goalie Tuukka Rask will get the nod against the Penguins. Khudobin played well last Tuesday against the Penguins and made 31 saves, but it wasn't enough as Pittsburgh scored three unanswered goals in the third period en route to a 3-2 win.
If Fleury, who posted the shutout against the Rangers on Saturday, plays back-to-back games, it will be a matchup of two of the top goalies in the league. Fleury is 15-5-0 with a 2.45 goals-against average and a .909 save percentage, while Rask is 14-2-3 with a 1.91 GAA and a .930 save percentage.
The Bruins will be tested this week as they head out on the road to face the Penguins on Sunday (12:30 p.m. ET), at Winnipeg on Tuesday (8 p.m.), at Ottawa on Thursday (7 p.m.) and at Toronto on Saturday (7 p.m.).
"This whole week is going to be a big week for us," Bruins coach Julien said. "We needed to get a good start on it by playing solid tonight and then bringing it in to Pittsburgh tomorrow. Hopefully, we get that effort so that we can go to Winnipeg on a bit of roll there. That's what we have to create moving forward this week."
Stay On Your Skates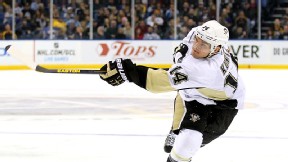 Timothy T. Ludwig/USA TODAY Sports
Undrafted and waived twice in the same month of his first full NHL season, Chris Kunitz never would have envisioned that one day he would be sitting third overall in scoring in the top league in the world
Pierre LeBrun »
By the numbers
By
ESPN Statistics & Information


• The Penguins' eight-game win streak is the longest active streak in the NHL.

• Chris Kunitz's 18 goals in 29 games this season is the second-most in the NHL. Kunitz set a career-high last season with 26 goals in 82 games.

• Sidney Crosby leads the NHL with 35 assists, 24 of which were primary assists. Only three players (including Crosby) have 24 total assists.

• Pascal Dupuis has scored eight goals in his last seven games after scoring seven goals in first 23 games of the season.

• The Bruins have a 93.0 percent penalty kill this season, the best in the NHL.

• Tuukka Rask has the third-best goals-against average (1.91) and the third-most wins (14) in the league.

• Patrice Bergeron is plus-20 this season, tied for second-best in the NHL. He finished only one game this season (March 5 vs. Capitals) with a minus rating.
Cold Hard Blasts
Watch the best goals, biggest hits and top saves from the the last week in the NHL.