Jets, Capitals eager to settle Southeast
Oh, there's not much on the line at all.
The Winnipeg Jets can leapfrog the Washington Capitals for first place in the Southeast with a regulation win.
The Capitals? They can win the division outright.
Oh, yeah, there's a little hockey game being played Tuesday night at Verizon Center.
"If we win Tuesday, we clinch our division, which has been our goal the whole time, since beginning of the season -- even when we were in a terrible spot at the start," Caps winger Troy Brouwer told ESPN.com Monday.
"It's also nice to play the team that's chasing you. You know exactly where you stand and don't have to hope for help from other teams."
Washington didn't get any help from the Buffalo Sabres on Monday night, as they dropped a 2-1 decision at home to the Jets, giving Winnipeg two points it desperately needed to keep its playoff chances alive.
More important, it allowed Winnipeg to get to Washington for Tuesday's huge game with a shot to pass the Caps in the standings.
"I think it's been circled on our calendar for a long time now," Jets captain Andrew Ladd told NHL.com after Monday's win. "We wanted to put ourselves in a position where [Tuesday is] going to be a meaningful game and we've done that. So here it is."
The Jets, who have two games left to Washington's three, enter Tuesday night's tilt with injuries that are hard to ignore. They lost forward Kyle Wellwood long term Monday night after he blocked a shot with his hand. They already were without top-four defenseman Zach Bogosian (suspected concussion) and center Olli Jokinen (high ankle sprain).
But as coach Claude Noel said after Monday's game, the Jets continue to show character and resiliency during this stretch late in the season, going 6-0-1 in their last seven games and moving within one point of the New York Rangers and Ottawa Senators for the final two playoff spots in the East, though like Washington, those teams also have a game in hand on Winnipeg.
The Caps have been rolling for a while, going 9-1-0 in April, and are coming off a 5-1 thumping of the Canadiens in Montreal on Saturday night. Now they are licking their chops for Winnipeg.
I will admit I did not think there was a chance the Caps would get out of the hole they dug early in the season, when they dropped to 2-8-1 on Feb. 7. Even as late as March 19, they were 12-16-1.
But since then, they've gone 13-2-1 and turned around a season that didn't look like it had a chance under first-year coach Adam Oates.
It just took awhile, said Brouwer, for the players to absorb what Oates was trying to do with the team.
"This team has played a certain way and had an idea about their identity for quite a few years now, and when it gets changed a little, it was tough to embrace that," Brouwer said. "So I think we had a bit of trust issues at the beginning of the year, whether or not the new system would be a good fit for the team, and within the team to make sure guys were doing their part. As the season went on, we embraced it a little bit more and a little bit more, and then finally we had full trust in Adam's system and the guys carrying it out.
"Now, it's not thinking or worrying about what's going on around you, it's read-and-react hockey. Any player will tell you when they don't have to think, they play better."
The system has sunk in. It wasn't clear if a 48-game schedule with no preseason would allow it to come in time, but it has.
"He's coaching to guys' strengths," Brouwer said. "He's letting our skill players be creative and make offense happen; but also, at the same time, he's making sure that we're defending our end first.
"It's a good system as far as protecting our own end and making sure that we're getting pucks out along the walls and out at the blue line. But once we get over the red line, he's given us free rein to make plays happen as we see them."
Of course, it helps when you get some saves, too. The Caps just weren't getting enough of them early on and, while you can say all you want about the team not playing well early in the season, if you don't get the required goaltending, you're spinning your wheels anyway. Braden Holtby has really taken off, however, in the second half of the season and has pushed his save percentage to .920.
"Quite a bit," Brouwer said of the part Holtby has played in the Caps' turnaround. "I don't think he had his full confidence at the beginning of the year. We were a bit scrambly in our own end and giving up way too many shots. He's a good goalie, but he's not going to be able to save them all. Once he saw we were playing better in front of him, blocking more shots, it gives him more confidence to play behind us and in return it gives us more confidence to play in front of him.
"He's made some real big saves along the way; he's stolen a few games for us when we probably didn't deserve to win them."
And, of course, there's No. 8. Alex Ovechkin is playing like, well, the Alex Ovechkin we knew a few years ago. He enters Tuesday night with a league-leading 30 goals, a pace that would net him 54 over an 82-game season. Ovechkin hasn't been a 50-goal scorer since 2009-10.
But you can't mention Ovechkin without underlining linemate Nicklas Backstrom's 39 assists.
"Ovi has found his game again, and lot of it has to do with Nicklas Backstrom and also [Marcus] Johansson," Brouwer said. "They support him very well. They're very creative, they're able to hold on to the puck and make plays, see the play before it develops and be able to put puck in areas so Ovi can get his shots off. He's got probably the best shot in the league when you give him a look. He hasn't been missing much as of late."
Neither has Brouwer. His 19 goals are only three short of the career-high 22 he scored with the Chicago Blackhawks in 2009-10; and that was in 78 games. Prorate his goal scoring this season over 82 games and he'd be having a 35-goal campaign.
"It's been a great year. Oatesy has got a lot of trust in me this year, giving me a good spot on the PP in the middle, where I get to shoot a lot," Brouwer said. "Things have been going in for me."
Brouwer is also a leader on a team that welcomes his Stanley Cup-winning experience. The 27-year-old winger can see similarities between this year's Caps team and that 2010 Chicago powerhouse.
"It's a very tight-knit group here, just like it was in Chicago," he said. "A lot of the guys came up together. We're all relatively the same age. There's a lot of familiarity and trust in each other. The guys are good friends off the ice as well, which goes a long way.
"When you're playing for friends, it's a lot easier than when you're playing with guys you don't know as well that you don't have that bond with yet."
ESPN Senior Writer
Covers the NHL for ESPN.com and TSN in Canada
Six years on the "Hockey Night In Canada" Hotstove panel
13 years at The Canadian Press national news agency
Kind Of A Big Deal In D.C.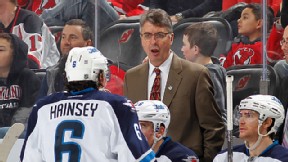 Andy Marlin/NHLI via Getty ImagesClaude Noel's Jets are 6-0-1 in their past seven.
First place in the Southeast Division is at stake between Winnipeg and host Washington.
Story »
Stay On Your Skates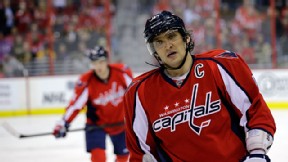 AP Photo/Alex BrandonAlex Ovechkin leads the league with 30 goals.
Sean Allen's early 2013-14 forward rankings are in. Where does the great Ovi rate?
Front Line »
Get In The Games
Dave Sandford/Getty ImagesThe Kings revel in the first Cup win in team history.
You can continue the fantasy hockey excitement throughout the Stanley Cup playoffs with Playoff Hockey Challenge, where you build the best team possible under the salary cap.
Play for free! »
By The Numbers
By
ESPN Stats & Information


• Andrew Ladd (Jets): Four goals, eight assists in past six games
• Jets: 6-0-1 in past seven; six wins against teams eliminated from playoff contention
• Alex Ovechkin (Capitals): 12 goals in 10 games in March, his highest monthly total since October 2009 (14)
• Ovechkin: Leads league with 30 goals, 16 of which have come on shots from left circle
• Nicklas Backstrom (Capitals): Assisted on nine of Ovechkin's 12 goals in March, five primary and four secondary
• Braden Holtby (Capitals): Nine first-star awards this season, the most of any goalie
• Capitals: 18-3-1 this season when Ovechkin scores a goal