Avs at Pens: MacKinnon, Crosby familiar foes
You could sense the 18-year-old phenom blushing across the phone line.
I wondered if Nate MacKinnon, the No. 1 overall pick in last June's NHL draft, still has posters of his hockey idol Sidney Crosby hanging in his bedroom back in Cole Harbour, Nova Scotia.
"Yeah, I do. I guess I might have to take those down pretty soon," MacKinnon told ESPN.com over the weekend, with somewhat of an embarrassed laugh. "They've been there forever. Now that you bring it up, I hadn't thought about it. I've got pictures of him up there still, along with a few other players from around the league.
"So, yeah, that's funny. When I get back there in the summer, I'll have to take some of those down now that I'm playing in the NHL."
Well, especially now that he's going to play against Crosby on Monday night in Pittsburgh, the two hockey prodigies from Cole Harbour meeting up for the first time ever in an NHL game, a historic event in Nova Scotia and special for the two players, as well.
"It's going to be fun," said MacKinnon. "I kind of jumped on the Pittsburgh bandwagon when I was a kid because of him. But I'm glad I got to know him a little bit before I got to play him the first time; it makes it a little easier for me, not to be stargazing or anything like that."
The two worked out at times during the summer, at home in Nova Scotia as well as in Los Angeles and in Vail, Colo., with other NHLers. Both are represented by agent Pat Brisson of CAA Sports.
"We went for dinner and hung out in the offseason, trained a little bit together," Crosby told ESPN.com over the weekend. "Hockey definitely came up. I tried to give him a little bit of advice, but there is a part of it too that he has to figure out on his own, what works for him. I'm proud to see him doing well. Proud to see a guy from Cole Harbour doing what he's doing."
Said MacKinnon of the summer time spent together: "It was really nice to get to know him on a personal basis."
MacKinnon turned 18 on Sept. 1, but as Crosby did eight years ago in his rookie NHL season, MacKinnon has caught on quickly. The young forward has seven points (1 goal, 6 assists) in eight games and has a plus-3.
"Speed through the middle -- high-end speed, great base for a kid. Crosby-like strength in his lower body, and determined," Detroit Red Wings coach Mike Babcock, whose team recently faced MacKinnon, told ESPN.com via text message over the weekend.
That's high praise from a rival coach not known to throw out compliments just for the sake of it.
"I'm happy for him," Crosby said of MacKinnon. "I had a chance to get to know him a little bit -- seeing him have success and being able to relate to a lot of things that he's going through right now. It's hard to believe it was eight years ago I was going through the same thing. I tried to be there for him this summer if he had any questions or wanted any advice. He's doing a great job. I'm not surprised to see him off to the start that he's off to."
The two players don't share just a hometown. Like Crosby, MacKinnon enrolled at Shattuck St. Mary's high school in Minnesota, playing there two years before lighting up the Quebec Major Junior Hockey League, just as his idol Crosby did.
All of which invites comparisons.
"When I was younger, I was asked a lot about Sid; it was recurring in terms of the comparisons and stuff," said MacKinnon. "But it's just fun that we're both from the same place.
"I like being from the same town as him. We're very proud of where we are from. I couldn't have seen myself ever playing minor hockey somewhere else. Sidney really paved the way out of Cole Harbour."
Avs coach Patrick Roy made the wise decision early this season to bring MacKinnon along in a third-line role, at center, which shields him somewhat from tougher defensive matchups and allows him to grow at his own pace.
So far, MacKinnon has responded well to the challenge.
"It's been great. It's been a ton of fun so far," said MacKinnon. "I didn't know what to expect coming in. It's been a great few weeks so far. I'm learning a lot.
"I think you could compare it to my first year in junior, when you're 16 and playing against 20-year-olds," added MacKinnon, who was the Memorial Cup MVP last spring after lighting up the Canadian junior championship tournament with 13 points (7-6) in four games. "For sure, everyone is bigger and stronger. It's so true that you don't have too much time out there. I'm still kind of finding my way through the league."
But Monday night is more than just another learning assignment. It's a night MacKinnon has thought about for a long time.
"I don't know how much I'll really be out on the ice against him. Hopefully not too much, for my sake," MacKinnon said, chuckling. "But it's great because they've got so many great players -- going to be a nice test for us."
Crosby, who is leading the NHL in scoring with 17 points (7-10) in eight games, figures once the puck drops, it will be business as usual.
"He's competitive," said Crosby. "When we are on the ice together, we could be from two totally different places. You'd never know. We're both competitive, but that's just something you're brought up with.
"They're playing really well as a team. He's obviously been a big part of that. It'll be an interesting first game against him."
ESPN Senior Writer
Covers the NHL for ESPN.com and TSN in Canada
Six years on the "Hockey Night In Canada" Hotstove panel
13 years at The Canadian Press national news agency
Pens under the radar?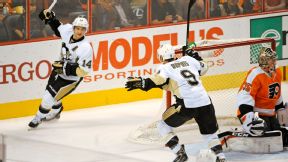 Eric Hartline/USA TODAY SportsThe Pens' roll hasn't been the story so far.
Believe it or not, the 7-1 Penguins haven't been the story. And they're just fine with that. Scott Burnside »
W2W4: Avs at Pens
Avalanche (14 pts.) at Penguins (14 pts.), 7:30 p.m. ET
• Teams last met in March 2012, PIT win in COL
• PIT has gone 3-0-0 at home vs. COL in shootout era
• Both teams 5-0-0 when they score first

Penguins (7-1-0)
• Last game: Home SOW -- outshot 39-28 -- Sidney Crosby, Chris Kunitz 1G, 2A each
• Won 4 straight, scoring 15G
• 5-0-0 at home, 10/10 on PK
• Crosby (7G, 10A) has a PT in all 8 games

Avalanche (7-1-0)
• Last game: Road W -- Jean-Sebastien Giguere 28 saves -- 3 players with 1G, 1A
• 4-0-0 on the road, 10/10 on PK
• 3/8 on PP last 2 games (1-1-0)
• Gabriel Landeskog (2) has scored in back-to-back games

Stay On Your Skates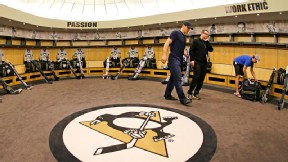 AP Photo/Gene J. PuskarFew Metro teams have been treading on the Pens.
The Penguins are running away with the Metropolitan Division. What's up with that? Inside the NHL