Mind over misery for Patrice Bergeron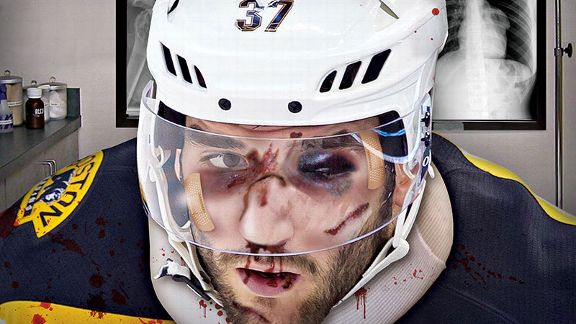 John Ueland for ESPNPatrice Bergeron's gutsy performance during last season's Cup finals will leave an indelible mark -- on hockey history.
BRUINS CENTER PATRICE BERGERON is back to his usual minutes (18:22 a game through Oct. 26) now that he's recovered from the litany of injuries he endured in spring's Stanley Cup finals, when he led Boston to the brink of another title. "When I have kids, I'll say, 'I played with Patrice Bergeron,'" defenseman Torey Krug says. But Bergeron, 28, whose busy offseason included marriage, a contract extension and new ink, shrugs off playing through the injuries. "My teammates would've done the same thing," he says. Here, he explains how he put mind over misery with the Cup on the line, cementing his rep as one of the toughest in the game.
---
Torn rib cartilage
Earlier in the postseason, I had gotten stitches on my eyebrow and a cut on my nose. But my string of injuries really all started with the cartilage in my rib, which was torn on a hit -- I don't remember which one -- in Game 3 of the finals. My body was in a bad position to receive the hit, so I twisted. I've never gotten stabbed, but that's what it felt like. You don't realize how much you use your core until you get hurt there.
Cracked rib
I broke my rib in Game 4. From that point on, it was hard to breathe. In Game 5, I got hit again during the first period. After the second period, the trainers were worried about my spleen being injured. But I was really frustrated. It's a huge game for us, and we're down by two at that point! I'm trying to get back on the ice, trying to tell the trainers I might be able to skate another shift or two. But they made me go straight to the hospital.
Punctured lung, separated shoulder
Before Game 6, with us down 3-2, I saw a specialist who said the only way I could play was to get a nerve block that'd freeze the area around the rib. So I got one, and another that night. During warm-ups it wasn't quite right, so we did another shot. I separated my shoulder in the first period on a fall along the boards. By the third, I couldn't breathe. After the game, it felt like my chest was closing in on me.
Collapsed lung
After our Game 6 loss, I went to Mass General, where they found that 30 percent of my lung was collapsed. One of the shots might have touched or punctured it. They put in a tube to drain the area and fill it back up. It hurt, but it was more frustrating that we weren't coming out of it with a Stanley Cup. That was all I could think about. My fiancee was like, "Worry about your health. We'll worry about the loss later." But I hated doing all that work for nothing.
Linked and inked
I got married on July 20. For the honeymoon, we just went to my wife's parents' cottage in Quebec because I still had to do rehab. I also got my first tattoo: a guardian, with the words "Master of your destiny" in French. I wanted something that looks after me.
Follow The Mag on Twitter (@ESPNmag) and like us on Facebook.
ESPN Senior Writer
Senior NHL writer for ESPN The Magazine
Wrote for Atlanta Journal-Constitution
Wrote for The Sporting News
Stay On Your Skates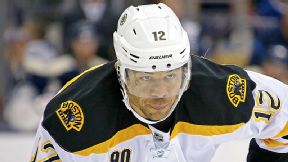 Kirk Irwin/Getty Images
Jarome Iginla rejected a trade to Boston, thinking he had a better chance of winning in Pittsburgh. After getting swept in the playoffs, he decided to go to the other side. Burnside »
W2W4: Bruins at Pens
• First meeting between teams since Boston swept Pittsburgh out of playoffs.
• Pittsburgh was 3-0-0 vs. Boston in regular season last season, 2-0-0 at home.
Penguins (8-4-0)
• Last game: Road win - 4-for-5 on PK; Brooks Orpik had three assists.
• 1-3-0 in past four games, 1-for-18 on PP.
• Lost two straight at home, 0-for-12 on PP.
• Sidney Crosby has 1 goal, 2 assists in past three games, 1 goal, no assists in two games vs. Boston in lockout-shortened regular season.

Bruins (7-3-0)
• Last game: Home loss - 3-for-7 on PK; blew two-goal lead.
• Have not lost two straight this season.
• 4-0-0 on the road this season, outscoring opponent 16-5.
• David Krejci (2G, 8A) during a seven-game point streak.
Flashback: 2013 Postseason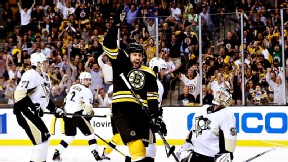 Bruce Bennett/Getty Images
Sidney Crosby and the Penguins have a bad taste in their mouth after getting pushed out of the playoffs, scoring just two goals in four games against the Bruins. 2013 Postseason »