Coyotes at Ducks: Firing on all cylinders
>It's just another ho-hum night for the Phoenix Coyotes, who look to take down another divisional foe Wednesday night in ESPN.com's Game of the Week, heading to Anaheim to face the Ducks after recent wins over Los Angeles, San Jose and Vancouver.
What a game, indeed, pitting the 12-3-1 Ducks against the 11-3-2 Coyotes on just another night in hockey's toughest neighborhood, the Pacific Division.
In fact, four of the top seven teams in the overall standings Wednesday morning were from the Pacific, lending credence to those preseason predictions that this group might take five playoff spots in the Western Conference, leaving only three for the Central.
There's lots of hockey to be played before then, but for now the Coyotes are just trying to get themselves noticed with a five-game win streak that has them one point behind those impressive Ducks entering Wednesday's game.
Anaheim is coming off a terrific 5-2-1 Eastern road trek that got the Ducks some deserved national attention, the Sharks turned some heads in the opening month with some jaw-dropping hockey and the Canucks have impressed under new coach John Tortorella.
Tough to get noticed in that group, which also includes a Kings team (9-6-0) that you know will be there in the end. The Coyotes? They just do their thing without much fanfare, as usual.
"It doesn't make a difference to us," star Coyotes blueliner Keith Yandle told ESPN.com this week. "We're not in as big as a market as some of those teams, we don't have the Getzlafs and Perrys or the Sedin twins, guys that get a lot of publicity, which they deserve, but we just go about our business, play the game, have fun, and we don't mind it."
What it means, however, is that every night is a battle in this division. Take a night off and you're toast.
"We've talked about this as a team," Coyotes head coach Dave Tippett told ESPN.com. "'Keeping up with the Joneses' is a good way to put it because the teams we want to be in the dogfight with are the top teams, we want to be mentioned along with the top teams in our division. So far we have ourselves there."
The way Yandle sees it, Pacific Division hockey is the perfect preparation for the games that really count.
"Every game is a tough game and that's a good thing, it gets you ready for the playoffs, if you make it," said Yandle, who set up Shane Doan's tying goal Tuesday night in a 3-2 shootout win over the Canucks. "You have to be prepared every night in this division and that's something we take pride in."
What's somewhat odd so far this season, however, is just how the Coyotes are getting it done. Through Tuesday night's games, the Desert Dogs were seventh overall in goals per game (3.19) but 24th in goals against per game (2.94).
Talk about a change in script for a team that under Tippett the past several seasons has been as stingy as they come, but has needed to squeeze goals out of a limited offensive group at the other end.
"We had a couple of games this season that skewed our goals against, but that's the area we're concerned with, our defending hasn't been as good as it needs to be," Tippett said. "So we're trying to get the shots against down. We got Kabonged two games in San Jose."
Indeed, the Coyotes have given up 101 shots in their two games in San Jose this season, a 4-1 loss Oct. 5 and last Saturday's 3-2 shootout win (thank you, Mike Smith), so they're still ironing out the wrinkles.
Still, this team is deeper than in the past. The addition of offensively gifted center Mike Ribeiro in the offseason plus the continued evolution of top defenseman Oliver Ekman-Larsson -- one of the game's most gifted offensive players -- gives Phoenix the ability to score with a bit more ease than in the past. Having Ribeiro, Martin Hanzal and Antoine Vermette as your 1-2-3 punch at center is not shabby at all.
"We're pretty balanced," said Yandle, fourth in NHL scoring among D-men with 12 points (1-11). "We don't have too many of the household superstar names but we have guys that can pitch in every night. We take pride in that. Doaner always said it, we have to win by committee, and it's fun to win that way. Whether it's scoring goals, or winning 2-1, it's fun to win."
It's also a reminder that branding Tippett as a defense-only coach is simply not accurate. People forget that during his time as head coach in Dallas (2002-03 through 2008-09), the Stars were top-10 in goals per game three out of those six seasons.
"When we had Modano, Arnott, Turgeon and Zubov, when that whole crew was going, we had some good offensive teams," Tippett said.
"I try to win with what I have. Those first couple of years here in Phoenix, we were a little lean on the scoring end, so we just couldn't give up anything. Now, we've got pretty good balance."
They missed the playoffs last season in a lockout-shortened season that seemed to affect them more than most teams. Now things are back to normal. It's easy to forget that these Coyotes were in the final four just two years ago.
"Nobody ever mentions we were in the Western finals two years ago because all that's been focused on was our ownership issues," Tippett said. "Now that's been taken care of, maybe they start noticing we can be a good team."
A good team in the NHLs best division.
"We know our competition is pretty tough out here, but we think we have a pretty good group," Tippett said. "Our players have confidence we can go out every night and win."
ESPN Senior Writer
Covers the NHL for ESPN.com and TSN in Canada
Six years on the "Hockey Night In Canada" Hotstove panel
13 years at The Canadian Press national news agency
W2W4: Coyotes at Ducks
Coyotes (11-3-2) at Ducks (12-3-1), 10 p.m. ET
• ANA is 1-0-0 vs PHX this season, SOW at home
• PHX has won 3 straight at home vs ANA, last 2 games in a shootout.

Coyotes
• Last game: Home SOW - 0/3 on PP - Mike Smith 31 saves
• won 5 straight, last 3 in a shootout
• won 6 straight at home, 12/15 on PK
• Martin Hanzal 3G, 1A past 4GP

Ducks
• Last game: Road W - 3/3 on PK - Andersen 32 saves
• 5-0-1 past 6 games, all on the road, 1/21 on PP
• 5-0-0 at home, 8GA, 16/17 on PK
• Corey Perry (3G) last 2 games

Stay On Your Skates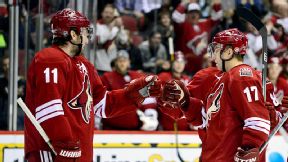 Matt Kartozian/USA TODAY Sports
The familiarity and complementing styles of play work for the Coyotes' Martin Hanzal and Radim Vrbata. Craig Custance