Hockey Hall of Fame 2011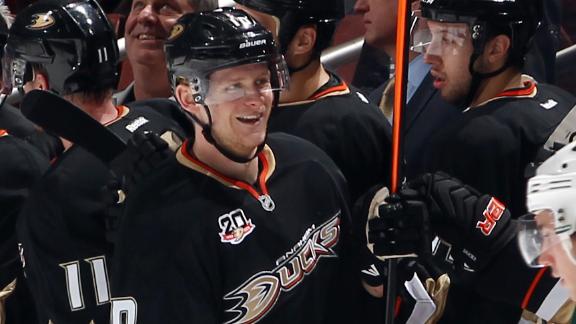 Ducks Win Fourth Straight
Corey Perry scored his 21st goal of the season to lead the Ducks past the Wild 2-1.
POSSIBLE CANDIDATES FOR 2012 INDUCTION
Newly eligible: Philippe Boucher, Patrice Brisebois, Greg de Vries, Marc Denis, Manny Fernandez, Denis Gauthier, Chris Gratton, Bret Hedican, Jamie Heward, Robert Holik, Curtis Joseph, Ken Klee, Olaf Kolzig, Claude Lemieux, Darren McCarty, Teppo Numminen, Michael Peca, Luke Richardson, Gary Roberts, Jeremy Roenick, Andre Roy, Joe Sakic, Brendan Shanahan, Mike Sillinger, Jason Smith, Mats Sundin, Mike Van Ryn, Kevin Weekes.

Previously Eligible:
Men: Eric Lindros, John LeClair, Peter Bondra, Pierre Turgeon, Sean Burke, Dave Andreychuk, Alex Mogilny, Theo Fleury, Kevin Lowe, Adam Oates, Pavel Bure, Steve Larmer, S. Makarov, Guy Carbonneau, Stu Barnes, Dallas Drake, Derian Hatcher, Trevor Linden, Mattias Norstrom, Glen Wesley.
Women: Geraldine Heaney.
PAST HALL MOMENTS
Dino Ciccarelli's off-ice incidents made him a controversial pick for some hockey critics.

Hull. Yzerman. Robitaille. Leetch. It was another Hall of Fame class for the ages.

Anderson, Chynoweth, Larionov and Scapinello were honored by the Hall in 2008.
HHOF INDUCTION CEREMONY
What: 2011 Induction Ceremony
When: Monday, Nov. 14, 2011

Where: Toronto
MEET THE 2011 HALL CLASS
PLAYER: ED BELFOUR

A two-time Vezina Trophy winner, "Eddie the Eagle" posted 484 wins (third on the NHL's all-time list) and 76 shutouts during a 17-year career during which he played for Chicago, San Jose, Dallas, Toronto and Florida. Belfour won the Cup with the Stars in 1999.
• Ed Belfour: Burnside's profile | Career stats
PLAYER: DOUG GILMOUR

Gilmour, who had 1,414 career regular-season points in 1,474 games and 188 playoff points in 182 games, won the Stanley Cup with Calgary in 1989 and a Selke Trophy with Toronto in 1993. He was also a part of the Team Canada squad that beat the former Soviet Union in the 1987 Canada Cup.
• Doug Gilmour: LeBrun's profile | Career stats
PLAYER: MARK HOWE

The son of "Mr. Hockey," Gordie Howe, Mark proved he was Hall-worthy in his own right. He switched from forward to defense early on in his career and finished with 1,246 career points in 22 seasons. He was a runner-up for the Norris Trophy three times, had three 20-goal campaigns and reached the Stanley Cup finals twice with the Philadelphia Flyers.
• Mark Howe: Custance's profile | Career stats
PLAYER: JOE NIEUWENDYK

The current GM of the Dallas Stars, Nieuwendyk won the Stanley Cup with three different teams (Calgary, Dallas and New Jersey) and finished with 564 career goals. Other wins on his resume: Calder Trophy, Conn Smythe Trophy and Olympic gold-medal winner (Team Canada in 2002).
• Joe Nieuwendyk: LeBrun's profile | Career stats