Proof that Christmas and hockey go together

By John Buccigross
ESPN.com
Archive
It's Christmas week, and no athletic endeavor is more in sync with Christmas than hockey. It's the Christmas season and hockey season.
People are simultaneously in the Christmas spirit and hockey spirit like no other sport. People will play hockey indoors and outdoors all over the United States and Canada. People will skate this week in Alaska, Hawaii, Massachusetts, Florida, Texas and California. In fact, people probably will skate in all 50 U.S. states. You get cold, then you get warm. Nothing feels better than that.
You want more proof that Christmas and hockey go together?
• It is hockey season for kids from 1 (Eddie Giacomin) to 92 (Rick Tocchet).
• Cheevers, Murray and Joseph (Gerry, Bannerman and Curtis).
• Hockey and Christmas are about lights and snow and cold and three Kings (Derek, Kris and Clancy).
• Contracts have Clauses.
• Hark, the Harold Snepsts.
• Santa has helpers, while a one-timer has a helper.
• Both have Sheppards (Ray, Gregg and James).
• Christmas bells are ringing. So are hockey Bells (Billy, Brendan, Bruce, Gordie, Huddy, Joe and Mark).
• You want more candy? Hang a hockey stocking by the chimney with care. Careful of the holes. Oh, holy night.
• Santa will sharpen his blades this week for abrupt stopping power on his inside edge.
• Christmas has elves. Hockey has Darren Pang.
• The First Noel Picard.
• Christmas is an annual Christian holiday commemorating the births of Jesus. Dec. 25 also commemorates the birth of Stu Barnes, Jim Dowd, Dmitri Mironov and, yes, Noel Picard.
• Frosty the Snowman and former Boston Bruins trainer John "Frosty" Forristall.
• Greg Joly.
• Stephen Walkom in a Winter Wonderland.
• Ol' Saint Nick Lidstrom, Backstrom, Wallin, Bergfors, Hagman, Kronwall and Hjalmarsson.
From my hockey family to yours, have a warm week and a Hockey New Year.
Peace.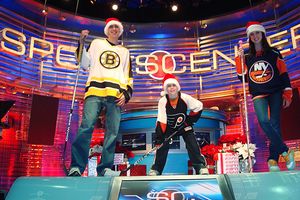 John Buccigross' e-mail address -- for questions, comments or crosschecks -- is john.buccigross@espn.com.
Bucci's Power 5
The Blackhawks have all the attributes one wants in a hockey team, including the commanding presence of the Q-Stache, which has been lying in the weeds waiting to strike. What really stands out is the Hawks' skating. They control games like a boxer who simply has faster hands than his opponent. And Jonathan Toews has vaulted himself ahead Mike Richards and should no doubt be Team Canada's No. 4 center. I would put James Neal and Steven Stamkos on a line with him.
The Devils may not be the best team in the East come playoff time because they may have only one player, Zach Parise, who has another gear. But they are the best in the East right now. Everything is fluid and connected. They remind me of the Bruins from last season, when everything went well from the get-go.
The Caps really don't have their goaltending settled, but they still keep winning. They are dangerous because, like the Penguins and Hawks, their young players keep improving as they gain experience. A player like Tomas Fleischmann probably will score 30 goals this season. Nicklas Backstrom is on his way to a 90-point season. If this team adds a D-man and settles its goaltending, it could be raising its first Cup in June.
The Devils punked the Pens badly Monday night, but Pittsburgh has the ability to raise its game on cue. The Penguins haven't done that much this season, as they seem to be pacing themselves. Evgeni Malkin also has yet to really take his game to a consistently high level on the offensive end. Remember, however, the Penguins are a second-half team that grinds. Skill plus gritty gamers -- it's why they are the defending champs.
They need to try to pry a center from somewhere, but I still like their defense, goalie, coach and leader. They are built to win a best-of-seven series, which is what this Power 5 is all about.
Tuesday Poll
Sponsored by Ken the Otter