Here's another must-see hockey film

By John Buccigross
ESPN.com
Archive
Here is the plot summary for the motion picture "The Tooth Fairy" starring Dwayne "The Rock" Johnson. It will be released Friday:
Derek Thompson is "The Tooth Fairy," a hard-charging minor league hockey player whose nickname comes from his habit of separating opposing players from their bicuspids. When Derek discourages a youngster's hopes, he's sentenced to one week's hard labor as a real tooth fairy, complete with the requisite tutu, wings and magic wand. At first, Derek "can't handle the tooth" -- bumbling and stumbling as he tries to furtively wing his way through strangers' homes ... doing what tooth fairies do. But as Derek slowly adapts to his new position, he begins to rediscover his own forgotten dreams.
"The Tooth Fairy" is rated PG, so unless you have a child between the ages of 7 and 10, you probably will opt to spend Friday night watching Dallas and Edmonton on your NHL Center Ice package. You unquestionably will see more swearing in that game than you will in "The Tooth Fairy." The chances of Julie Andrews dropping an F-bomb are highly unlikely. Steve Ott? Yes, and yes.
For some reason, "Family Guy" creator Seth MacFarlane is in this movie playing a character named Ziggy. Did MacFarlane lose a bet or something? What is he doing in a PG-rated tooth fairy/hockey movie? On the surface, one would think MacFarlane will steal the movie or at least put it in a headlock. I'll let you know next week; I have a 10-year-old. I'm rockin' "The Tooth Fairy" this weekend. Oh, yeahhhh!
Hockey movie discussions pretty much start and end with "Slap Shot" and "Miracle," with a little "Sudden Death" thrown in for good measure. I'm shocked no one produced a 21st-century coming-of-age hockey film. There must be a hockey mafia out there preventing all the "sex, lies and hockey tape" from making its way to the silver screen.
It's a small dream of mine to summon some of my hockey friends like Barry Melrose, Shjon Podein, "Jonesy," Ray Ferraro, Darren Pang and a player to be named later and get all their stories down on paper. Then, I'd rent a cabin in northern Minnesota with nothing but cheese, beer, Oreos and Bon Iver music and wouldn't come out until the screenplay is done. Then, I would call Lightning owner and "Two and a Half Men" producer Oren Koules, and we'd make a movie. Then, NHL commissioner Gary Bettman would suspend Koules for producing a hockey movie that doesn't involve a duck or Kurt Russell but does star Jessica Biel as the billet mom/truck driver's wife whom Taylor Lautner just couldn't shake and thus had to ask the coach to find him a new billet family. (One of the men mentioned above told me that story.)
Until that happens, our best hockey "movies" are documentaries. Let's face it, it's difficult to recreate something like hockey, which is already so theatrical, unless you tell the behind-the-scenes story.
As I make my way around the rinks of New England this winter, I'm surprised how many people have mentioned my appearance in the documentary "Pond Hockey." As it states on its Web site:
"Pond Hockey" examines the changing culture of sports through insightful interviews with rink rats and hockey legends like Wayne Gretzky and Neal Broten alike. More than just a celebration of a beloved game, "Pond Hockey" searches the open ice for the true meaning of sport.
Director Tommy Haines and his crew stopped by my house on one picture-perfect winter day and filmed some footage for my small part in the film. The film holds a mirror in front of the soul of hockey to help uncover and explain the intoxicating elements of the game slightly better than "The Rock" probably will do. If you love the game, you need to see "Pond Hockey." The reviews have been great.
So, Haines (director, co-producer, hockey dude) and his crew, working in conjunction with USA Hockey, are back with another excellently produced hockey documentary: "Forgotten Miracle: The Story of the 1960 Gold Medal Team." It is available on DVD. On Feb. 27, 1960, an underrated U.S. hockey team stunned the defending-Olympic-champion Soviet Union in Squaw Valley, Calif., en route to an undefeated march for Olympic gold. It's a story that has many connections with the 1980 "Miracle" team but nowhere near the publicity. This DVD helps rectify that.
I tracked Tommy down to talk about the documentary and more.
Question from Bucci: Tell me about your latest movie.
Answer from Tommy Haines: Bucci, if you are a hockey fan, you need to know this story! It's one of the best-kept secrets in American sports, the story of the 1960 U.S. Olympic hockey team.
This team won the first hockey gold medal for the United States, and it was arguably the best U.S. hockey team every assembled. These guys not only had to face an emerging Soviet dynasty, which they had lost to in nine previous encounters, but also had to face a Canadian team that had won six of the past seven Olympic gold medals.
These guys didn't get a chance in the NHL, even though they were good enough. Instead, they were a team of carpenters, insurance salesmen, firemen and servicemen, but they achieved something that to this day has never been matched by any U.S. hockey team: an unblemished record at the Olympics. These men laid the foundation for American hockey, yet they still remain just a footnote in the history books.
Hopefully this film, which we feel we have aptly titled "Forgotten Miracle," sheds some light on the greatness of this team and gives it the proper recognition that it deserves.
Q: What surprised you during your research and interview process?
A: Without a doubt, the humility of the players. These guys are all very proud of their accomplishments, but they aren't arrogant. With all the fame and fortune that champions receive now, it's hard to imagine that these guys have been almost forgotten, but they never felt cheated out of their proper respect, even though it's 50 years past due.
If I had a gold medal, I'd have a hard time being so humble. They're just an amazing group of guys who played hockey at a remarkable time. I could listen to their stories for hours.
Q: We see "Pond Hockey" advertised a lot on the NHL Network. How has the reaction been to that?
A: Unbelievable! "Pond Hockey" is still going strong a year after its original release. The NHL wanted to show it on Dec. 30 before the Winter Classic, and we couldn't think of a better fit. As a lifelong pond player, it's awesome to see all the interest in getting back outside. I'm glad the movie could be a part of that.
Q: Any hockey projects that interest you for the future?
A: We will definitely have another hockey flick in the works in the near future. We'd obviously like to do a little film called the "Third Miracle," the story of the 2010 U.S. Olympic team. Cheers!
John Buccigross' e-mail address -- for questions, comments or crosschecks -- is john.buccigross@espn.com.
Bucci's Power 5
The class of the league and the team that matches up well in an Ilya Kovalchuk trade/rental situation. Most teams wouldn't be able to stomach Kovalchuk's rental price, but Chicago could out of necessity. The Hawks have to shed salary before next season and can provide ready-made players such as Patrick Sharp, Kris Versteeg, Dave Bolland and/or Cam Barker, cash, draft picks and 1,800 hair follicles from the healthy salad of Stan Mikita. (He'll turn 70 on May 20.)
The Caps face the Red Wings on Tuesday night and the Penguins on Thursday. This is a good week to really make a statement. They will be out for blood in Pittsburgh, and I sense they'll want to make a dominating statement. The Caps have nine players who have scored at least 10 goals. After they get that top-four defenseman and a healthy Semyon Varlamov, they will be the favorite in the East once the playoffs start.
The Sharks have not been out of the Pacific time zone since Dec. 22. Sharks season-ticket holders have had a nice stretch of games to watch this month. Still to come this month at the Shark Tank: Buffalo and Chicago.
Strong special teams, toughness, skating and Roberto Luongo. The Canucks look to be built for the playoffs. The only question is the stress of the long season on Luongo. If he hadn't gotten hurt, he probably would have played 70 games this season. Plus, he could have a pressurized run at the Olympics if he gets the nod in net.
Ryan Miller is playing as well as any other goalie in the NHL. On top of that, he is a classy leader who has a presence in net. As we mentioned a couple of weeks ago, the Sabres are a lock to win the Northeast Division. And with the way they prevent goals and balance their scoring, they have a legitimate shot at finishing with the most points in the East.
Shot of the Week
It's back. You know how it works: We present an NHL photo, and Bucci provides a caption. E-mail him your suggestions (include your name and hometown/state), and we will use the best ones and provide a new photo the following week.
LAST WEEK: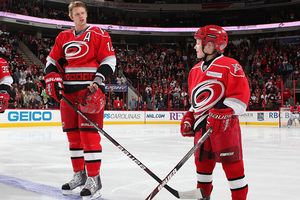 Getty Images
"Mom and Dad never told us about the fifth Staal."
Your captions:

"In a stunning event, Martin St. Louis has been traded to Carolina."
Derek Levesque (Cranston, R.I.)
"Hey, isn't it past your bedtime?"
Carson (Oakmont, Pa.)
"So, you didn't make the Canada juniors again?"
Kirby Furlong (Los Angeles)
"Aren't you a few rain drops short of being a 'Hurricane'?"
Andy (Los Angeles)
THIS WEEK: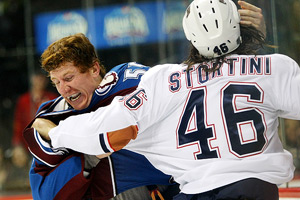 Getty Images
Ava-lunch.
Tuesday Poll
Sponsored by Ken the Otter