Hockey, we stand on guard for thee

By John Buccigross
ESPN.com
Archive
John,
Can you please do a running diary for the Canada-USA game? It's been a while since your last one and I can't think of a better game to do this.
Andrew Potter
OK, sure.
The last time the United States won the gold medal was in the 1980 "Miracle on Ice" classic. The last time Canada won the gold medal was in 2002 against the United States. The Americans were 0-5-1 against Canada in the Olympics since 1964 entering the 2010 Vancouver Games, but had a chance to beat Canada twice in Vancouver after posting a win against the hosts in the preliminary round.
Entering Sunday's gold-medal game, Team USA was the only unbeaten team in the men's hockey tournament; even more impressive, it had never trailed and played with a lead for most of the tournament. The U.S. also scored first in every game.
Here we go:
First period
20:00:
Opening faceoff. 63-year-old Mike Emrick has the call. 63? He sounds like he's 39. Former Leafs great Eddie Olczyk (42-goal scorer during the 1987-88 season) provides the analysis. Edzo is 43 and sounds like he is 42.
19:34: A measured first 26 seconds of the game. You can cut the tension with a chains aw.
17:07: Still very close-to-the-vest hockey. Blocked shots and very tight checking. No one wants to make the first mistake. This is dump-in, forecheck, throw-the-puck-to-the-front-of-the-net hockey.
15:10: Just as I say that, both teams are activating their defense now and getting some offensive chances. My two favorite players in this tournament from these two teams have been Canada's Jonathan Toews and USA's Zach Parise. Parise is a high-effort, high-intensity, skillful player. We've gushed about him for two seasons. There has not been an American player like him with so much physical skill and around-the-net presence. Toews really shows how much of an elite player he really is; he's tough and smart. This is why Blackhawks fans should feel so good about their playoff chances. Toews and Patrick Kane are high-level, big-game players.
11:33: Brooks Orpik just put Dany Heatley into the American bench. Orpik has played really well in this tournament. Players in Pittsburgh get overlooked because of Evgeni Malkin and Sidney Crosby. NHL players who don't score also generally get overlooked. Ray Lewis doesn't score in the NFL, but fans understand his value, even casual NFL fans. I think there are hard-core NHL fans who don't understand the value of someone like Orpik. Olympic hockey is a great laboratory for NHL GMs to gauge the value of players since the GMs see them in a high-talent environment. Orpik and Jack Johnson have also been a great pair. If I am Penguins GM Ray Shero, I offer Malkin and Kris Letang for Anze Kopitar and Jack Johnson and see what the Kings say.
7:20: Icing. The Olympics have also shown that the NHL should immediately implement no-touch icing. It is one of those things in life that is so blatantly obvious and filled with common sense, you wonder how the current rule goes on beyond today. It's safer, it's fairer. At the end of the game, less time goes off the clock when a team that is trying to protect a lead ices the puck. It also quickens the pace of the game.
The whistle blows as the puck crosses the goal line; the linesman sweeps up the puck and rushes down to the other end, and we get set to drop the puck again. This should be done immediately. Not having no-touch icing is the athletic equivalent of head slaps in football and golfers not marking their ball on the putting green.
7:10: Whoa. My boy Jonathan Toews makes it 1-0. I love when that happens. Mike Richards makes a nice play to get a shot on Ryan Miller and the juicy rebound goes right to Toews and the Blackhawks' captain gives Canada the lead. I still like the Americans' chances in this game; they are skating well and getting chances, but probably need the next goal. They don't quite have "overall finish" on the roster, but they have speed (they are the youngest team in the Olympics, they have desire and appear to not be shrinking from the moment).
"I do not shrink from this responsibility, I welcome it."
-- John F. Kennedy
4:00: Oh, look ... Dan Boyle. Boy, the Lightning could use a player like that. The Boyle trade to San Jose was one of those deals where you instantly know it was a bad one for Tampa Bay and a great one for San Jose. You really wonder what experienced NHL personnel people are thinking when trades like that are made.
1:34: In case you were wondering why players who normally do not wear visors in the NHL are wearing them in the Olympics, it's because international hockey rules dictate all players born after Dec. 31, 1974, must wear a protective shield. That's why Chris Pronger (Oct. 10, 1974) doesn't have one on. The six Canadian Olympians who normally play without a visor but are doing so in the Games: Ryan Getzlaf, Joe Thornton, Brenden Morrow, Eric Staal, Shea Weber and Brent Seabrook.
End of first period: 1-0 Canada.
Second Period
19:05:
Ryan Kesler
makes a diving play in the neutral zone to break up a long stretch pass from
Scott Niedermayer
. Kesler's athleticism on skates is astounding. His diving, empty-net goal to secure the win over Canada in the prelims will be the exclamation point of his videotape résumé. His contract is up after this season. Kesler is just 25 years old and is going to get a big, long-term deal.
17:27: High sticking on Malone. Power play for Canada, which means Weber on the point. Ryan Callahan and Chris Drury are playing high on the penalty kill. Amazingly, they get in the way of Weber's 100 mph slap shot. Would you do that? I can't think of a more Spartacus-like, courageous act in all of sports. It's taking a fastball off your body from 10 feet.
15:19: Interference call on Canada's Eric Staal. Power play for Team USA. The Americans need to score on the power play. They just aren't getting any 5-on-5 chances. Canada has played extraordinary team defense since losing to the United States. The Americans' power play does nothing.
12:47: Corey Perry scores to make it 2-0 for Canada. Getzlaf throws it in front, the puck banks off USA's Ryan Whitney and right to the tape of Perry. That could do it. I think you will see a Canada lockdown from this point on. This is where Sidney Crosby and Toews are such valuable star players. They are talented, good in high-traffic areas and dependable. Just as I type that, Toews gets a chopping/tripping penalty in the neutral zone. Power play, USA.
9:22: Not much on that power play.
9:07: Great rush from Team USA's Jack Johnson and Paul Stastny, but they can't put home the rebound. Stastny has been a little disappointing overall. His $6.6 million cap number for the Avs, as we've written here before, is too high. He is an excellent passer in space, but in traffic, he is a limited player. And he's having a real hard time handling Joe Thornton and Getzlaf. Canada coach Mike Babcock wants those guys out there when Stastny is out there.
Hopefully, Stastny will diligently work on his lower-body strength to improve his big-game potential and play with a little more attitude. His Stanley Cup sample is small, but in the spring of 2008, Stastny had just two goals and one assist in nine playoff games. Matt Duchene is slowly becoming the best player on the Avs and their No. 1 center. Stastny will be a real good No. 2 center on a good team.
7:16: Kesler scores to make it 2-1. The American deflected a Patrick Kane wrist shot that got through Roberto Luongo, the seventh time a player has scored on a goaltender who is his teammate in the NHL. Kane has been great. His hands are some of the best in the NHL, as is his skating and hockey sense. Kane floats on top of the ice. If any of his attributes were even average, Kane probably couldn't play in the NHL because of his size. His big-game play shouldn't be surprising. Last spring, he had nine goals and 14 points in 16 Stanley Cup playoff games.
3:49: Team USA is really coming on. Their young legs are controlling the game. Don't forget, this is the fourth game in six days for Canada, plus a noon start in Vancouver. This game is there for the U.S. to take if it can keep getting quality chances. Surviving this period would be huge for Canada. Crosby has been quiet, but I think that's because Babcock is rolling his lines to keep his team fresh. As long as Canada has the lead, Babcock will keep doing this.
End of second period: 2-1 Canada.
18:00: Canada is in suffocation mode now. They are rolling lines, pursuing and getting pucks deep.
16:00: We've played four minutes in the third period and nothing has really happened. That's good news for Canada. They are in control of the proceedings. The fans are not sure. They are smart and know this is not a sure thing. A few Canadian skaters, especially the bigger players (Nash, Thornton, Getzlaf), are not skating well. This is where Team USA's youth can help them. They have the better legs, but they have to finish.
9:03: Ryan Suter is a great and sturdy defenseman (wow, can he skate backward fast), but his offensive game is a little limited. Erik Johnson, meanwhile, continues to impress with his hands and hockey sense. As he matures and gets more games under his belt, he has all the tools to be one of the best defenseman in the NHL, if the game becomes the most important thing in his life.
5:00: The pace of this game has been hyperactive. Both teams are getting tired. This is where Canada's depth should take them home. It keeps players from making a mistake in a dangerous part of the ice. This is where the Canadian team concept really wins out. Rolling lines, team effort, no egos. It is a great model for a successful team, corporation or country. It is something Russia needs to do going forward. The Russians, besides having poor depth and substandard defensemen in these Olympics, seem to have a bit of a caste system. Pavel Datsyuk was one of the few to blend in. That probably is because of his age and the fact he plays on the Red Wings.
4:13: A gold medal is just about the only thing Chris Drury hasn't won in his sporting life. This will be his last chance, as this is his last Olympic game.
2:59: We are entering the "when the does the U.S. pull Ryan Miller" mode. The extra skater is what the Americans might need to get the tying goal. The skating is now equal again. That will not get it done for the U.S. It needs another skater. Faceoffs about even, shots about even, score not quite even. I would be very aggressive in pulling Miller.
1:30: Team USA coach Ron Wilson pulls Miller with 90 seconds left. Wilson is a great coach. He has presence, confidence and an authoritative way in how he communicates. He was also a very talented player at the collegiate level at Providence College, but his DNA is very much blue-collar and grinding. That is a great mix for a coach; Wilson can relate on multiple levels. He can make difficult decisions quickly and has a great feel for things. He is also the best golfer among all hockey coaches in the world.
24.4 seconds: Zach Parise! The USA's most talented player scores the tying goal. Great efforts by Joe Pavelski and Kane on the shift, as well. Kane throws the puck on net and Parise, who is like a human windshield wiper around the outer edges of the half-circled blue crease, laterally slides and scores the tying goal. Overtime for the goal medal. Holy Shnikes.
(This now reminds me of a tradition we used to have on the set of "NHL 2Night" during the Stanley Cup playoffs. When a playoff game went to sudden-life overtime, Barry Melrose, Ray Ferraro and I would each pick one player on each team, throw a few clams on the set, and if your guy scored, the winner got the clams. We always let Melrose go first because, in the voice of Butt-Head from "Beavis and Butt-Head," "He's old." So, for this Olympic overtime, I will take for my overtime winner: Canada's Ryan Getzlaf and Team USA's Erik Johnson.
Overtime
20:00:
4-on-4 hockey for 20 minutes and then a shootout. This should favor Team USA. 4-on-4 is more about speed than traffic.
18:49: Paul Henderson and Mike Eruzione's generation-defining goals are mentioned by Emrick. Obviously, this game doesn't approach those contests because of the intimidating and mysterious aura that surrounded the Soviet Union and its hockey players. The U.S. and Canada are friendly, and the players all know each other. There will not be another game like past contests until Martians invade and construct a hockey team. There are few mysteries in sports anymore. We know too much. I still put the Stanley Cup on a higher level than a gold medal.
18:00: Team USA needs to go for it in overtime. They have the legs and Canada has nerves. I would tell them to be aggressive, including on defense. That's why I picked Erik Johnson to score the winner. You know a Canadian forward will score the winner. I think a defenseman will have to score for USA to win.
16:00: Both sides are being very careful. You have to activate the D in 4-on-4 situations to create chances. You can't get a good forecheck in 4-on-4 scenarios, and it requires great puck-handling. This favors Canada. The U.S. has to go for it hard.
14:28: Canada has grabbed the momentum. They seem to have a second wind. Nash is skating the best he has all game. You just expect Crosby to ...
12:20: OMG! I swear that thought was in my head as Crosby scores the game winner. 3-2 Canada. Gold medal to Canada. He was born for this moment. It is part of his destiny. We've written over and over again in this space why No. 87 is the best player in the game and why in these moments you want him on your team more than any other player.
Watch the replay. Miller was preparing for Crosby to take the puck across the front of the net. Notice how Miller began to slide his blocker glove toward the knob of his goalie stick as he prepared to poke check the puck away from Crosby. This exposes the five-hole. Crosby had time and space to make a move in front and around the crease and that's what Miller read, probably correctly. Instead, the 22-year-old Crosby shot quickly and scored, and added to his hockey lore. He's painting you a portrait of youth.
Crosby was an average player for 68 minutes, but scored a goal that will probably go down as the most meaningful of his career. That's what greatness is all about. This goal and his shootout goal against Switzerland in the prelims -- those were moments.
In the meantime, North America has put its stamp on being the center of the hockey world. Hockey Canada and USA Hockey have set up high-level, well-thought-out and organized programs during the past decade. They have trained players and
teams
to excel. The rivalry between the organizations will only fuel the number of great players the two countries produce. This should result in world domination and a deep pool of NHL talent.
The television ratings for the third period and overtime of this game could be the biggest of all time. I understand these are some of the best players of all time and it is the Olympics; but there are plenty of NHL games similar in terms of excitement and quality of play. We get it; it just makes you wonder why more people don't.
Again, it doesn't ever matter to me or affect my passion if three or three billion people love and watch hockey. But after seeing Canada-USA play, it just makes you wonder why people are giving hockey the Heisman. Is it a fear to love what is not most popular? That fitting in is more important than true love? It's bewildering. Why wouldn't you watch NHL games now? Why won't you watch the NCAA hockey tournament? Why wouldn't you watch every Stanley Cup playoff game you could? Almost all of them resemble Sunday's effort.
But no worries, hockey. You have plenty of disciples to support your foundation and spread your word. We get your values of teamwork, heart and perseverance. We love how it requires DNA-given talent, toughness and grit. Nothing bequeathed. It's not who you know, what color you are or whose butt you kiss; everything is earned, everything is a meritocracy of muscle and brain. The next shift is earned not sold.
When the millions who watched Sunday's gold-medal game usher off to college basketball, the NFL draft and/or everything else they choose to decorate their life with, we will remain.
Hockey, we stand on guard for thee.
John Buccigross' e-mail address -- for questions, comments or crosschecks -- is john.buccigross@espn.com.
Shot of the Week
It's back. You know how it works: We present an NHL photo and Bucci provides a caption. E-mail him your suggestions (include your name and hometown/state), and we will use the best ones and provide a new photo the next week.
LAST WEEK: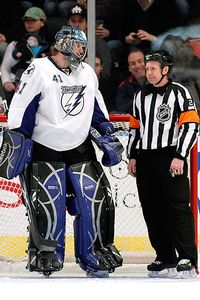 Getty Images
"You lost your confidence when they made you wear that helmet over that beautiful salad of yours, eh?"
Your captions:

"You wanna trade uniforms and see if anyone notices?"
Mike Viola (Pittsburgh, Pa.)
"Mike, be afraid of that never-stop-smiling man behind me. Players who see his smile become referees."
Ignat Sukhov (Moscow, Russia)
"I'm not gonna tell you again, tiny. Get the hell outta my crease!"
Gary (Annandale, Va.)
" ... but you don't understand what it's like to be heckled by hockey fans around the world just for being what you are."
Peter Nygaard (Ridgewood, N.J.)
THIS WEEK: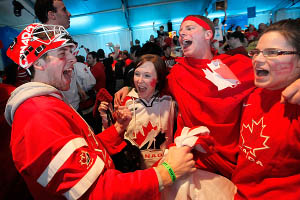 Getty Images
Tomorrow? Back to being Maple Leaf fans.