Updated:
April 13, 2010, 2:03 PM ET
Umbrellas, and Eastern Conference predictions

By John Buccigross
ESPN.com
Archive
First, before we look at the first round, these two things perplex me:
1. When hockey or baseball play-by-play announcers, referring to umpires or referees, say, "Well, as long as they are consistent, then it's OK." No, it's not OK. If a ball is low and an umpire calls it a strike 37 times, then he is wrong 37 times. Interference is interference whenever it is interference. I don't care how lush Don Van Massenhoven's 'Stache is this time of year. Two minutes, bro.
[+] Enlarge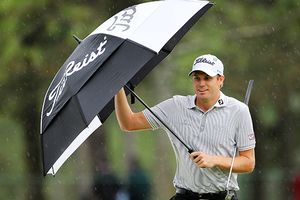 Jamie Squire/Getty ImagesBuy one of these umbrellas, people!
2. The amount of people in this world who don't have or utilize a high-quality umbrella. ESPN is a large and diverse company, an excellent place to conduct these random, unscientific experiments of the human brain. The results? I'm astonished at the amount of people who, on a rainy day, either don't deploy a 21st century umbrella walking into work during a spring rainstorm, or how the umbrellas my fellow employees do use could not keep a hamster dry and have the durability of a whiffle ball bat.
People, go to the sporting goods store, buy a real good golf umbrella and put it in the trunk of your car. You will always be prepared. This is great for mall shopping, grocery store trips, walking around campus, job interviews and dates. To you kids -- few things rival the romance of a walk in the rain with that pretty girl from history class you can't take your eyes off of. The way to her college heart? A large, high-quality umbrella. Nothing looks more pathetic than a grown adult with a pathetic umbrella that resembles the ones floating in a piņa colada in the Florida Keys. Are you listening to me, kids? I'm giving you pearls here.
Yes, it's the dawn of the annual storm of the Stanley Cup playoffs and I just went on a Jay Leno, circa 1983, umbrella rant. But this is the psychological effect the Stanley Cup playoffs can have. They make rational people do irrational things. Intensity is elevated. Blood pressure readings are a bit higher. After an astonishingly long season in this most emotional and physical sport, we double down with an insane two-month tournament that provides enough arena and family-room energy to power all 53 African countries.
The Stanley Cup playoffs also stop time for hockey fans. The buildup begins in the morning and grows all day long until puck drop. For the fan base that will have its team win 16 games, this feeling will not go away for the next two months. It's one long day and night.
There will be a lot of upset stomachs in April, May and June, as fans of the Penguins, Canucks, Red Wings, Blackhawks, Devils, Kings and the 10 other playoff qualifiers ponder that night's games. Fans lucky enough to have tickets will experience an adrenaline and energy that simply is not matched in any other sport.
Shower the people you love with hockey love and buy them an umbrella with a big Titleist logo on it.
Eastern Conference predictions
No. 1 Washington versus No. 8 Montreal: The Capitals led the league with 313 goals (3.82 per game) and 79 power-play goals during the regular season. They were third last season with 268 goals, behind leader Detroit (289). What made this even more impressive is there were 203 fewer goals scored in the NHL this season (6,803) than in 2008-09 (7,006). This was primarily because there were 274 fewer power-play goals scored.
The Capitals had no such power-play issues; they had a 25 percent power play this season. Philadelphia, Montreal, San Jose, Vancouver and Los Angeles are the other playoff teams over 20 percent on the power play. Montreal's 21.8 percent is the closest to the Caps. For the Canadiens to pull off the upset, they need an insane power play and an insane performance from Jaroslav Halak in net. The Capitals have a lot to prove; they have won only one playoff series in the Ovechkin era. Still, I think the Caps are primed to steamroll through the East, and it starts here. Capitals in five games.
No. 2 New Jersey versus No. 7 Philadelphia: When we compare the first season out of the NHL lockout to this past season, we find there were almost 10,000 more official "hits" in the NHL, 4,000 fewer penalty minutes (despite there being 218 more fighting majors) and over 300 fewer power-play goals. It is not difficult to see that NHL officials are calling fewer penalties and allowing more power-play contact and combat. This should favor a team like the Flyers. If the Flyers just don't go into a Sideshow Bob routine that they are prone to do, they should be a good playoff team.
This is a real difficult series to pick. The Flyers have played the Devils well in the postseason and I think they can make life difficult for Marty, Marty, the one-man party Brodeur. The Devils might be a dangerous overtime team with the Energizer Bunny that is Zach Parise. My head says one thing and my heart says another. I won't say which is which, but I will say Flyers in seven games.
No. 3 Buffalo versus No. 6 Boston: Will all seven of these games finish 1-0? This series features goaltenders Ryan Miller (Buffalo) and Tuukka Rask (Boston). They finished 1-2 in goals-against average and save percentage in the NHL. They are the two best goalies in the Eastern Conference; that fact alone makes these two teams very interesting. A big key in this series is if Tim Connolly can play and how effective he is for Buffalo. He needs to be a force or the Sabres will have a difficult time scoring against the Bruins. Connolly's 65 points would have led the Bruins in scoring by 13 points. Man, this is a tough series to pick. The only edge I can see is in the Sabres wingers' ability to score. Hey, Michael Ryder could find a soul and start scoring, but I'll take the Sabres in seven games.
No. 4 Pittsburgh versus No. 5 Ottawa: The Penguins are not the Penguins of a year ago and the Senators have been streaky. That puts this series on upset alert. Check this out. Since the New Year, Ottawa lost five in a row, then won 11 in a row. Later, they lost eight of nine, then won six in a row. This could be a Penguins sweep or a Senators win in five or six games. The injury to Alexei Kovalev hurts Ottawa's depth, but the Sens still have good centers, wingers on par with the Penguins and some grit. A poor power play, unsure goaltending and a vapid defensive corps raise concerns for the Sens.
The Penguins have an unsure goalie, no dynamic wingers and played a lot of hockey over the past two years. I don't think they have a Stanley Cup run in them this year unless they, and especially Evgeni Malkin, flip a switch Wednesday night. They still have the best three centers in the NHL (Sidney Crosby, Malkin and Jordan Staal) and Sergei Gonchar, so that should get them by Ottawa. Penguins in six games.
(Tune in Wednesday for my Western Conference predictions, e-mail bag and fan photos!)
John Buccigross' e-mail address -- for questions, comments or crosschecks -- is john.buccigross@espn.com.
Shot of the Week
It's back. You know how it works: We present an NHL photo and Bucci provides a caption. E-mail him your suggestions (include your name and hometown/state), and we will use the best ones and provide a new photo the next week.
LAST WEEK: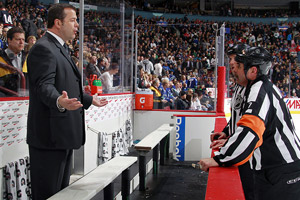 Getty Images
"I called all of their moms and told them the game was moved to 7 p.m. What do you want me to do?"
Your captions:

"What do you mean it can't be a bench-clearing brawl if I don't get on the ice?"
Robert Skrydlak (Omaha, Neb.)
"An NHL committee for a '$5 foot-long' try out?"
Vlad Shundrovskiy (Hallandale, Fla.)
"Bill, we're trying to get out here, but Luongo's pads are 'this big' and he's blocking the doorway!"
Nick Krieger (Wash Twp., N.J.)
"Men's Wearhouse & $199 & what do you think?"
Alex Freda (Long Branch, N.J.)
"When you called a bench penalty, I didn't think that you meant the whole bench."
Glen Wollenberg (Harrisonburg, Va.)
THIS WEEK: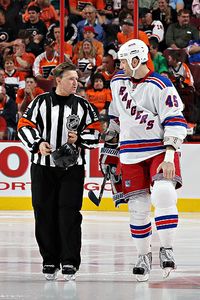 Getty Images
"I fooled 'em. It was a hairpiece all along."