Updated:
June 15, 2010, 4:47 PM ET
Wrapping up the season with a little road trip

By John Buccigross
ESPN.com
Archive
For the first time since the 2004 Stanley Cup finals between Tampa Bay and Calgary, I hit the road to cover this year's event with ESPN for "SportsCenter," ESPNEWS, ESPN.com, ESPNChicago.com, ESPN America, ESPN Radio, ESPNQ-Stache.com and ESPNBarnaby.com.
Yes, I was getting paid to attend and report on Games 1-4 between the Blackhawks and Flyers. I was pulled after four games in favor of Steve Levy. I've never been a good closer.
My "job" was to cover the first four games of the series before returning home to Connecticut. Because it had been six years since I covered a Cup finals series, the eight-day trip unexpectedly energized and pulverized my senses -- manna for a writer.
You see, this blogumn was hatched in the fall of 2001, four months after I covered my first Stanley Cup finals -- Ray Bourque's fairy-tale ending in Denver. Experiencing the game of hockey in person is fuel; experiencing a Stanley Cup finals game in person, especially a Game 7, is 777 volts to the extremities.
Bourque's Game 7-Holy Grail victory helped inspire and launch this now-nine-year ESPN.com run. I say inspire because I'm one of those dudes who has 4,597 "brilliant" ideas and acts on six of them. I need a nudge.
So, as we wrap up year No. 9 in this space, I'm filled with the fuel and experiences that eight days in Chicago and Philadelphia can bring. I wish I could have seen it to the end, but I'm grateful I can end the year with some up-close-and-personal observations. Have a warm and sunny summer. Until next time …
• Chicago cab drivers are maniacs. They make New York cab drivers look like Betty White on a Segway. The Blackhawks' team speed is shared by the city's cab drivers.
• Duncan Keith is the Darrelle Revis of the NHL. To watch him skate in person was mesmerizing. His closing speed is sick and his ability to close on pucks and players continually took my breath away. This cannot be seen on TV and helps illustrate why you have to watch players in person to accurately scout them. It would be fun to see Keith evolve into a more dynamic offensive player. I'd love to see him attack more and create off the rush. He is the new Scott Niedermayer.
• Playoff beards come and go, but the Q-Stache remains. Always. The Q-Stache is 24/7, 365 days a year. Pat Burns, Mike Keenan … not many 'staches have raised the Cup. When will they learn?
• Barry Melrose could not walk for more than 54 seconds without someone making a comment to him about him and/or the series. This was the most engaging and fan-involved series of the ones I have covered. Each city had an electricity to it.
• Chicago has 13,487 cool restaurants and bars and one of them is Stanley's Kitchen and Tap. The Lodge and The Wit were also fun. Live karaoke and lots of happy people. Chicago during the summer is, hands down, America's finest city. It is clean, happy, interesting, vibrant, soulful and comfortable. One of my fantasies is to win a $300 million Powerball jackpot. Then, I would spend January through April in Miami and buy Florida Panthers season tickets. I would spend September through Christmas on Cape Cod and live in a different American city every May through August. Chicago would be my first choice.
• Philadelphia is the kind of city I am most comfortable in. The location of my hotel had all the qualities I love in a city: grit, diversity, outspokenness, humor, history, Hall of Fame bartenders and passion. And diners with wobbly chairs.
• If I had a Conn Smythe Trophy vote, I would have selected Patrick Sharp or Duncan Teeth.
• Hawks coach Joel Quenneville's wife has some ties to the town where I live in Connecticut. Joel, do the right thing and stop by my crib in South Windsor and let me eat Apple Jacks out of the Stanley Cup.
• If I had a choice of one person I would not want to be head-butted by, it would be Brent Seabrook. That dude's dome is like a keg of beer. A great hockey player with a great hockey name.
• Here are the Stanley Cup-clinching overtime goals in NHL history:
Patrick Kane, Chicago versus Philadelphia, June 9, 2010
Jason Arnott, New Jersey versus Dallas, 2OT, 2-1, June 10, 2000
Brett Hull, Dallas versus Buffalo, 3OT, 2-1, June 19, 1999
Uwe Krupp, Colorado versus Florida, 3OT, 1-0, June 10, 1996
Bob Nystrom, N.Y. Islanders versus Philadelphia, 5-4, May 24, 1980
Jacques Lemaire, Montreal versus Boston, 2-1, May 14, 1977
Bobby Orr, Boston versus St. Louis, 4-3, May 10, 1970
Henri Richard, Montreal versus Detroit, 3-2, May 5, 1966
Tony Leswick, Detroit versus Montreal, 2-1, April 16, 1954
Elmer Lach, Montreal versus Boston, 1-0, April 16, 1953
Bill Barilko, Toronto versus Montreal, 3-2, April 21, 1951
Pete Babando, Detroit versus N.Y. Rangers, 2OT, 4-3, April 23, 1950
Toe Blake, Montreal versus Chicago, 5-4, April 13, 1944
Bryan Hextall, N.Y. Rangers versus Toronto, 3-2, April 13, 1940
Mush March, Chicago versus Detroit, 2OT, 1-0, April 10, 1934
Bill Cook, N.Y. Rangers versus Toronto, 1-0, April 13, 1933
• I spent one night in Philadelphia listening to Kelly Hrudey and Melrose tell great early '90s Los Angeles Kings stories. This would have been the podcast of all podcasts.
• I wrote this during Jonathan Toews' rookie year in 2007:
Love and practice. They take many forms. It's shooting bucket after bucket of pucks at the rusty net in the driveway. It's getting up at 5:45 a.m. to make a weekend game that's an hour away. But it's also about intently paying attention, paying attention to detail so minute, it seems insignificant. The little things are everything. From the big things to the little things, watching and studying is loving and practicing.
When Jonathan Toews went to Winnipeg Jets games in the mid-1990s with his father, little Sparky never let his eyes leave the ice. He watched. He studied. He loved. He practiced. He was 6.
Trips to the concession stand or souvenir store could not dissuade Toews from staring at his one true love. What some adults never learn came naturally to the 6-year-old Manitobite. Manitober. Manitobian.
Love and practice.
And the player that he loved and studied more than any other was Wayne Gretzky. Not Robert Smith of The Cure-pasty-white-SPF-99-Edmonton Oiler Gretzky, but rather the John Tortorella-deep-fried-tan-sunscreen-be-damned-Los Angeles King Gretzky.
Remember, when Gretzky was traded to the Kings, Toews was just 3 months old. All he knows is King Wayne. And he watched every move. Little Jonny didn't go get the 84-ounce Coke and suitcase of cotton candy covered in maple syrup. He watched King Wayne love the game. He watched royalty preach what he practiced -- vision, soul, enthusiasm, passion, care, humility and love. And he watched with the focus of an adult.
All of that watching, all of that studying, all of that practicing and all of that loving has brought us to this point.
• This was part of my Hawks-Canucks series preview this postseason:
The Hawks have deep scoring at forward and limit shots on goal. Led by captain Jonathan Toews, the Hawks have a collective purpose a team like the Capitals just doesn't have. That's an essential ingredient in a championship hockey team. The Hawks are my favorite to win it all right now.
That was a self-hug columnist ego-booster.
• What I will take away from the 2010 Stanley Cup finals more than anything else? The anthems. Before Game 1 in Chicago, I was not emotionally prepared for "The Star-Spangled Banner."
The crowd began screaming at the top of its lungs from the first note. Somehow, they were able to raise the volume at certain points of the song like an approaching jet. My eyes were wet as the awesome spectacle kept building. And then, anthem singer Jim Cornelison pointed to the American flag with an open, helpful hand as he sang the line "that our flag was still there." At that point, I easily could have started bawling like Dick Vermeil. The patriotism, the music, the spectacle. I couldn't stop the emotion; I could only hope to contain it.
I mentioned this gesture to Cornelison in the press box prior to him singing the anthem before Game 2, Memorial Day, and how much it moved me. When he sang later that evening, he seemed to give his reverential salute an extra thrust. There was no way the Hawks were losing a home game with that pump-up song.
In Philadelphia, Lauren Hart sang a JumboTron duet with the late Kate Smith. Before Game 3, there was an uneasy tone to the crowd as the Flyers trailed the Hawks 2-0 in the series. Before Game 4, the Philly swagger was back and "God Bless America" soared. Hart was in her jeans and leather jacket, and Smith in a dress our Nanas used to wear to church (and seemingly everywhere else). My Nana wore a dress when she bought bologna at Flanagan's Supermarket.
For me, 2010 will be the "Finals of the Anthems," what they represent and convey. I'm a very patriotic person, awed and moved by anything involving the military (and this from a person who can't understand why two human beings would ever get to a point of wanting to destroy each other).
The war in Afghanistan entered its 104th month earlier this week with 30,000 American troops being deployed in the first half of 2010 alone. A lot of these troops are hockey fans; some are Blackhawks fans. Here is to those men and women safely returning home soon. How great would it be if it were this summer?
Chicago is a happy city in the summer. The Stanley Cup will make it the happiest place on Earth. That's what the troops from Illinois are thinking right now as you read this: "Man, I wish I was home to party with Chicago. I can't believe the Hawks won the Stanley Cup."
Don't forget about them; they deserve to scream, and deserve a picture with the Cup. Don't let them down, Rocky Wirtz. Bring the Cup to the troops. You've made every right move so far. Time for one more assist.
Let them hold the Cup. For those about to scream, we salute you.
John Buccigross' e-mail address -- for questions, comments or crosschecks -- is john.buccigross@espn.com.
Bucci's Fan Photos
Bucci,
Ni hao ma? Jintian, Zhijiageren zai Zhongguo feichang gaoxing, yinwei Blackhawks ying le Sitanli Bei.
Translation: How are you? Today, Chicagoans in China are extremely happy because the Blackhawks won the Stanley Cup.
My studies here in China are going well, but trying to only speak Chinese all the time is really difficult. It was a tough decision for me to miss the Stanley Cup finals, but as long as the Blackhawks won, I would have been happy.
Attached are pictures of me at Tiananmen Square in my Marian Hossa jersey. [One picture] shows me gazing in awe at Mao, who seems pleased Hossa won his first Cup. Special thanks go to fellow Chicagoan, Vlad, whom I met on my way to the Square for taking the pictures.
Erik
Chicago, by way of Beijing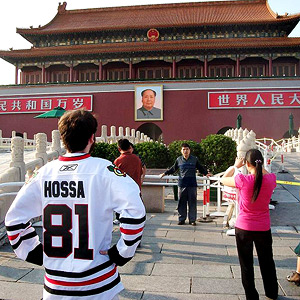 Hey Bucci,
I'm a die-hard Hawks fan living in New Jersey. I'm sending you a picture of me and my 4-month-old son Aaron. We are both decked out in our Chicago sports paraphernalia; I have the nicest jersey (sweater) in professional sports on (Roenick jersey) to go along with my Cubs hat, and my son has his Jordan onesie on. I hope it can make it into your next column; if not, just enjoy the picture, I think he's adorable.
Jeremy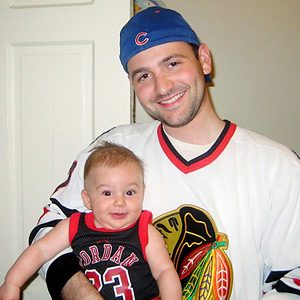 John,
I can't begin to tell you how your wrap-up column moved me. I am a Marine in Camp Lejeune, N.C., and I am about to deploy to Afghanistan. I am a loyal Hawks fan and was a season-ticket holder before I enlisted. I grew up playing until I shattered my wrist. Unfortunately, I was not able to watch the game live due to the fact I was in the field training. Thanks again for your support and keep up the good work.
Scott