Here comes the Hockey Life
This "blogumn," as I sometimes refer to it, was born in the fall of 2001. It has evolved as the Internet, the game and I have evolved.
I have been an NHL fan since birth. My dad, Ed ("The Big E"), was born poor during the Depression. Tough and smart, he went to college on a GI Bill. (Mom was all those things too, except the GI Bill part.) He was a maskless high school hockey goalie in the late 1940s. Hockey was natural for him to watch because it was similar to watching life on the streets of South Boston, where he was raised. My dad was an Italian in a sea of Irish. (And he married Mary Donovan. Ed will get his own column this year.) He had to be tough.
I don't remember not being able to skate. Two of my most indelible childhood memories include living room hockey using chairs, SuperJock Hockey in the hallway and listening to games on the radio, while my dad fiddled with his stamp collection. Ed kept meticulous statistics in a notebook of all of the games' goals. If Mom and Dad went out to dinner, I listened to the game for him and left the goal scores next to the old, large-dialed radio.
Kitchen hockey before Sunday Mass once resulted in my sister Christine breaking her foot after she "tripped" over my Mylec street hockey goalie stick. I started collecting hockey cards and have every set from the '70s, '80s and '90s. My uncle Jim provided the epic Christmas gift of a steel street hockey net when I was 11. It lasted 25 years.
My dad slowly worked his way up to a Sears store manager after starting in the auto service area changing tires while in college. That meant two things: (1) We moved every seven years as he was slowly promoted to larger stores; (2) Everything in the house was from Sears because of the employee discount. This included Toughskins jeans, which were a cardboard box with pant legs. But, it also meant I was the first on Olive Street with Pong.
One of those family stops was in Steubenville, Ohio. Hockey was not a part of the culture. No one skated and there was nowhere to skate except frozen ponds. That's what made the organic, no-parents, Saturday-morning, gymnasium-street-hockey league composed of 16- and 17-year-olds so satisfying. Friends who discovered street hockey in that little four-team league remain hockey fans to this day -- Rocky, Riff, Flax, Willie, Gibby, DiBart and John "Suitcase" Costlow, who played for every team. Twice.
As I was graduating from Heidelberg College (now Heidelberg University) in Tiffin, Ohio, my dad was ending his career with Sears and announced he was moving to Plymouth, Mass. I hitched a ride in the Buick LeSabre.
Upon arrival I began to look for a job in television news, the same way, I'm sure, Bob Costas, Joe Buck and Jim Nantz did: I looked in the phone book. Having no connections and being a stranger in a strange land, I found a station in the phone book located on Cape Cod, about 30 minutes away: Channel 58. A UHF station (look it up, kids) in Hyannis, Mass.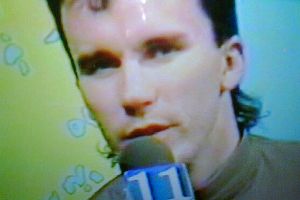 Courtesy of John Buccigross John Buccigross started working at Cape 11 News in 1989. Contrary to rumors, he was not a member of Wham! at the time.
I called the sports department and said I would work nights FOR FREE, while working at the mall during the day. They thought that was an excellent idea. While I was at Channel 58, they let me construct a résumé tape of some anchoring and a couple of stories I edited. I took that tape to an even smaller operation in the next town over called Cape 11 News.
The news director at Cape 11 News was Martha Cusick. Her father, the late Fred Cusick, who is in the Hockey Hall of Fame, served as the Boston Bruins' TV play-by-play man from 1971 to 1997. He was 78 when he retired. The new NHL arenas were too big, the view too high to try to identify the numbered ants below. My dad was a Bruins fan, so in the interview I could name the Bruins' roster from the past 18 years. I knew who Dallas Smith was! Martha was VERY impressed. She must have had a thing for stay-at-home, balding defensemen.
Martha Cusick hired me in August of 1989 ($15,000 a year), and I haven't missed a paycheck yet. Each time, I secured a bigger job -- local TV in Providence, R.I. (a state rich in hockey history), in 1994, and ESPN in 1996. I worked at my old job Friday and started my new job on Monday. I've been very lucky. My life has been an American dream brought to you by a Canadian game. (Dad's mom was raised in Newfoundland.)
On Cape Cod, I interviewed Cam Neely on a driving range, interviewed Bobby Orr by myself (I set the camera on a tripod and hoped Bobby didn't move) and covered a charity golf event where Bruins players wore tuxedos in 90-degree heat. With a wife and two kids and now making $16,500 a year, I was identified as poor and received some free cheese at one point. Really. My biweekly check was $589.00 and my monthly rent was $500.00. I was at Cape 11 News for five years. I was poor and that stinks, but I was a happy person and I had a blast.
In Providence, my salary skyrocketed to $30,000 a year. I got to cover the Frozen Four in 1995, and I've been a college hockey fan ever since. I also covered the final hockey game at Boston Garden (preseason Bruins-Canadiens game) and reported a "24/7"-style, three-part series on life on the road with the AHL Providence Bruins. Rhode Island has great high school and college hockey as well.
For some reason, ESPN decided to hire me in 1996 despite me looking like the third member of Wham! Two years later, I was named full-time host of "NHL 2Night."
Three years later, my "blogumn" was born on ESPN.com. I felt there was an opportunity to provide the hockey fan with a new, fresh, national (and as it turned out, international) young voice. And by that I mean immature, sophomoric and idealistic.
I was the perfect guy. I was one of the first to put my email address at the end of my column to engage the fans. It was social media before social media.
You had to have thick skin to advertise your email, but it was a mosh pit of emotion that I loved and it made my skin Toughskins thick. The Email Bag, fan pictures, baby naming, Ken the Otter, lyrical season previews, we've been through a lot together and watched the Internet exponentially explode together.
Suddenly, it is 12 years later. I'm the voice of the Frozen Four (#cawlidgehawkey!!), a backyard rink owner, a hockey dad, a certified USA Hockey coach (door opener/back slapper) and an ESPN.com NHL blogsmith. It is truly a hockey life and that's how I wanted to rebrand this destination. I want this to be a place to tell all kinds of hockey stories from youth, high school, college, NHL, international, men and women.
Last year, I tweeted my weekly "BucciMane Top 10 #cawlidgehawkey Power Rankings." I will now unveil those here and put this link on Twitter for those of you who expect it there. That link will take you here. I will have more college hockey content on here than ever before. It's a great, affordable, intimate product. Played and coached by great people.
My life has become "A Hockey Life" because the people in the sport are passionate, fun, silly, caring, serious, competitive and talented people. Those are the kind of people I like being with, talking with and people watching. Who doesn't like to people watch? And when you think about it, that's what sports are -- people watching. Hockey has the most interesting people and that's why we choose to watch. Eyes forward. Game on.
SportsCenter anchor
John Buccigross joined ESPN as an anchor in October 1996. He currently can be seen as an anchor on "SportsCenter." Buccigross frequently contributes to ESPN.com during the season.
#cawlidgehawkey
The preseason BucciMane Top 10 #cawlidgehawkey Power Rankings:
1. Miami University
2. Providence College
3. North Dakota
4. Wisconsin
5. UMass Lowell
6. Notre Dame
7. Minnesota St
8. Boston College
9. Minnesota
10. RPI
Top Tweets
@Buccigross do CBJ make the playoffs this year?

— Brad Zahar (@Brad_Zahar) September 25, 2013
@Buccigross: Yes, Columbus is a good goal-prevention team that should increase its offense this season. Health, as it is with any team, is the unknown factor, but Columbus should be in that 90-point range and sniffing a playoff spot in the East. A lot depends on young players Cam Atkinson and Ryan Johansen, and free-agent signee Nathan Horton. If those guys are humming by January, this team has enough for the postseason.
@Buccigross who are your preseason Hobey Baker front runners? #cawlidgehawkey

— Chris Matthees (@cdmatthees) September 25, 2013
@Buccigross: John Ice Hockey, Johnny Gaudreau of Boston College, is the clear favorite in my mind. He is 20 years old and ready to reach another level. Certainly there are plenty more. I also like defenseman Shayne Gostisbehere of Union, a future Philadelphia Flyer power-play quarterback. And keep an eye on Wisconsin's Michael Mersch (Los Angeles Kings). He could be among the NCAA's leader in goals. Remember, the Hobey Baker is an all-encompassing award.
@Buccigross what are the chances the Hawks win another title in the next few years

— Michael B. (@moman1923) September 25, 2013
@Buccigross: There is no doubt the Hawks are set up with the best chance to be the team of this decade. (If this decade started in 2010. Or is it 2011? Dont know the decade rules.) The Hawks have a legitimate chance to win for at least 3-4 years. Hossa, a Hall of Famer, and Sharp will then no longer be in their prime and their production will have to be replaced.
@Buccigross What is your opinion about how Shanaban handled the Kessel suspension in the preseason?

— Parker Reusch (@therealreusch)September 25, 2013
@Buccigross: I am from the school that believes if a high-level athlete wants to injure someone, he can. Phil Kessel was clearly assaulted by 6-foot-8 John Scott of the Sabres. To be fair, I think Scott knew other Maple Leafs would jump in, and Scotts intention was not to injure Kessel. He knew Kessel would get out of there quickly, as he should. Kessel is eight inches shorter and, more importantly, not a fighter. Scotts payback for a previous fight was miscalculated. Also, Kessels whacks with his stick were on Scott's shin guards, and the second was low on his skate. Believe it or not, both parties were holding back. Does it look bad? Yes. Does it look like The Gong Show? Yes. Does it give the NHL a cartoonish feel? Yes. But, it was controlled. The last little jabs Kessel gave was a love tap. The preseason suspension served its purpose. If Kessel wields his stick like that again it will cost him games and cash.
@Buccigross Iggy bring new life to Bruins' PP?

— James Welch (@jwelch19)September 25, 2013
@Buccigross: I think Jarome Iginla is an excellent fit on the Bruins, especially on the David Krejci-Milan Lucic line if thats where he ends up. Krejci doesnt play 100 MPHlike Sidney Crosby does. Iginla couldn't keep up with Crosby. Krejci is a more deliberate player. Also, if Lucic continues his trend of passing first (his shots per game have dropped from 2.19 to 1.72 over the last two seasons) that will help Iginla get even more one-timers off on the power and at even strength. He has an excellent chance to score 30 goals this year, with double digits on the power play. And I would forbid Lucic's from passing the puck back to the point as he wheels out of the corner. He needs to shoot more.
@Buccigross will Marc-Andre Fleury make it through the season as a Penguin?

— Seth Thompson (@SEthomp88)September 25, 2013
@Buccigross: Fleury has two years left on his contract. His cap number is $5 million. His playoff numbers are absolutely BRUTAL. He has become the weakest link on the Penguins playoff roster. When you watch his amazing athleticism and confidence in shootouts, you wonder wonder what's up with all that. It makes you look at the rest of the team, their commitment to defense and the quality of dthe efensemen in front of Fluery. He has had young and/or shaky offensive defensemen in front of him. Perhaps the return of Rob Scuderi will help. Also, hiring Jacques Martin to help with team defense could also help Fleury. The Penguins looked tighter in their opening night win over the Devils. Pittsburgh should have been the team of its generation. Crosbys concussion issues, Malkin's ACL and the play of Fleury has the Penguins behind the Bruins and Blackhawks right now, and maybe even the Kings by years end. Starting with Crosby and going from there it will be interesting to see if the Penguins have that hunger and commitment to two-way hockey it takes to win hard-fought playoff series.