Alexander Ovechkin is not the problem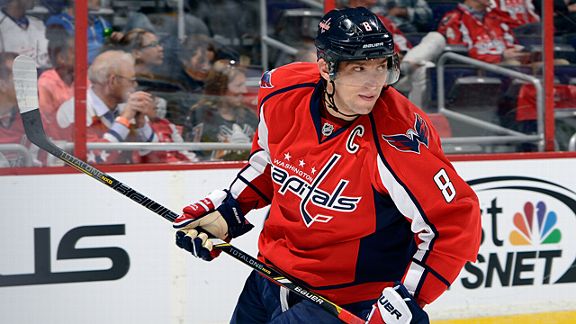 G Fiume/Getty ImagesWe turn our weary eyes to you, Alex Ovechkin, and we understand.
Suddenly, Alexander Ovechkin is 28 years old.
The boy is no longer the boy Bieber: a new talent who invades the Internet and then gets mismanaged and mis-messaged into a cartoonish celebrity that overtakes that talent. Now an experienced man, No. 8 has settled into almost being an afterthought. But make no mistake, Ovechkin is back as the game's finest goal scorer. The most prolific, most exciting and most dependable athlete in Washington, D.C. The only surefire Hall of Famer in the Washington sports scene.
Ask most fans who won the Rocket Richard Trophy for most goals in the lockout-shortened season and I promise the majority will say Steven Stamkos. It was Ovechkin. Heading into Wednesday night's game with the Rangers, Ovechkin has 28 goals in his last 27 regular-season games.
Part of the Ovechkin "fatigue" is that, as a society, we move on quickly. We make an assertion that becomes absolute, etch it in stone and move on. Some people don't see the five-tool player Justin Timberlake is, maybe the most talented entertainer alive, because they still think Britney or a boy band when they think of Justin.
Ovechkin came to a new country, enthusiastically learned and embraced a new culture and was having the time of his life. The amount of attention was vast as hockey came out of its season-long lockout salivating for new, fresh stories. Ovi was the best copy of all. There is no way he could have seen this coming, but he played along and produced all at the same time.
He showed up every day (dude doesnt miss games), played hockey like Lawrence Taylor played linebacker, scored 25 goals in his first 37 playoff games, smiled, entertained and slowly was put in his place by many in the North America media who, when in doubt, blame the Russians first.
This wore him down. It robbed him and us of a cultural innocence and naivety that appeared to have fun and kindness as the overriding narrative. Goofy and powerful all at once. Now he is more careful.
Those who worked alongside him in Washington every day say things like, "I love him. Consider him a friend. Lives to win. A pleasure to work with."
Never mind this man has carried, on his back by himself, a franchise still looking for its first Stanley Cup. Sidney Crosby had Evgeni Malkin when he won "his" Cup, Jonathan Toews has Patrick Kane (and Marian Hossa and Duncan Keith), Pavel Datsyuk has Henrik Zetterberg (and had Nicklas Lidstrom), Anze Kopitar has Mike Richards (and Jonathan Quick and Drew Doughty), Patrice Bergeron has David Krejci (and Zdeno Chara and had Tim Thomas), and Ryan Getzlaf has Corey Perry (and Scott Niedermayer and Teemu Selanne when they won in 2007).
Ovechkin hasnt had that other guy. Not even close. The roster has never been fully constructed, and somehow he, the player, gets the blame. No three-time MVP has taken more crap.
None of us are without faults, of course, but the criticism piled on the durable, productive and likable player over the years has been unfair. I think one reason might be that the hockey world is small. GMs, coaches and media members exist in a relatively small world. The Russian player will always get blamed before the Canadian coach or GM (see Edmonton).
The criticism of Ovechkin clearly has weighed him down over the years. He is more careful and more reserved in thought. You can see the leeriness in his shifty, little eyes. He is on the defensive for the commencement of the blame game. Perhaps when his action warranted blame, it was from being overwhelmed by a lack of support -- roster, tactical and emotional support.
This desperation can shut a man down at times.
On the ice this season, he is back to being Ovi. After a feeling-out period last season, coach Adam Oates has him in a position to do what he does best: shoot and score. Ovechkin is averaging a mind-bending seven shots a game through six games (his career best is an average of 6.68 in 2008-09).
Yes, the Caps are off to a slow start, but never forget hockey is a team game. Ovechkin plays 20 minutes a game. Maybe people should spend more time analyzing the other 40 minutes to see why the Caps are an average NHL team with three playoff series wins over the past 14 years.
No. 8 is not the problem in Washington.
SportsCenter anchor
John Buccigross joined ESPN as an anchor in October 1996. He currently can be seen as an anchor on "SportsCenter." Buccigross frequently contributes to ESPN.com during the season.
#TwitterBagSkate
@Buccigross Top rookie: Hertl or MacKinnon?

— Nick Deshefy (@ndesh571) October 14, 2013
@Buccigross: Both players have walked into great situations. Nathan MacKinnon has huge game. He is 18 but doesn't play like a boy. Great hockey sense, great hands. He also is on a team with good forward depth and thus should be able to have his minutes managed and avoid too much wear and tear. Tomas Hertl also is in a great situation. The Sharks are a Stanley Cup contender (again), and he has good teammates.
But I am going to say Seth Jones wins the Calder. I think he is going to become a big-time force in the NHL for a lot of years. The Florida teams might regret not taking Jones second or third in the draft. Defensemen like him are too rare not to take.
@Buccigross Will the American Development Model produce in the next 20 years: 1) Olympic Gold; 2) Hart or Richard winner; 3) Norris winner?

— BobD (@TerriersFan) October 14, 2013
@Buccigross:
1. Yes
2. Not sure
3. Yes

@Buccigross Can the @NHLFlames keep up the pace, and is Monahan for real?

— Ross (@Roscopeko79a) October 14, 2013
@Buccigross: The Flames will regress to their mean beginning this week. Check back Dec. 1.
#cawlidgehawkey
The updatedBucciMane Top 10 #cawlidgehawkey Power Rankings:
1. Miami
2. Providence
3. Wisconsin
4. Notre Dame
5. Minnesota
6. Michigan
7. North Dakota
8. Boston College
9. UMass Lowell
10. Yale