College rivalries about more than the game
It's 90 minutes before puck drop on a clear, crisp November Friday night in bustling Boston. While students eat their piping hot, pregame pizza at T. Anthony's on Commonwealth Avenue, jacketless first-year Boston University head coach David Quinn stands in his warm Agganis Arena office, which is about the size of three hotel rooms.
The size of his hockey office is slightly embarrassing to him.
"Can you believe this?" he sheepishly asks.
However, the spacious office is a furnished, carpeted metaphor for where Quinn stands at 47 years old. This is a dream job. Quinn's the new tenant in the office, replacing Jack Parker at BU. The BU coaching scoreboard entering the game with cross-city rival Boston College reads Parker 897, Quinn 4. Big shoes to fill. A big office to fill.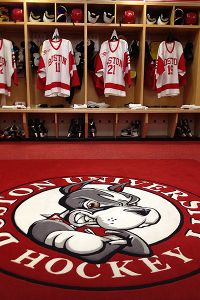 John Buccigross/ESPNBoston University doesn't appear to be a national championship threat this season.
Game pucks signifying various Parker achievements -- some wins Parker achieved with the help of David Quinn the BU player -- are still mounted in a long row on top of a trophy case inside Quinn's workplace man cave, a memorabilia reminder of the on-ice legacy that he is following.
Parker held the job from 1973-2013, won three national championships (Quinn was an assistant on the 2009 title team), and did it with a hockey bag full of swag. The BU head coach's office would actually need to be bigger to completely contain the story of Jack Parker at Boston University. The players skate on ice painted with the words "Jack Parker Rink."
"I didn't know how much the job actually entailed," Quinn says 90 minutes before his first game against Boston College as Terriers head coach. "When you are an assistant coach you think, Oh, I know what that job is all about.' But it's just completely different when you sit in the seat and have all the responsibilities of a head coach."
When a gem of a job like Boston University men's head hockey coach opens up, it is a chance of a lifetime for whoever applies. It pays well and has cache. The job wasn't open for 40 years. One was more likely to be elected U.S. President (there were eight of those while Parker was at BU).
Quinn was the perfect fit. Outgoing and engaging, he could be dropped into the middle of the Kennedy compound in Hyannis Port during a Kennedy family reunion and fit right in with his New England accent and healthy head of hair. A former NHL first-round pick (13th overall pick by Minnesota in the 1984 draft) and a former BU player and assistant coach, his résumé was too tough to top. He fit the job and the job fit him.
(Prior to Quinn's senior year at BU, he was diagnosed with a blood disorder called Christmas Disease that ultimately ended his hockey-playing career.) For the first time, David Quinn coached against Jerry York and up-the-avenue city rival, Boston College. This is a rivalry fueled by proximity (less than five miles apart), national championships and the energetic and gritty cement sidewalks of historic Boston. The first BC-BU game was in 1918. This game marked the 263rd meeting between the schools.
"The two programs are connected and tied together in so many ways," Quinn says. "Most of the players know each other. They've played with each other or against each other growing up. If we had to walk to the games to the other campus we could do it. It's such a special rivalry."
"I woke up this morning and was extra excited to play tonight," said Terrier junior Cason Hohmann. "You really want to win these games."
Nineteen-year-old sophmore Danny O'Regan grew up in nearby Needham, Mass. His dad, Tom, is a former BU captain. "A huge part of my decision to come to BU was the BC rivalry," O'Regan said. "I grew up coming to all the games. So for me, whether it was the Beanpot or regular season, they all made a huge impression on me."
But, this latest BC-BU rivalry game would be one that O'Regan and his Terrier teammates will look to delete from their memory. Johnny Gaudreau, a Calgary Flames draft pick, had a goal and two assists in the first 27 minutes to build a 3-1 BC lead after two periods. Two more goals in the third period made it a 5-1 final in favor of the Eagles.
Boston College is once again a national championship threat, while BU, well, is not. The recruiting machine of Jerry York and his assistant coaches is well-oiled. This year they brought in another stellar freshman class, while upperclassmen Bill Arnold (another Calgary Flames draft pick who got his 100th career point in the BC win) and Gaudreau (a Hobey Baker finalist) both returned to add experience and depth to the lineup.
"Gaudreau is such a special player," said BU senior Garret Noonan, a Nashville Predators draft pick. "Very creative. You can't give him time and space because he's so dangerous out there."
"The loss definitely hurts," Cason Hohmann said. "It means more than a usual game. They all are two points, but there are only so many of these games. Every one is huge. Hopefully, we can get them next time." Boston College has now won 10 of the past 14 BU-BC games. Turning that around will take recruiting classes equal to the ones York and associate head coach Greg Brown are churning out at Chestnut Hill (Mike Cavanaugh was at BC for 18 years as an assistant and took the head coaching job at UConn over the summer).
Considering York, 68, just signed a contract to coach through 2020 (likely to be his last, as he will be 75) one would think assistant Greg Brown will take over and Boston College should keep rolling.
But Quinn knows there are plenty of athletes out there to choose from with the hockey pool of talent loaded like never before; thus, parity rules the day in college hockey, as it does in many college sports in the 21st century.
"The athleticism jumps out at you," Quinn says. "I stand at ice level and I can't believe I was able to play a sport like this. I don't know if I could play at this pace. You look at our league (Hockey East), there are no bad teams. There's so much parity at every level because there are great athletes playing it."
Quinn and BU should be fine. Quinn can charm birds out of trees and has coached for USA Hockey, in the AHL and in the NHL as a Colorado assistant last year. He knows the players and the game. He'll get those great athletes and this program and this rivalry will continue to be stout. Then Quinn can start replacing some of those signature Jack Parker wins on top of the trophy case with wins of his own.
One puck at a time.
Connecticut front and center
With a population of 3.5 million and the capital, Hartford, in the center of this small state, Connecticut certainly could support a competitive NHL team better than some current NHL regions. (Eighteen years in Hartford, one playoff series win for the Whalers.)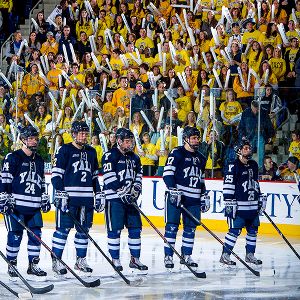 Courtesy of Quinnipiac AthleticsLast Saturday night, 3,695 fans stuffed Quinnipiac's ice rink to see the Bulldogs and Bobcats battle.
However, being in the middle of New York and Boston, Hartford did not fit into Gary Bettman's GPS view of the NHL, and the Hartford Whalers moved to North Carolina in 1997, never to be seen again. No Whalers. No Orange Julius. A giant rectangle Rest Area.
Nonetheless, even without an NHL beacon in the center of the state, Connecticut remains one of the most vibrant hockey states in the U.S., boasting local boys and girls youth hockey travel teams, respected junior hockey programs, passionate high school teams, world-renowned prep schools, two AHL teams, and NCAA hockey teams, including four Division 1 programs. The third smallest state in the U.S. packs a mean hockey punch. And in this second decade of the 21st century, the highlight of the hockey calendar is suddenly Quinnipiac versus Yale.
Already a bubbling social event, a perfect storm of circumstances saw Yale (New Haven) and Quinnipiac (neighboring Hamden -- home of 2012 Conn Smythe winner Jonathan Quick) meet in the NCAA championship game in Pittsburgh last April.
You can fit 17 Connecticuts into one Minnesota in terms of land mass, yet tiny Connecticut was at the center of the college hockey world with these two ECAC Conference schools playing for a national championship on ESPN. Yale, the country's oldest hockey program, won. The rivalry went up another notch.
"It's an event," says Quinnipiac head coach Rand Pecknold. "I think it's one of the best events in the state of Connecticut."
Quinnipiac assistant coach Reid Cashman played against Yale four times as a player for Quinnipiac. "From a player's perspective, the Yale guys and the Quinnipiac guys felt the rivalry right away," says Cashman. "The players felt there was something to battle for and was some pride on the line. We see them at social events. We skate with them in the summer sometimes. Now, as both programs have ascended, Yale the last five years, Quinnipiac the last two or three, now all of the sudden it's bigger for everyone else."
For the first time since Yale beat Quinnipiac 4-0 last April to win its first national championship (a first for the Nutmeg state), the two schools met on the Quinnipiac campus.
"We're thrilled that this has become more than a game," Pecknold said. "At five o'clock, the kids are waiting to get into the arena for a seven, that's what big-time college athletics is all about."
"This rivalry is still kind of in the making," says 6-foot-4 Quinnipiac junior Jordan Samuels-Thomas, a Winnipeg Jets draft pick. "We don't have the long history that BU-BC has but we're trying to build that history. Yale is in our vicinity and every time we get together it's a great game and the communities rally around it, the school loves it."
Junior Matthew Peca, drafted by the Tampa Bay Lightning, agrees, saying, "to play them in the national championship game, that added that extra rivalry regardless if we were neighbors or not. For us it's one of the biggest games all year and we get excited for it."
"There are some situations where there are parents that are Yale fans and their kids are Quinnipiac fans," says assistant Reid Cashman. "That brings fun family rivalries in as well and all that stuff helps grow a game."
Last year, Quinnipiac beat Yale three times before losing in the national championship game in April. Last Saturday night, 3,695 fans stuffed Quinnipiac's ice rink to see the two schools meet again seven months later.
The energy at Quinnipiac was every bit as strong as Boston University's 7,200-seat Agannis Arena on Friday night, helped by the home team scoring first and the closeness of the game. Above the ice, a brand-new video scoreboard enhanced the fan experience. "Seven Nations Army" was sung by the student section. Hockey at its passionate best is a sport without borders. No nation owns it. It doesn't matter where the game is. The game is the game. Fast, passionate, physical and tense is good if the game is in Brampton, Boston or Bora Bora.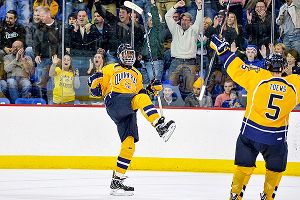 Courtesy of Quinnipiac AthleticsQuinnipiac outshot Yale 21-6 in the third period, rallying to tie the game at 3.
"Tonight was definitely the most exciting hockey game I have played in my entire life," said Quinnipiac freshman Sam Anas of Potomac, Md. "It tops my state championship atmosphere."
Quinnipiac jumped out to a 1-0 lead on a goal by Anas (pronounced "Ann-iss"). A poor man's Gaudreau, Anas doesn't quite have the wheels of Gaudreau, but has a plus attitude, plus vison, a saucy stick and a deftly accurate shot.
"Around campus you can feel the buzz all day and all week," Anas said. "Everyone knows it's Yale week. I had a professor wear a jersey to class."
Samuels-Thomas, who was inspired to play hockey after watching "The Mighty Ducks" movies, made it 2-0 and the joint was jumping. But, Yale countered with three second-period goals in 3 minutes, 18 seconds to take a 3-2 lead.
"Inexperience on the blue line showed, kids not picking up sticks in front," Pecknold said after. "We've been talking about it in practice and are having some issues with it and it kind of bit us in the tail tonight. It's a good teachable moment."
Quinnipiac showed its championship insides in the third period. The Bobcats put the pedal to the metal, outshot Yale 21-6 in the third period (51-20 for the game) and got the tying goal from Peca with 4:52 left. The game ended in a 3-3 tie.
"It's a huge game, huge crowd. It was awesome, it was fun, but it feels like a loss," said junior forward Connor Jones after the game.
Jones' twin brother Kellen added, "Since the national championship game ended, we've been talking about it. We think we are just as good as last year and are looking forward to the year."
Wedged between New York City and Boston, Connecticut can sometimes get lost in the New England sporting culture. UConn basketball -- both the men's and women's teams -- has broken through as a national model, showing that anyone can win. Maybe college hockey is the next revenue sport to follow in Connecticut, and Yale's national championship will not be a one-hit wonder.
And maybe, the Yale/Quinnipiac rivalry is the ember that can light a fire for all four (Sacred Heart, UConn, Yale, Quinnipiac) Division I programs into a regional and national perennial force.
"I think us and Yale can both sell the rivalry to the top-end New England kids," says Cashman, who has now seen this rivalry as a player and a coach. "We can say, there are two top-10 programs in Connecticut. It is a raucous, sold-out environment when we play each other. You have a chance to go to a Frozen Four and win a national championship if you stay home.' I think that allows both programs to really go after the top, high-end Connecticut kid that has been going to BC, BU or New Hampshire. And perhaps convince a top-end Massachusetts kid to come down here."
Suddenly, Connecticut is cool.
SportsCenter anchor
John Buccigross joined ESPN as an anchor in October 1996. He currently can be seen as an anchor on "SportsCenter." Buccigross frequently contributes to ESPN.com during the season.
#cawlidgehawkey
The updated BucciMane Top 10 #cawlidgehawkey Power Rankings:
1. Minnesota
2. Providence
3. Michigan
4. Miami
5. Boston College
6. Notre Dame
7. St. Cloud
8. Quinnipiac
9. Yale
10. Clarkson
#TwitterBagSkate
@Buccigross what do you think about hybrid icing? #twitterbagskate

— brice baricevic (@briiice24) November 13, 2013
@Buccigross: As a general concept, I don't like it. The race to the puck is an exciting play. However, it is a play with such downside that it seems like a reasonable thing to go with hybrid icing. There is still a race to the dots and a chance for an exciting play.
@Buccigross will this be the year we finally see 50 goals in 50 games again? Who is more likely to get it Steen or Ovi?

— Brendan Gawronski (@gawronskibm) November 13, 2013
@Buccigross: Alex Ovechkin scored the OT winner against Columbus on Tuesday night to give him 14 goals in 18 games. I don't see anyone scoring 50 goals in 50 games until the net is made bigger. A leftover quote from my visit with Boston University head coach David Quinn last Friday night: "I'm someone that believes maybe the net should be a little bit bigger. It's geometry. The goalies are so much bigger from even the 1980s. It's all relative. Let's make the nets a little bigger. It sounds crazy, but you need to adapt to the times. It's hard to score." My argument for a bigger net is not just a few more goals a game so paying customers have a reason to get out of their seats and scream. My argument is for more payoff for the unbelievable, athletic plays that are ALMOST goals. Too many goals are crash-the-net, mosh-pit calls in the "dirty area." I want more athletic goals from the beautiful area.
@Buccigross what do you think of teams using advanced stats (corsi) in hockey? does it work? does it even matter?

— Neil Bacon (@baconhockey) November 13, 2013
@Buccigross: I love stats. I'm a big baseball and golf fan and both of those sports use stats to evaluate performance. But, those are stationary sports made up of a series of individual plays. Hockey is nothing like that. A multitude of factors makes up every play. Each play has luck and toughness and foot speed and smarts and a supporting or non-supporting teammate. There is a real fear factor at all times as the dangers are everywhere. I'm very open-minded and I will continue to read and look to find more ways to understand and love the game the way baseball stats have done for me. However, hockey is a blood sport, built primarily on passion, emotion and teammates. And great skating defensemen and a goalie.
Where has #bucciovertimechallenge gone?! @Buccigross

— Ben (@PugnaciousBen) November 13, 2013
@Buccigross: The #bucciovertimechallenge is primarily a playoff game. The tension and sudden-death format of the playoffs is what the game is all about. Now, if the NHL decides to expand the 4-on-4 overtime (which I have been calling for the past 10 years), then maybe we will have regular-season #bucciovertimechallenge games.
@Buccigross how does the injury to Steven Stamkos effect the rest of the Eastern Conference?

— Ryan Martins (@martins_twenty3) November 13, 2013
@Buccigross: Well, without Stamkos for say, three months, it will be difficult for Tampa Bay to hold on to first place in the Atlantic. The Lightning will have a hard time scoring. There is some decent depth in Tampa Bay and they will have to play more defensively and rely on goalie Ben Bishop. I don't think Tampa Bay will take it all and if the Atlantic Division gets both wild cards, then their chances are still good to make the postseason.
@Buccigross why do fools fall in love?

— Scott Woodring (@Scott_Woodring) November 13, 2013
@Buccigross: It saves on the rent.