Come along on a World Junior journey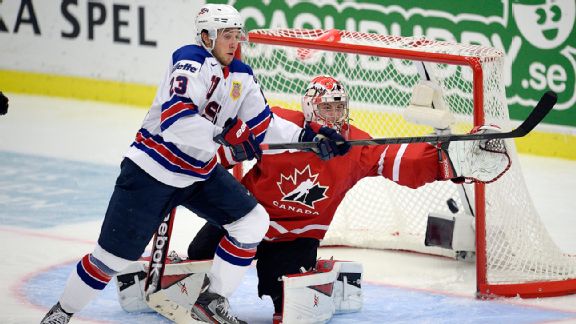 AP Photo/The Canadian Press, Frank GunnTeam USA's Stefan Matteau was making life tough for Team Canada's Zach Fucale.
The World Junior hockey championship is an international tournament played every year. This year it is in Malmo, Sweden. It is a collection of the best under-20 players on planet Earth who are not in the NHL. The tournament starts with pool play and proceeds to medal play. It has Olympic intensity and patriotism. The highlight of the tournament for North Americans is the annual U.S.-Canada game on New Year's Eve. We will see many of these players in the NHL in the future. Let's sit on the couch and watch.
FIRST PERIOD
20:00 First things first, look at those beautiful Team USA uniforms. They are wearing the white 1960 throwback sweaters for the game. If the U.S. gets just a point, they win the group.
19:30 Canada must win in regulation to win the group. They are off to a tentative start. No country feels more pressure at this tournament than Canada. It is their NCAA basketball December/January madness, except bigger. Pride of country is involved. They can see the U.S. has a well-balanced lineup of size and speed, are playing it safe early.
17:20 Hey, there is Canada's Connor McDavid. Since he is just 16 years old (17 in January), by rule he has to wear a full cage in this tournament. He is considered the "next one" in Canada. McDavid is playing in the Ontario Hockey League this season, for the Eric Otters. He has 25 goals and 41 assists in 63 games. McDavid will be part of the 2015 NHL draft class and could be part of a 1-2 debate with American Jack Eichel (more on him later). McDavid is very crafty and you can see flashes of brilliance in him while playing with older players.
13:11 The Andrew Copp (Michigan)-Hudson Fasching (Minnesota)-Stefan Matteau (AHL Albany) combination has been a big, strong line for USA all tournament. Copp was playing football two years ago and is a surefire NHL player. Copp is a Winnipeg Jets draft pick and part of a strong Michigan Wolverine team that is one of 10 teams with a legitimate shot at the NCAA championship. Copp will be a rugged NHL centerman. Fasching just turned 18 in July and is already 6-2, 200 pounds. He was drafted by the Los Angeles Kings and is another good character whom NHL teams love. Matteau (yes, his dad is Matteau! Matteau! Matteau!, as in Stephane) was a first-round pick of the Devils. This is a big-boy line and the kind of line you can see scoring a big goal later in the tournament.
11:55 Riley Barber has an excellent scoring chance, USA's best chance so far, but Zach Fucale makes the save. Barber is a Washington Capitals draft pick and plays at Miami University, and he's a really solid all-around player for the Redhawks and Team USA. Playing with Austin Czarnik, one of the best players in college hockey, has been great for Barber. Czarnik is undersized but plays with grit and nastiness along with his skill. Barber has some of those qualities too. He can shoot, skate and will hit. He is the captain of Team USA.
11:00 Team USA is dominating thus far. They are outshooting Canada 6-0.
10:47 First shot for Canada saved by Team USA 'tender Jon Gillies. Gillies is a Calgary Flames draft pick and plays for Providence College. The Friars have been a top-five college team since Game 1 and Gillies has backstopped their good all-around, well-coached team.
9:18 Connor McDavid has a great chance and Gillies is there for the save. Like most great players, McDavid is rising to the occasion. The mark of greatness.
7:27 Holy Jack Eichel. He wears No. 15 for Team USA. Eichel turned 17 in October and is committed to play at Boston University next season. This season, he plays for the U.S. under-18 national team. If Eichel continues to wheel and deal like this, he will be one of BU's finest recruits and a perfect pillar for new BU coach David Quinn to build his program around. Eichel has world-class speed, is good on faceoffs, skates fast and plays fast, has great anticipation and vision. Like some young players, he can get straight-legged and watch and wait for the puck, but tournaments like the World Junior should give this excellent character kid from North Chelmsford, Mass., (north of Boston) a chance to understand the need to play a little more physical in small areas. He has Jason Spezza mitts and feel but looks like he will be a little better, a more powerful skater. He's eligible for the NHL draft in 2015 and will likely be a top-three pick. He is the next great American centerman that USA Hockey has been waiting for.
3:08 There goes Wisconsin's Nic Kerdiles, 19, one of college hockey's best players in the NCAA this season. Kerdiles is a second-round pick of the Anahiem Ducks and we will see him in the NHL one day. He's a good skater and has good size. Look out for Wisconsin in the second half of this college hockey season. Kerdiles will lead them.
0-0 at the end of the first period
SECOND PERIOD
16:31 Team USA strikes first -- captain Riley Barber makes it 1-0. In games like this, the first goal isn't that important to me but the second one is.
12:00 That right there is a huge pet peeve of mine and one reason (besides the net that's too small) scoring is down. I get enraged when I see a player in the slot -- or wheeling off the boards and into the slot 15-20 feet from the net -- refuse to shoot and instead pass the puck to the blue line 50-60 feet from the net. It is so difficult to get the puck to prime scoring areas, why, in this era of shot blocking, would you give up that chance to shoot, score or at least set up a rebound and another prime scoring chance.
11:20 Jonathan Drouin hits the post as Canada begins to find its legs. Drouin is a real exciting player who was drafted No. 3 overall by the Tampa Bay Lightning in June. He doesn't turn 19 until March, and while he certainly could play in the NHL, you have to hand it to Steve Yzerman and the Lightning for doing the right thing and letting Drouin grow another year before making his NHL debut next season, or later this season if Yzerman believes he can be a difference-maker.
7:41 Nick Petan ties it for Canada 1-1. Canada began to take over this game a bit at the midway point of this period. Petan is a Winnipeg Jets draft pick. It certainly looks as though the Jets are accumulating some good young players.
1-1 at the end of the second period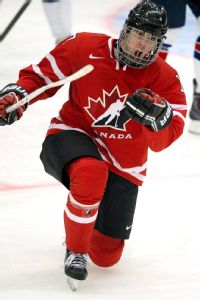 AP Photo/The Canadian PressConnor McDavid celebrates his third-period goal during Canada's 3-2 victory over the United States.
THIRD PERIOD
18:30 Nothing doing for Team USA's power play. Canada is now on power play. Play is really elevating. This is the pressure, excitement and urgency of the World Juniors that is just delicious. All the offseason workouts, power-skating classes, shooting repetitions and protein shakes are done and consumed for moments like this. What are you made of against the best in the world? Will you rise up or shrink?
16:06 Connor McDavid scores a greasy goal to make it 2-1. Team USA has not been strong around the net. Sometimes players with great sticks forget that in scrums around the net, play the body first and the puck second on scoring chances. The winner of this game has a much easier path to the gold-medal game. This goal will bother Team USA.
14:46 Canada goes on the power play. They are really showing a hunger and determination that Team USA needs to show.
13:47 Drouin makes a beautiful pass to Curtis Lazar to make it 3-1. Drouin has really stepped up in this game. Again, a tournament like this will only make him better for the Lightning as opposed to playing 11 minutes against the Hurricanes in November.
5:23 Team USA's Connor Carrick has a chance on a breakaway. Carrick makes a beautiful move but Canada's goalie, Zach Fucale, makes an awesome save getting his skate to the post before Carrick can get his tuck. Carrick has already scored an NHL goal this season, for Washington. He played a season in the OHL and is in the AHL this season with the Hershey Bears. Carrick has a neck like an NFL strong safety. He probably grew out of his teenage dress shirts quickly.
2:45 Stefan Matteau scores to make it 3-2. But Team USA falls short and finishes second in group play. The road to the gold-medal game and a rematch with Canada will be difficult for Team USA. Russia is up next, then probably Sweden. Two wins there and it will likely be USA vs Canada on Sunday for the gold medal. We are all winners if we get that.
SportsCenter anchor
John Buccigross joined ESPN as an anchor in October 1996. He currently can be seen as an anchor on "SportsCenter." Buccigross frequently contributes to ESPN.com during the season.
#TwitterBagSkate
@Buccigross #twitterbagskate Bucci, who do the #Pens eye to take #Dupuis' spot with 87, via the trade market?

— brad sheader (@siriusoutlaw) December 31, 2013
@Buccigross: I don't think the Penguins will miss Pascal Dupuis, out for the season after tearing his ACL, all that much. He had just 7 goals in 39 games. He certainly sets a great tone with his work ethic and attitude, but the Penguins have plenty of that. They have excellent organizational depth and have the assets to replace Dupuis or use them to acquire a player via a trade.
When I grow up I want to have a pond in my backyard so @Buccigross will retweet my awesome landscape and my children will be early NHL stars

— not kEVAN (@theprincessevan) December 31, 2013
@Buccigross: It's been a good backyard-rink winter so far. We had three early skates and a cold blast this week should ensure 5-6 days at least of straight wheelin'. Backyard rink blogumn coming next week.
Does @Buccigross have a radio show? If not, then when is that gonna happen?

— Albert K (@AKarsch47) December 31, 2013
@Buccigross: I do one in my car, to myself, when I go to work. You can carpool and pay me five bucks a month in subscription fees if you want to listen.
@Buccigross most explosive team in #cawlidgehawkey?

— John Hession (@jhesh4) December 31, 2013
@Buccigross: Boston College certainly comes to mind. The Eagles are the only team in #cawlidgehawkey that averages more than 4 goals a game. If they can improve on their consistency and play in all three zones, they have a chance to win another national title. But they've been up and down a bit. There are some teams with amazing power plays; St. Lawrence (29 percent) and Union (26 percent) come to mind. And Quinnipiac leads the country in shot differential. If the Bobcats can improve their finish in the second half, they will again be a Frozen Four contender this season in Philadelphia.
@Buccigross who do you think will wear the C for team USA in Sochi? #twitterbagskate

— Dan Fullam (@Dfull93) December 31, 2013
@Buccigross: Zach Parise.
@Buccigross now that the Flyers are streaking and rising in the Metro division, do you see them making the playoffs? #twitterbagskate

— RYANKRAFT. (@RyanKraft10) December 31, 2013
@Buccigross: They certainly have a chance. You have to worry about injuries and depth for the Flyers. The Flyers, Rangers, Devils and Blue Jackets should put up a great fight for that last playoff spot. Health and goaltending will decide it.