Why Hockeytown is getting nervous

By John Buccigross
ESPN.com
Archive
Bucci,
I realize that my Red Wings have been hammered by injuries and that the absence of Franzen, Filppula, and Williams has significantly slowed their goal scoring. Do you think that even the return of our injured stars can get our mojo back?
Brennan
Lansing, Mich.
Dear Mr. Buccigross,
I have been a die-hard Red Wings fan since birth in 1989, and from as far back as I can remember, the Wings haven't missed the playoffs, and therefore a Cup run. I believe that when relatively healthy, the Wings are the team to beat, not only in the Western Conference (@San Jose 1, Wings 4), but against the best of the Eastern Conference as well (@Wings 3, Washington 2). The emergence of Jimmy Howard has been a welcome sight, and most people around Detroit believe he has the composure and experience for playoff hockey.
I am asking you, Mr. Buccigross, whether you believe the Red Wings are a favorite to win the Stanley Cup this year if they qualify and are healthy to a considerable degree?
Chris Price
No, Chris.
Hockeytown is nervous. Coming into this season, the Red Wings had won four Stanley Cups in the past 12 seasons. In all but two of those seasons, Detroit reached 100 points. They came into this season with eight straight Central Division titles.
I wrote this in my Wings season preview:
The Red Wings scored 295 goals last season. They will not repeat that number, so to hold on to first place in the Central Division, they will need to play better defense.
As expected, the Wings are on pace for only 212 goals. Let's assume that with a healthier lineup they get to 220 goals. This is very un-Detroit-like. Here are the Wings' goal totals the past five seasons:
2008-09: 295
2007-08: 257
2006-07: 254
2005-06: 305
2003-04: 255
So again, the 212-goal pace is quite a drop-off. The lack of finishers really shows in the Wings' power-play numbers, which are below average this season. The only way the Wings were going to stay at the top of the standings is if they prevented goals, as the New Jersey Devils are. But Detroit just isn't constructed that way.
The injury to Niklas Kronwall left Detroit's defense older and a little, let's say, nonconfrontational. And that defense is in front of average goaltending. With Kronwall's return this week, if he can bring some snarl back, it would help things; so would the return of Andreas Lilja, who has been headache-free for a couple of weeks.
Forecasting a drop in goals for the Wings this season was not difficult. They lost 40 goals from Marian Hossa, 23 from Jiri Hudler and 19 from Mikael Samuelsson. That's 82 goals. One had to expect a drop-off from Nicklas Lidstrom's 16 goals from last season. (He turns 40 in April.) Once Johan Franzen tore his ACL in the third game of the season, I wrote the following in October:
First of all, Pavel Datsyuk and Henrik Zetterberg are no longer in their NHL prime. Datsyuk is 31 and Zetterberg is 29. I'm not saying Datsyuk and Zetterberg are Joe Paterno and Bobby Bowden and will never win another Stanley Cup. Just realize that players get injured more in their 30s and begin a downward arc in their production. The Wings are probably at the end of their run. Their best players are older and their younger players are average NHL players. They continue to live off their power players and struggle with their penalty killing and goaltending.
The injury to Johan Franzen is enormous. The Red Wings will struggle to score goals and that is a problem because they are not constructed to prevent them. Coach Mike Babcock may have to make some alterations to the Wings' normal style of play and GM Ken Holland may have to reach into his bag of tricks and try to find a goaltender.
The first step is a healthy Datsyuk and Zetterberg, and go from there. Detroit won't win the Central Division, but it has all season to get ready for the playoffs, when Franzen can hopefully return healthy. There is still a lot of good in Detroit, just maybe not championship good.
Again, nothing earth-shattering there, and not real difficult to forecast except that the power play is now in the bottom half of the league. Jason Williams (19 goals last season with Atlanta and Columbus) was added to replace Samuelsson's numbers, but he fractured his fibula on Nov. 7. Tomas Holmstrom has been out since Jan. 7.
Jimmy Howard did improve in net, which was absolutely essential. He is the MVP for the Wings so far. Without Howard's .926 save percentage, the Wings would be toast.
What is surprising: Datsyuk is on pace for 62 points. Zetterberg's assist numbers are consistent with the past, but his goal scoring is down big-time. Both Datsyuk and Zetterberg's shots-per-game average is down, which might mean teams are pressuring them more and forcing the Wings' average wingers to beat them. That's the way to play the Wings: engage and lean on Datsyuk and Zetterberg as much as possible.
Will Detroit make the playoffs? My gut says yes. Lidstrom looked five years younger Tuesday night against Phoenix, making some high-level plays at times. But can he keep that up the rest of the way, and how much will that take out of him? This is an older team with average young talent that isn't difficult to play against. Older players don't accumulate penalty minutes because it saps too much energy.
But as the Wings get some of their injured players back, I think it will add some jump to some of the older players and help the Wings make a push into the top 8. The teams around them are not scary: Phoenix, Nashville, Los Angeles, Calgary, Dallas, Anaheim, Minnesota and St. Louis all have issues. If everyone stays healthy, Franzen comes back with some success (he's expected back in two weeks) and GM Ken Holland can work some magic, the Wings should get into the top 8. But it will be tough. Detroit has its challenges (an older team, lack of finish, the Olympics, compressed schedule), but I bet they find a way.
If they do make the playoffs, it will likely come after exerting a lot of energy. It would then be difficult to see Detroit beating San Jose, Chicago or Vancouver in a best-of-seven playoff series.
Bucci,
As a Wisconsinite, I naturally find myself in the middle of the debate between Minnesota and Michigan. After going to college in Michigan's Upper Peninsula (at a school with many students from both states), I've heard this argument a hundred times.
Neither state's superiority can be quantified with statistics. The truth is that these states have very different approaches to hockey. Michiganders grow up watching the Wings and wanting to be like them. They get their enthusiasm from watching the highest level of hockey. Minnesotans grow up skating on the pond and attending high school and college games. While many 'Sotans love the Wild, that isn't the reason they became interested in the sport.
I know Minnesota was NHL-less for a while, but my elders tell me that Minnesota has always been this way. Of course, this is a generalization, but it's the verdict that has been reached after arguing for 20-plus hours during my college years.
Brett
Houghton, Mich.
John,
You continue to put Washington in Bucci's Power 5. Are the Washington Capitals that good or is it just because they play in a terrible division? They play four of the worst five teams in the East six times each. Put them in the Atlantic or Northeast Divisions to play good teams, and I think their point total would be much lower.
Chris Mullin
Unionville, Pa.
The Caps have the best goal differential in the NHL at plus-57. Remember how we stated above that the Red Wings are on pace for 212 goals by season's end? Well, the Caps have already scored 202. The Caps are on pace for 318 goals! The last team to break the 300-goal mark? The 2006-07 Buffalo Sabres, a fact that just about every NHL fan does not realize. Now, the Sabres failed to reach the Cup finals that season because Ottawa could also score (288 goals) and was a little better defensively, allowing 21 fewer goals during the regular season.
No one can hang with the Caps offensively in the Eastern Conference. The only team that comes close is Pittsburgh. The Penguins are on pace for 261 goals. You need elite goal scorers in the postseason because it's hard to score goals in the playoffs.
But the Penguins can hang with the Caps because they prevent fewer goals than Washington. WRONG! The Caps have prevented fewer goals than Pittsburgh and, in fact, are allowing fewer goals than the average NHL team. I still think the Caps need to (and will) add a top-4 defenseman and get a settled goaltender.
The Penguins have had some injuries along the blue line and are now getting healthy; they've also played their best hockey down the stretch the past few seasons. Their elite youth has allowed them to soar, while other teams limp to the finish line. But the Penguins desperately need a scoring winger. They will make a hard push for Ray Whitney in Carolina and hope Chris Kunitz ($3.7 million cap number) has a better playoff than last season, when he scored one goal in 24 playoff games.
Sidney Crosby and Evgeni Malkin will have to be superheroes in the playoffs for the Penguins to return to the Cup finals. The Penguins have proved to be champions and know how to win the close, low-scoring games, but I think it will be difficult to repeat this season unless they upgrade at the deadline. The Caps' top 6 point-getters are 26 years old and younger. They won't be slowing down, barring injury.
Anything can happen in the postseason. We will have to wait and see what happens at the trade deadline before a final analysis. But I can only see the Penguins and Sabres having a shot to beat the Caps in the playoffs, and right now, I really don't see that happening. My money is on the Caps to reach the Stanley Cup finals. The trade deadline is the only thing that can tip that in my mind.
Bucci,
I have always been a huge Rod Brind'Amour fan. I have lived in Philly and because of my job had to move to South Carolina, so I have pretty much always been able to watch him. My question is, what are the chances Brind'Amour is a Hall of Famer? I think he has had a great career and is everything you would want in a player on your team. Also, do you think the Hurricanes should have taken the "C" off of him? It seems wrong to me.
Dustin
Rock Hill, S.C.
Rod Brind'Amour will probably fall short of the Hockey Hall of Fame.
I think it was time for Eric Staal to take ownership of the team. He has an $8.2 million cap number and has not been performing up to that number. His points totals over the past three seasons have been 70, 82 and 75. He needs to step it up a bit and play all out in all three zones every night. His scoring has spiked since he was named captain.
John,
I've never quite been able to figure it out -- what is the hockey equivalent of the .300-30-100 baseball player?
Andrew
State College, Pa.
Anaheim's
Ryan Getzlaf
, for one; a passer with some finish, can hit and fight a little.
Bucci,
How crazy/exciting would hockey be if there were no offsides?
Dan
North Carolina
The AHL should play a game with no offside.
Hey Bucci,
Is Patrick Marleau not the most perfect fit for the Islanders next season? Potential captain, leader, from Canada (help out Johnny T and Bailey), he can finally get the credit he deserves. They can pay him whatever he wants. He might be the key to a young, on-the-rise Islander team that's so close to being a legit contender, but definitely needs another scorer.
Sparky
Islanders mascot
I like your thinking, Sparky.
Marleau will be 31 at the start of next season. A five-year deal seems about right for him. Now, remember, he is having a career year this year because he is playing with elite scorer Dany Heatley and the human ATM machine, Joe Thornton, who makes wingers rich after they play with him. (If Heatley changes his name to "Dany Arnoldsburger" in the offseason, they could become the ATM line. Money. Dany, please consider this.)
Having said that, Marleau is a really good player who would fit in well with the Islanders and give them a big jolt. But the Sharks' cap situation is not that bad, and I think they will be able to find a way to have Marleau finish his career in San Jose unless the Sharks flame out in the playoffs and he struggles. Then, they may bid him adieu. If the Sharks fail to reach the Cup finals, they could sign Marleau and trade Thornton, who is signed through next season before becoming a free agent. Thornton would probably bring back a nice return and help the Sharks get younger and deeper. (Thornton would be 32 at the start of his next deal.)
As far as Marleau's contract, his $6.3 million salary is probably about right. I could see the Sharks signing Marleau to a seven-year deal with salaries of $7 million, $7M, $6M, $5M, $4M, $4M and $2M. That is more than fair for Marleau and gives the Sharks a $5 million cap number.
Hi John,
To start, I am a big fan of the mailbag. I always assumed that my first e-mail would be to rant about an important and topical subject you have covered. Instead, I was inspired by your "Oilers Draft History" to create a top 9 list of possible Winnipeg Jets tribute band names. Huh, who knew? (Note that "Pokey and the Bandits" was far too obvious to make the cut and "Les Dale Hawerchuks" are a real band that fits nicely in the 10 spot.)
9. Boschmann Turnbull overdrive
8. The Maxwell- Housleys (currently on the "Babych is back" tour)
7. Hayward Christian soldiers (big hit: Doan stop Arneilin')
6. Evans Essensa
5. Mantha fodder
4. Muni-Penney
3. Don Spring and the Watters run deep band
2. The Moffat show
1. Teppo Numminen ja se Hannu Jarvenpaa orchestra
Chris Maybroda
Vancouver, B.C.
John,
Off your name game in last week's e-mail bag, here are some good fighting matchups:
1. Bryan Young vs. Alex Auld
2. Adam Foote vs. Johan Hedburg
3. Nick Dodge vs. Todd Ford (AHL matchup)
4. Duncan "Donuts" Keith vs. Nathan "Tim" Horton
5. David Booth vs. Eric Staal
6. Jason Arnott vs. Evgeny Artyukhin
7. Mike Green vs. Dustin Brown
8. Joe Juneau vs. Martin St. Louis
9. Ryan Jones vs. Duncan Keith
10. Brooks Laich vs. Ben Lovejoy
11. Bryan Little vs. Dennis Wideman
Timmy
Boston
Mr. Buccigross,
Chicago has the best team in the NHL, but I agree with Jeremy Roenick that they need a better goaltender if they want to win the Cup. As a lifelong Bruins fan, I am not ready to give up on this season, but it is unrealistic that they will win this season without adding a premier piece. With this in mind, I propose the following trade: Tim Thomas for Cam Barker and Jack Skille. Let Tuukka Rask take over the starting job, give Jack Skille a fresh start and give the Blackhawks a more dependable starting goaltender.
Mike C.
Brunswick, Maine
The Tim Thomas contract is starting to look like a bad sign for the Bruins ($5 million a year for three more years). I had an NHL front office person tell me recently, "There is a reason why it took so long for him to get back to the NHL." The Bruins would trade him to Chicago for Stan Mikita. It's kind of interesting, but the Bruins are set up to take a run at Thornton when he becomes a free agent after next season, or trade for him and extend him over the summer.
Sir Bucci,
I have to give a Best Man's speech at my cousin's wedding. Please advise. I am going to try to stay away from the clichés (all four lines rolling, get pucks deep and take away time and space).
Denis Kirstein
Pittsburgh, Pa.
"We often hear and profess the values team sports teach us, but how many of us truly use these examples in our lives? It seems like many of us waste this excellent opportunity to build strong and lasting relationships, especially the one that matters most: husband/wife/family. And so I say to you, _____ and _____, be good teammates, to each other and your children.
"I believe no sport values and depends on good teammates more than hockey. Hockey is a difficult game. Nothing comes cheap. Obstacles are everywhere. It requires stamina, toughness, creativity and strength. The lazy have no chance for success. The selfish are a poison. But when teammates work together, success can be had. And because it is so difficult and rare to succeed, to score, to really love, the exhilaration is like few things in life. Dream and live for those moments.
"So, ______ and ______, live your marriage like a hockey team, understanding that the formula is simple: Laziness and selfishness destroy marriages and hockey teams. Sacrifice, humor, respect, unselfishness, energy and love build them. Now, put your head down and skate."
Bucci,
How about this title for the book you two should do: "Podes: The Quest for Awesomeness".
Randy Vos
Mr. Buccigross,
I couldn't agree more with your "13 Rules" article. I think we should make 13 rules required reading for all new parents. I am the father a 9-year-old goalie that loves and is obsessed with the sport. Before hockey, he was kind of awkward and clumsy, the most non-athletic kid in his class. After a few years of hockey, he is the No. 1 Squirt goalie and his self-confidence is higher than it has ever been. He can't wait to go to a game or practice. This morning, he told his mom he was too sick to go to school. She told him that if he didn't go to school, he couldn't play in the game tonight. He quickly went upstairs got dressed and was ready for school. We owe most of this to hockey.
Daniel Stinson
St. Louis
John,
My twin boys Cody and Dylan are Pee Wees (67 and 71 pounds) playing their second year of travel hockey (first year of checking). This truly is the absolute best training ground for building life skills. The character building that is developed by commitment to team and self is second to none. You articulated the joy of hockey very well and I will share the article with my boys.
John
Jericho, N.Y.
Good morning, son
In 20 years from now
Maybe we'll both sit down and have a few beers
And I can tell you 'bout today
And how I picked you up and everything changed
It was pain
Sunny days and rain
I knew you'd feel the same things
Everybody knows
It sucks to grow up
And everybody does
It's so weird to be back here
Let me tell you what
The years go on and
We're still fighting it, we're still fighting it
You'll try and try and one day you'll fly
Away from me
-- "Still Fighting It" by Ben Folds
John Buccigross' e-mail address -- for questions, comments or crosschecks -- is john.buccigross@espn.com.
Bucci's Fan Photos
Dear Mr. Buccigross,
My wife and I wanted to share with you a picture of Aidan, our three-month old tough guy. He is planning on becoming right wing and enforcer for the San Jose Sharks in about 20 years.
David Doherty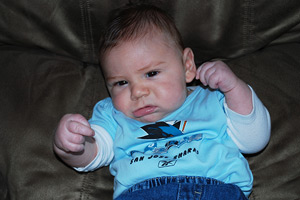 Bucci,
I wrote you a couple weeks ago and included a picture of my backyard rink that made it on the site. You made my son Tyler's day! But in doing so, broke my son Zachary's heart since he wasn't in the picture! I've attached a pic of him if you can squeeze it in!
Saratoga Springs, N.Y.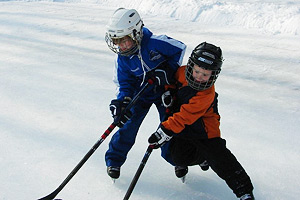 Bucci,
Longtime reader from a couple of Avs fans over here in the UK, but this is my first e-mail. I'm attaching a picture of our 6-month-old son Jack in his first hockey clothing that, thanks to some friends in Toronto, we were able to get him for his first Christmas. Hockey over here has a small but extremely passionate following and the atmosphere at games is rarely less than electric. We are season-ticket holders for our local team, the Manchester Phoenix, as well as following the Avalanche (and the rest of the NHL) on the ESPN America satellite channel.
Steven and Jane Smith
Manchester, England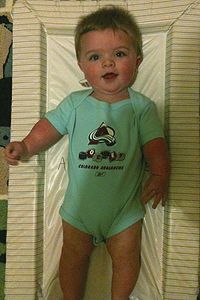 Bucci,
Fellow S Dub resident here ... I recently took my 4-year-old daughter and 5-year-old son over to Charter Oak Park in Manchester, Conn., for their first ever pond hockey session. My son was a little nervous about falling through as he started playing hockey this year and isn't used to seeing the cracks in the ice, but they loved it skating for hours.
Gordon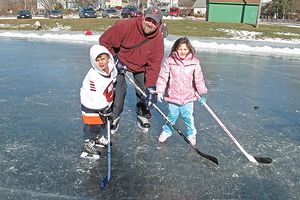 Mr. Buccigross,
I have attached a picture of my son, Benjamin, on Christmas morning. Rod hockey is his Red Ryder BB gun.
The Black Dog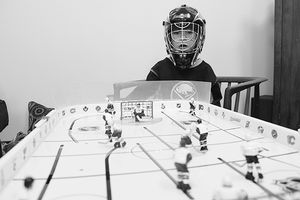 Don't Forget The Column!
Have All-Star withdrawal? Bucci is here. He relives his favorite memories and offers advice on how to make the event that much better.
Blogumn