More Crosby 'hype,' and great goals debate

By John Buccigross
ESPN.com
Archive
Last week's e-mail bag proved again that
Sidney Crosby
is a lightning rod. The e-mails have not stopped coming in since a rather innocuous Q-and-A. Here is a sampling:
Bucci,
Crosby isn't overrated as much as he is overhyped. I fully understand he has some of the best skills and hockey sense on the ice today, but the NHL does not and should not revolve around him. As fans, we are constantly bombarded with stories about how great he is, what he's done for the game, what he could do for the game, ad infinitum. It gets old. Even [Wayne] Gretzky in his heyday didn't get the day-to-day attention afforded Sid the Kid, and he was a much more dominant player.
Fans of the 29 other teams in the league like to hear stories about their players every so often as well, but it seems as if that rarely happens.
Jim
Peoria, Ill.
If Crosby is overhyped -- and I don't think he is -- it's not his fault. Boo whatever media you are talking about, which I assume means only ESPN and NBC, the only major U.S. national networks that talk extensively about hockey. NBC talks about Crosby a lot during games he is playing in because he is the star of the show, as is the case when
Alex Ovechkin
and the Capitals are playing. ESPN's "SportsCenter" does focus a lot on Ovechkin and Crosby because they are the two best players in the NHL; Ovechkin provides the most exciting highlights that the casual fan can decipher easily. ESPNEWS and ESPN.com talk about the entire league and are far from myopic when it comes to NHL coverage.
As I said last week, every NHL team is well covered on the Internet via traditional and new media. It is easy to find plenty of information about your favorite teams and players.
Wayne Gretzky received much more attention than Crosby does because hockey was more mainstream than it is today. Gretzky had more mainstream commercial endorsements than Crosby does now and was more interwoven with popular culture. If Crosby gets to that point, he will have earned it with his achievement on the ice.
Hi John,
I was a season-ticket holder since his rookie campaign, and he did "whine" during that time. HE WAS 18! I cannot imagine the way I would have acted in that spotlight at that age. To the naysayers, Crosby is not as flashy as some, but he is a great player in many different aspects of the game that are not measured.
Brian Fedorek
Ashland, Ore.
Crosby did whine as a teenager after being anointed Pittsburgh's team leader, a position he didn't shy away from. That whining was from an intense competitiveness and adrenaline that young people often have at the dawn of a new career. Crosby has calmed down since those first few seasons.
He is still wired tightly on the ice and remains competitive with high expectations. There will be moments of yapping and slashing, but that's hockey; that's emotion and passion and caring.
Bucci,
I have to respectfully disagree on your defense of Sidney Crosby. He is a very good player, but he is not as good as the media hypes him up to be. Wayne Gretzky was a generational talent; Crosby is not. He does not complain and dive nearly as much as he did in the beginning of his career, but you don't have to go back too far to see it. He is an incredible player and one of the best in the world, but he is not the best or the most dynamic. At the end of his career, we will not be referring to him as The Great One. He doesn't have anything left to win, and this will be the peak of his career.
Keara Dowd
Washington, D.C.
Again, I don't hear media "hype." Crosby
achieved
the following:
He amassed 100 points at age 18.
At 19, he led the league in scoring, won the Hart Trophy as league MVP and was named the league's top player by his fellow NHLers (Lester B. Pearson Award).
At 20, he scored 27 points in 20 playoff games, captaining his team to the Stanley Cup finals.
At 21, he became the youngest captain to win the Stanley Cup after posting 15 goals and 16 assists.
At 22, he scored the winning goal for Team Canada in the gold-medal game at the 2010 Winter Olympics.

These are all simple, unemotional facts. Of course, Crosby is a generational talent and a great one. (The previous stats support that phrase.) Because he is just 22, he probably has six to eight seasons left in his peak period. He is improving. This season alone, Crosby has improved on his goal scoring and faceoffs. And he and the Penguins are once again finishing the season with a strong kick.
John,
As a Penguins season-ticket holder, it also boggles my mind how many people refer to Crosby as a whiner, etc.
In his first season (maybe two), he did complain to the refs a bit too much from time to time. I have not seen more than a hint of that over the past three-plus years. As captain, it is his job to talk to the refs and point out when he thinks they have made a bad call. Doesn't have the intangibles? He's ALL intangibles.
Travis
Bucci,
I'll fight you on this every step of the way. Will Sidney Crosby's numbers be significantly different -- for better or worse -- from Dale Hawerchuk's when it's all said and done?
Alex
New York, N.Y.
God help us. I think we will stop now.
John,
I really don't care if hockey becomes really popular and the masses of sports fans watch it. But, if the NHL really wants to grow into a megasport, it needs to get rid of fighting. Most regular fans of other sports will never understand that part of the game, and quite frankly, neither do I.
What kind of a message does that send to our youth? Oh, that one guy got checked real hard, so we are going to go fight him. That is primitive. Olympic hockey has no fighting. Playoff hockey (for the most part) has no fighting. And they are the best to watch!
Tom C
Mite, squirt, pee wee, bantam, midget, high school and college hockey are also great to watch without fighting. I don't think there is a psychological barrier for sports fans to avoid hockey because of the NHL's permission to fight bare-knuckle with such a small penalty, but I guess we wouldn't know unless it happened.
Hey John,
Do you think Crosby's "Golden Goal" now supplants Paul Henderson's as the greatest goal in Canadian hockey history? I think it does. In fact, here are my top-five Canadian international goals:
5. John Slaney (1991 world junior championships)
4. Jarome Iginla (2002 Olympic gold-medal game)
3. Mario Lemieux (1987 Canada Cup)
2. Paul Henderson (1972 Summit Series)
1. Sidney Crosby (2010 Olympic gold-medal game)
What are your thoughts?
Hugh
St. John's, Newfoundland
Hall of Famer Iginla to Hall of Famer Crosby will go down in Canadian history as one of its greatest moments. But I think it's hard to beat Wayne to Mario on the rush with 1:26 to go to beat the Soviet Union in 1987. Effective and poetic. But that's what's great about sports; every generation has moments to cherish as it sees fit.
John,
I just wanted to write in to say that I'm finally able to say something after the incredible USA versus Canada final in the Olympics. My brother and I both live in South Korea, where we are English teachers. I decided to move here six months ago after I lost my job in America, and it has been a memorable experience.
The morning (yep, morning) of the gold-medal game, I dragged myself out of bed at 4:45 a.m. and walked over to my brother's apartment, where we planted ourselves on his couch to hopefully catch a glimpse of another U.S. Olympic "miracle."
Although we were both mildly comatose, I can't say that I've witnessed a more intense and enjoyable hockey game in my life. When Zach Parise scored, we both took the opportunity to wake up more than a few hundred Koreans with our cheering, only to be let down by the Sidney Crosby goal a few minutes later. Nevertheless, we were thankful Korean television took the time to switch over to the game from its nearly constant speedskating and figure skating reruns. (There isn't much of an interest in hockey in Korea.) My next challenge is heading over to the local ice rink, where I am a goaltender in the Daejeon-Cheongju Ice Hockey League with more than a few Canadians.
Even though I'll surely absorb more than a few victory jabs from my Canadian teammates, I don't think I can be more thankful that in a single week, on the other side of the globe, I can watch one of the greatest hockey games ever and then turn around and play in a couple myself.
Aaron D'Albey
Daejeon, South Korea
John,
I just wanted to let you know that my twin boys finished their last game of pee wee hockey. They lost their wild-card playoff game, quickly ending a season we hoped would continue for another week. Afterward, they lingered in the locker room a little longer, not because they lost a playoff game but because it was their last game they played with their team. They were upbeat about it. One of them asked me when spring hockey would start because he didn't want to stop playing. My 6-year-old daughter cried after the game because she knew it was the last game, and she thought she would never see her friend again.
Jack Carlson was one of the referees. Both of my boys said he was great. He talked to them on the ice between whistles, making little comments to them throughout the game. We could see from watching he was really enjoying being out there. I think the parents, better understanding who he was, thought this was more of a cool thing than the kids did. All in all, a fantastic hockey season for the whole family; can't wait to do it again next year.
Matt Eden
Prairie, Minn.
Congratulations to all of the state champions around the United States. Jack's South Windsor squirt squad lost in the championship game to Stamford, Conn. He scored the game winner in the 2-1 semifinal game at Bolton Ice Palace (where the Thrashers'
Ron Hainsey
played as a kid) and got one in the final game as well (his last as a squirt). After the game, I had Jack autograph his blade with a silver Sharpie and date it. It will go above the autographed stick of Raymond Bourque and
Patrick Roy
.
My hero.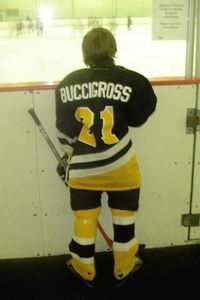 John Buccigross' e-mail address -- for questions, comments or crosschecks -- is john.buccigross@espn.com.
Bucci's Fan Photos
Bucci,
No hockey father would be right without digging up some pics of their kids to send ya. Fortunately, Parker is only 7 months old and has spent her life surrounded by cameras catching all her smiles. And since she was old enough to sit up in her helper seat, she's been cheering on the Hawks. This one is from her first Hawks game in Dallas. She stayed awake for the whole thing and got upset only when the Stars scored. True story.
Monty Peliti
Fort Worth, Texas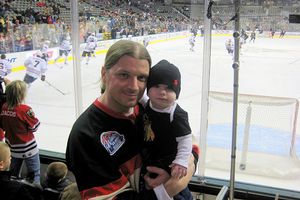 Bucci,
The enclosed photo is of my 3½-year-old son Dylan, who, despite living with my ex-wife six hours away, is really taking to the game. I make sure we watch every Penguins game during his visits and have even started the basement hockey games with the indoor goals. The kid has a wicked one-time slapper -- looks promising! There's even a bonus. My ex has since remarried and had another child, who has been the recipient of my boy's hand-me-down Penguins gear, so hopefully I'm influencing two future Pens fans!
Patrick Fallen
Poland, Ohio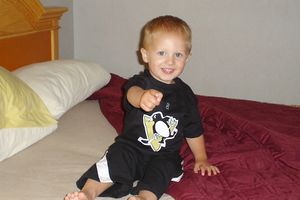 Hi Bucci,
I attached a photo of our son heading into the rink for his first game. Please note he is carrying his own bag and the jersey is inside it -- not on a hanger in a garment bag! Thanks for your column; we enjoy reading it!
Kristin Anderson
Sykesville, Md.