First-round matchups falling into place

By John Buccigross
ESPN.com
Archive
Bucci,
What I want to ask you about is the Phoenix Coyotes. What do you think of the Yotes' chances for a playoff run? The games are starting to sell out, and I think a decent run (at least into the second round) would really help to solidify a good fan base. The NHL has maintained that Phoenix would be a good market if the product on the ice would be good. Well, now there is a good on-ice product and it seems like the market is responding.
Jason
York, Pa. (formerly Tempe, Ariz.)
The Coyotes haven't won a playoff series since they moved to Arizona before the start of the 1996-97 season. The last time they won a playoff series was when they were the Winnipeg Jets in 1987. That is astounding.
I think our 16 playoff teams are set. I don't see any team from either conference that is currently out of the top eight getting in. Atlanta and Calgary are the only two teams that have a chance, but they are running out of time. I think the first-round matchups in the East will be:
Capitals versus Bruins: Sweep.
Devils versus Flyers: Wow. You have to like the Devils a bit here.
Sabres versus Canadiens: These two are close to dead-even.
Penguins versus Senators: This will be a hard-fought series, but Pens will win in six.
The Western Conference is tougher to forecast because the Avalanche have a real tough schedule to finish the regular season and the Red Wings' road is much easier. I think Detroit will pass Colorado and avoid the Blackhawks in the first round, while the Predators are safe from being passed by Detroit. The West matchups will look like this:
Blackhawks versus Avalanche: I think the Avs are physically fading.
Sharks versus Red Wings: San Jose's worst nightmare.
Canucks versus Predators: One of the best first-round matchups.
Coyotes versus Kings: I like the Kings here.
All of that said, I would not be shocked if the Coyotes catch the Sharks in the Pacific Division or the Coyotes beat the Kings. Phoenix is unified and energized, the two most important attributes an athletic team can have. The problem for the Coyotes is most playoff teams are energized and unified. When you add "talent" to "energized" and "unified," Phoenix will have a problem. The Coyotes just don't have the offensive horses. Still, great defensive teams with great goaltending can make a run in the Stanley Cup playoffs.
John,
Watching Monday night's Red Wings-Penguins game illustrated why most hockey fans have a poor opinion of "Cindy Crosby." After doing nothing for three periods (minus-2, three SOG, 54 percent on faceoffs and 2 PIM), he decided to take a few cheap shots on Henrik Zetterberg in the closing minutes. Exacerbating this is his inability to show up in big games (one goal in seven games in the 2009 Cup finals, two goals in six games in 2008 Cup finals).
The overall effect for the typical viewer is he is a punk, selected for stardom by the league PR office, and is not able to overcome adversity. Hardly the type of player hockey fans flock to, and not the typical blue-collar player that is beloved throughout the league. He is simply an above-average hack created into a something more by the league PR machine and reinforced by the low ethical standards of the league's officiating.
Jon Horn
Dallas, Texas
I received a lot of e-mails about the end of the Penguins-Red Wings game Monday night. This one was the funniest.
I will say this: No player in the history of the NHL came in with more hype than Sidney Crosby because of the amount of new media out there. He did not construct this hype. This can put an edge to a man. Without that, he is simply a competitive person, and some competitive people react this way. It's this fire which helps him lead his team. Have you noticed his wingers the last two seasons? This is what hurts his plus/minus. Plus/minus is largely a result of whether or not you play with other goal scorers.
Bucci,
Sid is great and is sure to be a no-doubt first-ballot HOFer, however he isn't in the same class as Wayne or Mario. Sid has done amazing things for any 22 year old, but he's nowhere near as talented as those guys. A better comparison is Steve Yzerman. Like Stevie Y, Crosby is an exceptional talent, a winner and a leader, but he's not a transcendent talent like Wayne and Mario and Bobby Orr.
Mark Behnke
Ahh, the sweet aroma of reason! So rare. A fair point, but I can't recall anyone ever comparing Sidney Crosby to Wayne Gretzky, Mario Lemieux or Orr.
John,
As you may know, the U.S. Paralympic Sled Hockey Team won gold at the 2010 Paralympic Winter Games last Saturday. Not only did the team go undefeated, but Team USA and goalie Steve Cash did not allow a goal in the entire tournament.
Alex Clark
USA Hockey, Manager of Communications
Bucci,
On your music selection article ...
The Blackhawks already play "Chelsea Dagger" by The Fratellis after goals, and even though the old Chicago Stadium is long gone, it still gets the United Center rocking. Last season, Kane's goals were celebrated with "Rock You Like a Hurricane" and Jonathan Toews rocked to "Sharp Dressed Man" or "Johnny B Good," but once the playoffs hit, it was all "Chelsea Dagger." I'm sure you've heard it plenty of times watching the Hawks light the lamp this year, but just watch the crowd go crazy at the UC when that song gets played.
Dan
Hey Booch,
It's cool that you plugged a band like the New York Dolls in your column. They were a big influence on a lot of mainstream bands and I don't think they ever got the full recognition they deserved.
Anyway, at Joe Louis Arena, they've been doing the custom song thing for a while. I remember they used to play the Irish jig for Shanahan and "Wooly Bully" by Sam the Sham and the Pharaohs for Jason Woolley. Now they play some of "Another Brick in the Wall" by Pink Floyd when the goalie makes a great save. The announcers are also in on it and they would announce the songs and tell the audience to "wait for it." They do other songs for other players, but those are the ones that really stick out in my head. It does make it special when those guys score, too.
Mike
Livonia, Mich.
Great points, Mike.
Bucci,
Love the idea of the goal songs, however, as I'm sure you know, the Rangers' goal song is just about the best thing going for them right now ("Oh ohhh ooooohhhhhh!").
Seriously, I need your guidance. I have been a huge Rangers fan for 17 of my 23 years here on Earth, and never before this year (and yes, that includes the Eric Lindros era) have I found myself turning them off. They are such a passionless, uninteresting team. Yes, they have their bright spots (Gaborik pre-injury, Callahan, Staal sometimes, and King Henrik, who is the only reason they are even this close to the playoffs), but overall there is something about the team that just turns me off.
George
Middletown, N.J.
The Rangers have a lack of offensive talent, pure and simple. It's hard to win at any level of hockey if your centers are not productive. Every season, the Rangers tread water because of their salary-cap situation. Other teams are getting better, and this could keep them out of the playoffs again next season if they don't upgrade.
One would think Tampa Bay will have more points than the Rangers next season if they continue their arc. Which makes one wonder if there is some kind of trade possible between the Rangers and Lightning. The Rangers need a scoring center. The Lightning have Vincent Lecavalier and his big, bad contract. But the Rangers have bad contracts, too. You wonder if something creative could be done to help both of these franchises.
Hey Bucci,
Is it just me, or does it look like the Olympics sucked all the juice out of the San Jose Sharks' key players? Every game since the break, they've come out flat and fallen behind early to teams they should hbe dominating. What do you think the chances are that they can right the ship before the playoffs start?
John Doogs
San Diego, Calif.
Success in hockey requires a simmering, maniacal focus the Sharks just don't seem to have enough of. I wouldn't expect much from them in the playoffs.
Bucci,
I have read "The Code" and "Jonesy" and am lucky enough to watch Andy Brickley and Mike Milbury on a weekly basis being a Bruins fan. However I am surprised there hasn't been more brought up about the instigator rule. What is your take on the rule? Do you agree with it or are you like Cam Neely and hate it?
JR
I don't understand what the big deal is about the instigator rule. You can still start a fight, and what's the big deal of getting the extra two minutes, except in late-game situations? I could be wrong, but I don't think much would change either way.
John,
I have been reading your column for so long now, I can't remember not reading it and have always enjoyed seeing the baby names you have come up with. Well, I finally have a need for them. We are due to have a future Pens fan arriving around the time the Pens are opening the new arena. While I'll miss the Igloo and the sleep I am use to, I am looking forward to both new beginnings.
Kerry Belfiore
Indiana, Pa.
Joseph Anthony Belfiore
Isabella Marie Belfiore
Hockey fact: The top five all-time penalty-minute leaders:
1. Tiger Williams
2. Dale Hunter
3. Tie Domi
4. Marty McSorley
5. Bob Probert
Programming note: Barry Melrose and I are calling the games in the East Regional of the NCAA Tournament at the Times Union Center in Albany, N.Y. All games are on ESPNU/ESPNU HD:
Friday:
No. 1 Denver vs. No. 4 RIT, 3 p.m. ET
No. 2 Cornell vs. No. 3 New Hampshire, 6:30 p.m. ET
Saturday:
Winners play in the regional final, 6:30 p.m. ET
John Buccigross' e-mail address -- for questions, comments or crosschecks -- is john.buccigross@espn.com.
Bucci's Fan Photos
Hey John,
Here is a photo from the New York Snowbelt League/Squirt House Tournament Championship ... the Snowbelt League covers Central New York State and the Southern Tier of New York State (about from Utica west to Elmira).
Dave Russell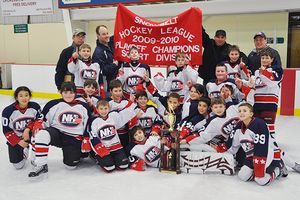 Hi John,
Sending you a photo from our last backyard skate of the season. The kids spent the winter outdoors laughing with friends, creating shootout moves and building trash-talk skills. Nothing but fun during the day, and the night skates always felt a little extra special. Thanks for relating your positive experiences with the outdoor rink and getting us started. The kids already made us promise we'd do it again next year.
Jeff Casto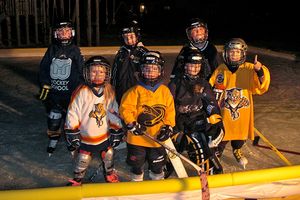 Don't Forget The Column!
Hockey + music. That magic union has inspired our resident puckhead with such a revolutionary idea, players and teams and you, the fans, would be crazy not to jump on the bandwagon.
Blogumn